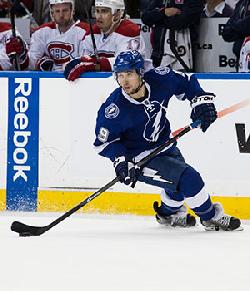 Photo courtesy of Getty Images

Tampa Bay Lightning center Tyler Johnson looks up ice during a first-round NHL Playoff in April against the Montreal Canadiens. Johnson is a Liberty Lake native, Central Valley High School graduate and former Spokane Chief.


Consider the odds beaten
5/28/2014 12:50:23 PM
By Mike Vlahovich
Splash Contributor
It's the witching hour, and while most 10-year-olds are tucked safely in bed, Tyler Johnson is rousted from the sack at midnight and trundled into the Family Truckster for yet another eight-hour trip to the Great White North.
Johnson's implausible dream is to one day play in the National Hockey League, and his parents, Ken and Debbie, are determined to provide every opportunity.
A decade-plus later, the 23-year-old seemingly nobody wanted at even the rudimentary levels of hockey, but like the proverbial bad penny kept coming back, showed the necessary moxie. That penny proved wise investment for those who took a flyer on someone others ignored.
Thirteen years removed from those long trips to Vancouver, B.C., the Liberty Lake hockey star, Central Valley High School graduate and decorated former Spokane Chief has proved the doubters wrong. At every level from junior hockey to the NHL's Tampa Bay Lightning - where Johnson's first full year made him one of three finalists for rookie of the year and helped propel a turnaround playoff season for the Lightning - Johnson has not only succeeded, but excelled.
"He's a special guy," said Spokane Chiefs General Manager Tim Speltz, the person credited with giving Johnson his big break. "The more you are around him, the more you appreciate him.
"Johnny's story is incredible."
To wit: at 17, he was MVP of the playoffs as a rookie during the 2008 Chiefs Memorial Cup championship season. He finished his career eighth in scoring and points. His 53 goals led the Western Hockey League in 2011.
This spring has been great for validating that the undersized but hardworking Tyler Johnson had found his place following a rookie season in the NHL. Among the highlights:
April 16: Johnson plays his first NHL playoff game against the Montreal Canadiens. His Tampa Bay Lightning team would go along to lose the series, but some solace was found in that the team returned to the postseason for the first time since 2011.
April 23: Johnson is named one of three finalists for the Calder Trophy, the NHL's award for Rookie of theYear, following a season where he scored a Tampa Bay-rookie-record 24 goals. The announcement of the winner will be made June 24, though Johnson is considered a longshot behind 2013 first overall draft pick Nathan MacKinnon of the Colorado Avalanche.
April 25: After the Lightning are bounced from the playoffs, Johnson becomes a late addition to the 2014 men's national team roster playing a world championship tournament in Belarus. The team would eventually make the quarterfinals behind Johnson's team-leading six goals.
May 23: The Tampa Bay Times reports that Johnson signed a three-year, $10 million deal to keep him with the Lightning through the 2016-2017 season. In the Times article, Johnson's agent, Mark MacKay, summarized the rookie's season as "one of those years that he'll definitely remember for a long time."
Twice he helped the United States to the IHL World Junior championships, scoring three goals and two assists in seven games, which included a starring role in an upset over Canada.
After the Chiefs, he became MVP of the feeder American Hockey League and was called up by the Lightning.
This year, he set the team's rookie record with 24 goals, tied for the league lead with five short-handed goals and added five power-play goals - just the second time a rookie has accomplished the double - and became a finalist for the Calder Trophy as the league's top rookie.
Last month, it was off to the World Cup International Ice Hockey Federation Men's World Championship in Belarus with the United States national team. The team made the quarterfinals, led in part by Johnson's team-leading 6 goals in eight games (he also notched 3 assists, and his 9 points were top 10 among all players in the tournament).
Harkening back to the beginning, "I'm pretty sure I had a pair of skates on when I was born," Johnson said. "It was one of those things where I was destined to play hockey."
Ken and Debbie had met playing recreational hockey. Before he was age 2, Debbie had him on skates.
"We started dating and eventually married, so you had two hockey enthusiasts I guess you would say," Ken Johnson offered. "It was pretty much out of the womb and onto the ice."
Johnson began playing locally, but his path soon became more ambitious, and at age 10 it was off to Vancouver in the wee hours for spring hockey and better competition.
Hockey had now become the family's investment. Between his various teams he was on the road to stops across Canada and the U.S.
"We spent every penny we had on travel," Ken Johnson said. "We justified it as being our vacations. You're going to spend your money somewhere, so we just spent it on hockey."
Did he envision it would lead his son to the NHL?
"Nope, nope, nope, not at all," Ken Johnson said. "I've still got to pinch myself. I always thought he was a good player, but the NHL? I would never have guessed."
The Chiefs drafted Johnson at age 14, but he later broke his shoulder and he was dropped from Spokane's protected list.
Ken and Debbie Johnson kept their options open, thinking hockey might one day be means to a college education. He tried out for the U.S. Hockey League, which feeds players to NCAA college programs, and never made it out of the first round of tryouts.
Speltz, Ken Johnson said, unlocked the door.
"Not one college recruiter came to talk to him," Ken Johnson said. "(The Chiefs) were willing to give him a legitimate chance, and that's what he needed. The rest is history."
Speltz once told Ken Johnson that scouts may doubt his son, but coaches will love him.
"I use the analogy quite a bit that scouts project, but coaches just want someone who can play," Speltz said. "Other than being smaller, he did everything. He had a very good skillset. He was a great skater, a very unselfish player who understood the game. He was just the complete package."
At 5-foot-9, Tyler continued his skate to the NHL.
Initially, he was used as a shutdown defender versus projected NHL players in the Memorial Cup. Offense followed over the next three years. But Speltz admitted he never envisioned Johnson to be NHL caliber.
"I wasn't going to let anybody tell me otherwise," Johnson himself said of his ascent to the bigs. "Thankfully, I was able to win a few people over, and I (tried) to make the best of it. As I got older, I realized it was a hard thing to do. I'm not going to lie; I had my doubts at times."
He credits his parents' sacrifice for his success.
"Without that there was no way I could be doing what I'm doing now," he said.
He got his chance with the Lightning with a call-up toward the end of the 2012-2013 season, when high-scoring center Steven Stamkos was injured. There he was, facing off against players he'd idolized growing up. One was Pittsburgh Penguin superstar Sidney Crosby, who Johnson and two AHL teammates were charged with neutralizing.
"We're all three rookies, and coach wanted us to try and shut them down," he said. "Anytime Crosby was on the ice, we jumped over the boards. That was kind of an eye-opener being out there against the best player in the world and one of the best lines in the NHL."
Undersized and in awe, but hardly intimidated, he gave as good as he got both offensively and defensively. As his dad put it, "I'm sure when he gets in a scuffle he just closes his eyes and hopes he comes out alive."
Johnson recalled looking at his buddies and thinking, "What are we doing here, is this what we're (meant) to do?"
The answer is "yes." The heady player and superb skater, the longshot at every level who continually had to prove he belonged, found his home and then some.
"I'm still pinching myself," Johnson said during a visit to Spokane in early May. "There have been times when doors are going to close, and all of a sudden, another opens and it turns out to be a better door than the one before."
Advertisement