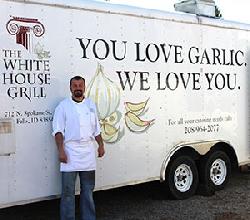 Splash photo by Valerie Putnam

Mobile food options have rolled into Liberty Lake this season as never before. Above, White House Grill owner Raci Erdem planned to open in Liberty Lake April 28.


Cover Story: Liberty Lake lunch
4/29/2014 1:18:40 PM
By Valerie Putnam
Splash Contributor
One of the keys to a good city is a diverse offering of lunchtime dining. Though its commercial and retail centers are still relatively young, Liberty Lake is increasingly making its case as a great place to have lunch.
On a budget? In a hurry? Sky's the limit? The Splash researched a week's worth of dining variety for the noon hour. The following hypothetical week-at-a-glance is designed to satisfy the palate of everyone from the diner seeking a quick bite to the epicure seeking a gourmet experience.
For this project, we paid special attention to Friday - as this is the category that has changed the most since patios began opening for a spring lunch last year at this time. That would be the food truck option, and noontime hunger pangs on Friday can now be resolved by a trio of mobile vendors, whereas last year there was only one, and that one didn't have the permanent location it now enjoys.
Happy dining!
SUNDAY: Lunch at the 19th hole
Liberty Lake Golf Course Clubhouse, 24403 E. Sprague Ave.

MeadowWood Golf Course Clubhouse, 24501 E. Valleyway Ave.

Palenque Mexican Restaurant, 1102 N. Liberty Lake Road
Whether you play 18 or skip straight to the 19th hole, local golf course clubhouses provide a variety of dining experiences for the athletic or the athletically challenged.
Palenque Mexican Restaurant, located at Trailhead Golf Course, 1102 N. Liberty Road, offer authentic Mexican cuisine, while the clubhouses at the county-owned Meadowwood and Liberty Lake golf courses offer a full range of lunchtime fare. Golfer or not, diners have long enjoyed lunch at these links venues, all of which offer great views of open green space.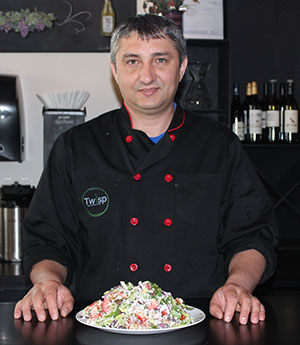 Splash photo by Valerie Putnam
Bobby Taninchev has put the focus on the food since purchasing Twisp last year.

---
MONDAY: Lunch on epicurean delights
Barlows at Liberty Lake, 1428 N. Liberty Lake Road

Hay J's Bistro, 21706 E. Mission Ave.

Twisp Café, 23505 E. Appleway Ave.
No study of Liberty Lake's lunch venues would be complete without exploring the epicurean options served by the area's finer dining options.
Barlows owners Alicia and Michael Fry recently expanded their operation at a gorgeous new location. What hasn't changed: their desire to provide guests the ultimate dining experience through a combination of great food, nice atmosphere and quality service. Its menu still highlights recipes passed down by Alicia's mother, but the new location is also open for dinner, and all day the influence of new executive chef Everett Fees can be seen and tasted.
Hay J's Bistro, 21706 E. Mission, offers nontraditional sandwiches, wraps, burgers and entrees from its menu,
www.hayjsbistro.com
, served in a unique location. Though found in a gas station strip mall, its interior reflects the high-end menu selections.
Following the purchase of Twisp Café by owner Bobby and Stacy Taninchev last year, the menu changed to include a selection of American and Mediterranean dishes.
Choices, found at
www.twispcafe.com
, range from several Mediterranean-inspired salads, sandwiches, paninis and soups, all made from scratch, including the sauces and dressing. For dessert, Bobby Taninchev makes his own family recipe for baklava.
"I have the best baklava in town," he said. "We make everything with lots of love."
Even Twisp's coffee drinks come with a special touch. Barista Kyle Siegel creates coffee art on his java creations.
TUESDAY: Lunch in a jiffy
Carl's Jr./Green Burrito, 1317 N. Liberty Lake Road

McDonald's, 1306 N. Liberty Lake Road

Taco Bell, 22312 E. Appleway Ave.

Taco Time, 1421 N. Liberty Lake Road
Whether your schedule means using the drive-up window or having the time to come inside to order, Liberty Lake offers several established fast food restaurants to choose from. Menus at these establishments offer a variety of quick, budget-friendly items.
From grabbing a Big Mac at a fast food original (McDonald's), to a hybrid burger/Mexican joint (Carl's Jr./Green Burrito) to a pair of unapologetically south-of-the border establishments (tacos Time and Bell, respectively), the speedy options are readily available.
WEDNESDAY: Lunch 101 - the sandwich
Jimmy Johns, 1429 N. Liberty Lake Road

Quizno's, 1235 N. Liberty Lake Road

San Francisco Sourdough Eatery, 23801 E. Appleway Ave.

Subway, 1336 N. Liberty Lake Road
Should the desire for a fresh made sandwich overcome you, Liberty Lake boasts four venues that specialize in this lunch-time favorite.
National brands Subway and Quizno's have long claimed turf in across-the-street shopping plazas, while San Francisco Sourdough has also been a mainstay of the community since nearly the turn of the century. By those standards, the new kid on the block is Jimmy John's, which recently celebrated its one-year anniversary in the community.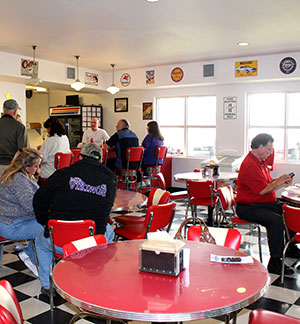 Splash photo by Valerie Putnam


The R'nR Clubhouse boasts a '50s theme and an affordable menu offered to lunchtime crowds Monday through Saturday. The open-to-the-public restaurant is located on the campus of R'nR RV, 23203 E. Knox Ave.

---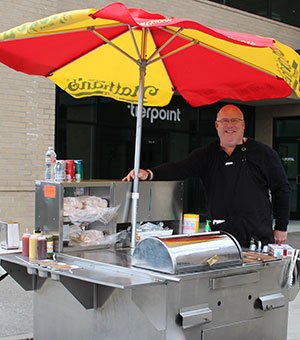 Splash photos by Valerie Putnam
Above, Keith Kopelson is serving Johnny Dogs on Fridays while Bubbadogz (below) is open this year at Chevron.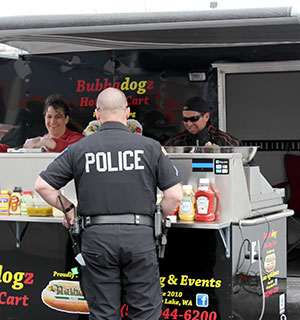 THURSDAY: Lunch off the beaten path
Eat Good, 24001 E. Mission Ave.

R'nR Clubhouse, 23203 E. Knox Ave.

Safeway deli, 1233 N. Liberty Lake Road
For the adventurous types, Liberty Lake has a few gems off the beaten path worth discovering. Eat Good, located in the Meadowwood Technology Campus, bills itself as "fast food service with fine dining skill and execution." Eat Good was founded on the premise of serving a fast food that is healthy - check out
www.facebook.com/eatgoodgroup
.
Another hidden gem is the R'nR Clubhouse restaurant. Designed originally for the RV dealer's customers, the venue is open to the public with a 1950s-style restaurant. Menu offerings include sandwiches, wraps, salads, soups, burgers and fish and chips. A salad bar with a rotating selection of fresh offerings is $3 for one trip. Hours are Monday through Saturday, 10 a.m. to 4 p.m. Beginning in June, the restaurant will open one hour earlier at 9 a.m. through September. Orders can be called in ahead of time.
Another option many walk by but don't think about is the Safeway deli. Safeway offers quick inexpensive options such as sandwiches, chicken and Chinese cuisine and its seating area - shared with the in-house Starbucks - has recently expanded, enabling a true dine-in experience.
Bubbadogz (located at Chevron)

Johnny Dogs (located at Liberty Lake Portal, only open Fridays)

White House Grill (also located at Liberty Lake Portal)
As spring brings out the sun, it also calls forth the region's mobile food options - food carts, food trucks, food trailers, you name it. The phenomenon has long been popular on the East Coast and in larger markets, such as Portland, Ore.
Indeed, more than 600 mobile food vendors line the streets of Portland, according to recent data. In Liberty Lake, there are three mobile cuisine options. Though hardly a large number, astute residents may feel like three is a little high. That's because the Liberty Lake Portal, 23403 E. Mission Ave., is opening its parking lot to a pair of well-known vendors.
But first, the veteran of the trio is the city's first mobile cart, Bubbadogz, which has found a long-term home in the Chevron parking lot at 1109 N. Liberty Lake Road.
Owners Matt and Sandi Wasteney serve all-beef Nathan's hot dogs and Longhorn Barbecue sausages on fresh buns. On the side of their dogs, customers can indulge in garlic parmesan fries.
"It's been a fun name," Sandi Wasteney said of Bubbadogz, noting it was named after her father's business, Big Bubbas Tires. "It's just kinda stuck with us."
The Wasteneys began selling hot dogs in 2010 from a smaller New York style cart, working area events such as Bloomsday and the Lilac Parade.
"At big events, we couldn't keep up," Sandi Wasteney said about purchasing the larger cart. "It went from a hobby to now we pretty much do it full time."
Last year, the business had a larger cart custom built to accommodate larger crowds. The new cart incorporates two fryers and two food warmers to keep more dogs warm.
Recently, while purchasing propane at the Chevron station, Matt Wasteney struck up a conversation with the station owner that led to a deal that provides his cart there throughout the season.
The couple plans to serve its fare of dogs there each Monday, Wednesday and Friday from 10 a.m. to 2 p.m. When not serving patrons of special events, they will be at the Chevron on Saturdays from 10 a.m. to 4 p.m. Weather permitting, they hope to remain open until October.
With over 10 different toppings lining the cart to customize the dog for individual tastes, the cost for lunch ranges from $3 for a Bubbadog to $4 for a German sausage. If adding side dishes, plan on $4 for a basket of garlic parmesan fries or $3 for regular fries.
As part of the location agreement, beverages can only be purchased inside the Chevron station.
Johnny Dogs may not be as familiar to the community as Bubbadogz at this point, but the business is owned by a familiar face: Liberty Lake Councilman Keith Kopelson. Johnny Dogs offers a similar menu as Bubbadogz with 1/4 pound all beef Nathan's hot dogs and Longhorn Barbecue sausages. Kopelson operates in the parking lot of the Liberty Lake Portal building, 23403 E. Mission Ave. He plans to serve his customers now through October each Friday from 10:30 to 1:30 p.m.
A Nathan dog meal, which includes a drink and chips, costs $4, and the sausage meal runs $5.
"Street food is so good," Kopelson said. "Nathan dogs are the best hot dogs you can buy."
Kopelson remembers eating food from mobile vendors while growing up in New York.
"When we would go into the city, that is where we would eat usually," Kopleson said. "You would come out of Grand Central Station, and the vendors were lined up on the streets. We would grab a pretzel and a hot dog then go onto whatever we were going to do that day."
He began street vending after helping the Wasteneys last year at Bloomsday. When the Wasteneys decided to purchase a larger cart, Kopelson bought the smaller one to operate as a hobby.
"I always wanted to do a food type truck," said Kopelson, who had looked at different options before purchasing the hot dog cart from his friends. "But (Matt Wasteney) said hot dogs were the way to go."
Kopelson said he likes the simple menu and ease of set up and tear down.
"I love being outside and interacting with people," Kopelson said. "I've never had an unhappy customer."
The third member of the food truck trio isn't a hot dog vendor, but the business is familiar to many in Liberty Lake. White House Grill owner Raci Erdem recently announced he is starting a "new adventure" by bringing mobile food service to Liberty Lake, also in the Portal parking lot.
"I always wanted to have something in Liberty Lake," Erdem said. "It's a good spot."
Erdem's three staple dishes include his restaurant's most popular lunch menu item, the Spring Bowl, along with a Gyro sandwich and a marinated garlic chicken sandwich.
Along with the staples, his patrons can choose from the truck's daily lunch and dinner specials. Each meal comes with the choice of fries or garlic pasta salad.
"It comes with mouthwash, too," Erdem laughed.
With all meals prepped at his Post Falls location, Erdem's truck is now serving a unique choice of meals from 11 a.m. to 8 p.m. Monday through Friday. Dining choices from the truck range from $7.50 to $10.
"It's a good alternative to restaurant food," Erdem said. "It's going to be fun there."
Erdem hired three new staff to man the truck along with using his current Post Falls staff.
SATURDAY: Lunch at the Market
Aromas of garlic, wood-fired pizza and fresh-baked goodies permeate the Liberty Lake Farmers Market every Saturday, inviting market-goers to indulge. The market, set to open May 17, will be open every Saturday from 9 a.m. to 1 p.m. through Oct. 11.
Many residents have already established a Saturday lunch tradition at either Jalapeno Heaven, featuring Lenny's famous burritos, or Veraci Pizza, which offers hand-made, apple-wood fired clay oven specialty pizzas baked in only 90 seconds.
Of course, a Market lunch visit can be complimented by several vendor offerings.
THE EIGHTH DAY: Lunch has only just begun
Ding How, 1332 N. Liberty Lake Road

Domino's, 1235 N. Liberty Lake Road

Just Chillin' Frozen Yogurt, 1322 N. Liberty Lake Road

Papa Murphy's, 1318 N. Liberty Lake Road

Pizza Hut, 1330 N. Liberty Lake Road

True Legends Grill, 1803 N. Harvard Road
Seven days of lunch isn't enough to cover all of the great options in Liberty Lake.
With choices of pizza, calzones, burgers, sandwiches, soup and salad, True Legends Grill offers a speedy lunch menu (11a.m. to 2 p.m.) posted online at
www.truelegendsgrill.com
.
For an Asian experience, Ding How features a large menu with several categories of items to choose from, including chef-suggested dishes, ala cart menu items, Korean cuisine and a vast array of sushi options.
Even Just Chillin' Frozen Yogurt offers lunch options such as hot dogs and soups, not a bad choice for those who view lunch as a required precursor to dessert.
And finally, what would lunch be without the timeless pizza option. Pizza Hut is easily the best dine-in option, but lunch-sized portions are available at Domino's, and even take-and-bake Papa Murphy's can't be forgotten during a lunch rush, as it boasts a convenient array of ready-to-eat salads.
Advertisement