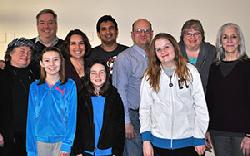 Submitted photo

The cast and crew of 'Heidi' will bring the Readers Theater production to life on March 28 and 29 at Liberty Lake Community Theatre. Pictured are Trudy Rogers, Tom Rogers, Rachel Kimberley, Monique Tesarik, Mary Tesarik, Josh Rogers, Rod Duross, Grace Nall, Karen Duross and Mary Jo Rudolf. (Not pictured is Reese Duncan, Dorene Hodin and Evie Wehrlie)


'Heidi' comes to life via Readers Theater
3/26/2014 10:36:49 AM
By Tammy Kimberley
Splash Staff Writer
Audience members will be swept away to the Swiss Alps to learn how to yodel and bleat like goats during the weekend performance of "Heidi."
The story will be presented in Readers Theater format 7 p.m. March 28 and 2 p.m. March 29 at Liberty Lake Community Theatre, 22910 E. Appleway Ave. Tickets are available at the door for $5 per person.
Director Trudy Rogers compared Readers Theater to the "golden age of radio" where families would gather around on a Sunday evening to hear the next chapter of "Little Orphan Annie" or the comedy "Jack Benny show." In a similar way, "Heidi" will be presented using minimal props, sets, lighting and costumes.
But in a desire to reach out to children in the audience, Rogers said the production will deviate slightly from a strict Readers Theater format. Actors will be among the audience at times, and theater-goers will have the opportunity to play the roles of goats and participate in learning how to yodel.
Even though it was only a few weeks' turnaround from auditions to the performance, Rogers said she is excited to work with the 11 cast and crew.
"With Readers Theater, it is important to portray your character's mood sometimes with just the inflection of your voice," she said. "All the actors have that ability."
"Heidi" tells the story of an orphan sent to live with her grandfather in his lonely hut in the Alps. While Heidi loves her carefree life there and gains the affection of her grandfather, she eventually is taken away to live with a family in town. The story follows her life as she manages to get back home to her grandfather and inspires friends, new and old.
Although this is her first time directing for LLCT, Rogers is no stranger to theater. She has been directing and performing in the Northwest for the past 30 years, with much of her time spent with Spokane Children's Theatre. She emphasized this classic presentation of a young girl's spirit and determination holds lessons for both adults and children.
"Sometimes we forget the importance of past literature and how they have influenced our hopes and dreams," she said. "Heidi's story lives in us all."
• • • • •
Readers Theater production of 'Heidi'
7 p.m. March 28 and 2 p.m. March 29
Liberty Lake Community Theatre
22910 E. Appleway Ave.
Tickets are $5 per person
(max of $20 per family).
Advertisement