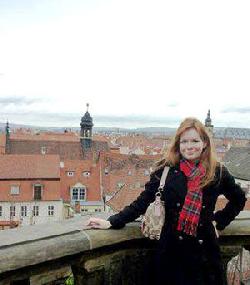 Submitted photo

In 2010, Liberty Lake native Kelley Shaw decided to travel to Germany to study at Jacobs University Bremen. This photo was taken in Bamberg, a small town in Bavaria, Germany.


Profiles: A taste of European diplomacy
3/26/2014 10:17:25 AM
By Amy Busek
Splash Contributor
When she began her freshman year at Oregon State University in 2010, Liberty Lake native Kelley Shaw was a mild-mannered biochemistry student. Little did she know, just a few years later, she would've bounced across the globe, changed her major and held prestigious internships with an international government agency.
Shaw, a graduate of Central Valley High School, made the choice to transfer to Jacobs University in Bremen, Germany, after completing her first quarter at OSU. She had learned German her freshman year of high school and felt that her language skills were adequate.
"I applied and got in and flew to Germany," Shaw said.
While it was an English-speaking university, there were very few American students in Bremen. Along with the cultural differences, Shaw quickly learned that she had to work very hard.
"You would take like seven to eight courses, and you would get your bachelor's degree in about three years," Shaw said. "The course load was crazy."
While at Jacobs, Shaw attended a trial with the European Court of Human Rights in Strasbourg, France, and it piqued her interest in foreign affairs. She changed her major and completely altered her career trajectory.
Shaw came back to the states her junior year of college in order to receive a U.S.-accredited degree. She enrolled at the University of Washington, majoring in law, economics and public policy. However, as soon as she came back, she was in for another European adventure.
"I just finished a state department internship with the U.S. Mission to the OSCE, which stands for the Organization for the Security and Cooperation of Europe," Shaw said.
For her entire fall semester, Shaw worked with the U.S. delegation's political section team.
"It was definitely the craziest part of my life," Shaw said. "So dynamic. Everything that was going on was really interesting."
Shaw took an interest in the relationship and negotiations between America and Russia, saying that the OSCE have election observers who would be literally shot at for trying to attend elections in Ukraine.
She also had the unique perspective of being an American student on the forefront of extreme political unrest, as she attended a conference in Kiev, Ukraine, in early December for the 20th OSCE ministerial council, which is where leaders gather to discuss policy changes enacted by the OSCE.
"I was there when the protests just started," Shaw said. "I looked out my window one night, and it was so loud."
Her hotel in Kiev fronted a highway that contained hundreds of cars displaying the Ukrainian flag, honking and protesting.
"I didn't think it would get as bad as it is now," Shaw said.
While she is now safely back at UW's Bothell campus, Shaw will embark on her third European assignment this summer. She's traveling to Brussels, Belgium, for another State Department internship, this time with the U.S. Mission to NATO. She will graduate in 2014, as well, and hopes to go on to work within the foreign affairs sector.
With three colleges and an international undergraduate experience under her belt, Shaw will be the first to tell you that her experience was unorthodox. She says that for other students seeking an international education, it would be best to go the traditional study abroad route. She had to navigate Germany alone, as there weren't systems in place for smooth transitions into a new culture. However, she does say that her high school years at CV paid dividends.
"Honestly, if I hadn't decided to learn German my freshman year of high school, do Running Start and join the Junior State of America club at CV, I wouldn't be where I am today," Shaw said. "And I've got to say, I'm just now seeing my decisions start to pay off."
• • • • •
Profiles: Kelley Shaw
Age
21
If you could meet anyone, living or dead …
My future husband? Just kidding! In all honesty, I would love to meet Condoleezza Rice. Politics aside, she is an extremely empowering figure.
Craziest experience abroad
I saw Germany's last foreign minister, Guido Westerwelle, in Ukraine. It was during the 20th OSCE Ministerial last December. I sat just a few seats behind him.
Favorite thing about your hometown
I grew up in Poulsbo on the west side of the state but moved to Liberty Lake when I was 6. One of my favorite things about this town is its small size and its unique and integral sense of community. It's very American.
Where would you like to be 10 years from now?
Well, it's definitely a long shot, but I would like to have passed the Foreign Service Officer Test and be working abroad as a Foreign Service Officer.
Favorite German word
That's a tie. A favorite of foreign students in Germany is "arbeitsunfähigkeitsbescheinigung" (ar-byets-un-fay-igh-kites-be-shine-i-gung). It's a form that you have to have filled out at the doctor's office when you're sick in order to avoid going to work or taking an exam. The other word is "popo." Here it's a slang word for the police, but in Germany it's a slang word for "butt." I can never take the American version seriously now.
Advertisement