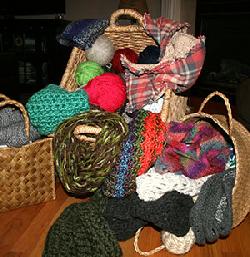 Splash photo by Josh Johnson

Kenzie Scarves and spools of yarn are a common site in the Motts' Liberty Lake home.


Scarves bring 'hugs from heaven' after tragedy
2/26/2014 11:41:44 AM
By Josh Johnson
Splash Staff Writer
Jessica Mott's favorite scarf is called "Journey." She once sharpied a tattoo version of the word onto her sister-in-law's foot.
It was by request, mind you. McKenzie Mott loved Jessica's handwriting. And she loved the word "journey," even announcing it as the frontrunner for naming a future daughter.
Mallory Mott's favorite scarf is called "Butterfly." Her sister loved butterflies but was starting to get suspicious about how much they followed her around.
"It's something you're wearing or something that's attracting them," she would tell McKenzie, who as the baby of the family is eight years younger.
Today, however, she's more inclined to share McKenzie's butterfly wonder - a supernatural gift from God.
Connie Mott's favorite scarf is called, well, "Favorite." Her daughter liked to call herself that in earshot of siblings, for one thing. For another, the scarf is made of flannel, a material McKenzie would have embraced and one her best friend, Josie Freier, already favored.
"Josie wore flannel, and McKenzie and I were looking for flannel shirts the weekend before," Connie Mott said. "It was her next trend, this and camo."
But Josie Freier and McKenzie Mott's young lives were cut short in a tragic Oct. 5 auto accident that caused community-wide mourning. The impact of the loss of the two 15-year-old University High School students was all the greater because of the caliber of life that they lived.
"Those girls did amazing things," Connie Mott said.
In particular, her daughter's capacity to love is something she and the Mott family continue to share with the community - through Kenzie Scarves.
"We can't give back everything this community has done for us," Connie Mott said. "I could not tell you how we wouldn't have eaten without my sister here to cook meals, and when she left the community took over - and (with each evening there was) food and food and food and food. When I said they are holding us up, they really are. "
Often, those delivering evening meals would leave with scarves, a benefit to the work that began as a distraction and a way to process and share as a family.
"At first, I was (making the scarves) to just focus on something," Mallory Mott said. "I could just sit here and do it and didn't have to talk to anyone - and I think I still do it for that reason sometimes. ... Now we're doing it because we want people to know about McKenzie."
Or, as Connie Mott puts it: "Originally, they were life scarves because it was keeping me going. And then they turned into love scarves."
Also known by the family synonym: Kenzie Scarves.
Tonia Roeder, Kara Twining, Felicia Gumm and even the Mott family men -they are all yarn ballers," Twining cracked - are among those who have played a significant part in what is now an online store called House of Twine (see information below for more). Not only are all proceeds from the sale of Kenzie Scarves funding a U-Hi scholarship in McKenzie's name, but the Motts have found that the business model allows them to share a healthy dose of Kenzie love with others.
Jessica Mott's beloved handwriting is a part of every purchase, as personally crafted notes are sent with each scarf explaining a memory of McKenzie or Josie or the inspiration behind the scarf to the family member who made it.
"It's always a fun fact or a fun memory we hope makes someone smile and remember," Twining said.
The operation works so well in part, Twining added, because "all the women in the family are artsy."
That list includes McKenzie, whose creativity and flare were equal to her "let's try this" attitude. While McKenzie's love for soccer was well documented in the days following the accident, her passion for crafts was similarly strong. She loved researching ideas and spending time on Pinterest.
And, quite fittingly, she was a fan of scarves.
"She would complain, 'It's summer, I'm not going to be able to wear my scarves," Connie Mott said. "She wore scarves. She loved scarves. It's just like (the Kenzie Scarves idea) is inspired. It's not just by accident that this all happened."
• • •
What: "House of Twine scarves was established after the tragic loss of our daughter, sister, auntie and her best friend. We miss Kenzie's hugs and have attempted to create her hug from Heaven through our scarves. Each knot, each turn, each loop has brought us comfort and is a hug from our home to you. When you wear this scarf, know that the yarn is filled with our love and our piece of Heaven." (Taken from the online shop's website.)
Cost: Most scarves are listed for $23, priced purposefully because that was Josie Freier's soccer number. All proceeds benefit a University High School scholarship fund established in McKenzie Mott's honor.
Selected online review: "... I read the background story on how this vendor got started and I couldn't help but purchase something to be a part of all the love this family has to give. I will be thinking of the #9 on Sunday." (From a fan who purchased Seahawks scarf for the Super Bowl. The included note referenced McKenzie's Mott's soccer number - 9.)
Advertisement