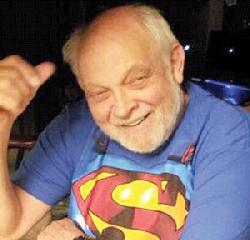 Submitted photo

Wayne Kamps was the longtime manager at Country Vista Car Wash, where he shared many of his "Wayne-isms" with the community, including friend Russell Kinney.


Remembering my final visit to Wayne's World
2/26/2014 10:31:15 AM
By Russell Kinney
Splash Guest Column
Age 72, Wayne Kamps lived in Spokane Valley when I tracked him down recently. I had met Wayne a few years ago, just like many people have, as the friendly face that greets you while washing your vehicle at the Country Vista Car Wash in Liberty Lake. I had not seen Wayne for awhile and in an attempt to learn of his fate, I checked the obituaries, but fortunately had learned nothing.
Soon after, I arranged to meet Wayne at his home. I said, "Hey Wayne! I have your last homework assignment. Can I write down some of your story? You can even proofread it when I have finished it."
To meet Wayne at the car wash was always a pleasure. My favorite memory was when Wayne would always want you to come back to see him again. To some he joked, "If you are not happy with your car wash, we will gladly give you back your dirt."
Wayne Allen Kamps was born in Spokane at Sacred Heart Hospital on Sept. 3, 1941, three months before Japan bombed Pearl Harbor.
His daughter, Nona, walked in and sat down next to us as we talked. Wayne says, "The joys of raising children should last a lifetime; there comes a time when they fight back."
"Oh, dad," she sighed.
Wayne leaned over to her, "What is the one thing I have always told you [since you were kids] to remember before I die?"
No hesitation. "To think," she replied.
"Think about what," I inquired.
"Anytime you are faced with a problem or issue, strike a line down the middle of a piece of paper, write good on one side and bad on the other."
He says we should know what to do next.
After I told Wayne that I was also born in Spokane, Nona left the room, while mimicking the "Mark's Gypsy Curse" - "Once you are born in Spokane … you will always come back."
Wayne spent most of his life in the Pacific Northwest, with time in Portland, Seattle, Montana and Idaho, where he graduated from Post Falls High School in 1959. He married his beloved wife, Wanda, 24 years ago. In 2002, Wayne had the opportunity to be a part of the Liberty Lake business community by coordinating the day-to-day operations of Country Vista Car Wash. He became well versed and active in the affairs and activities of Liberty Lake.
I asked him what he wanted people to remember him by.
"My goal is and always has been to deliver a good car wash at a competitive price, and the customer to drive away with a happy, clean car."
"Is that a Wayne-ism?" I asked.
"Sure," he replied.
"I was thinking about inscribing a quotation in a rock somewhere to remember you by," I said.
"Well, you should know, you designed my headstone," he fired back.
"Oh yeah, how could I forget?" I said,
"The most important thing to hang on to … is each other."
Two years ago, the management at the car wash was so impressed by his work that they offered Wayne (and Wanda) a full expense paid trip to anywhere in the world. He refused but had one request: "I would love a headstone." It's in the ground already, at the Post Falls Evergreen Cemetery, just under his name and date of birth is a small target with the words: "P Here."
"I don't mind this dying business, my doctor just says, 'eat! eat! eat!'" Wayne said enthusiastically. "I never have to worry about my diet anymore. No more breakfast, lunch or dinner, I eat anything I want - anytime I like!"
"If you had a choice, what would you like to have for your last supper?" I asked.
"Coquilles St. Jacques."
"What's that?"
"Scallops cooked in a mushroom, wine and butter sauce," he said before adding, "with a bowl of vanilla ice cream drenched in red raspberry drizzled with a few drops of mint."
As we talk, Wayne has so many wires running through his body to keep him alive he can't pass through an electric door without the possibility of his heart skipping a beat.
"You can't even walk into a grocery store?" I said.
"Nope," he replied. "You should see me try to dodge airport security."
He shows me an X-ray of his chest cavity, and it looks like an off-road trail map. Wayne's first heart attack was at age 35. After three more attacks in three years, a heart defibrillator was sewn into his chest in 1990. He is on his seventh one.
In February 2013, cancer was found in his right rib cage, spine and left lung. After 35 radiation treatments without chemo, they just found cancer in his hip joint and at the base of his skull.
"Do you have any regrets?" I said.
"None," he said. "I have lived a full and happy life."
"Are you afraid of dying?" I said.
"Are you afraid of living?" he replied. "You can finally accept death only when you have seriously pondered the situation. I was a farm boy. I have seen pigs being born; rabbits, cats, puppies and even goats … and it all boils down to this: The miracle of birth is awesome, you know Who is in charge the moment it happens. You are nothing. Once I understood that, then dying is not an issue."
"If everyone could just once witness a live birth, with their own eyes," he added, "it will change your life."
I agreed and said, "How do you feel now?"
"Well, they think I'm dead." he said.
"What!?" I exclaimed.
"Yeah, the heart machine shows that I just flatlined. I'm hooked up to a group of doctors in the Midwest right now; they can adjust my defibrillator if something goes amiss."
With a wry smile he says, "You just can't depend on machines wholeheartedly; there's always a need for humans to back up the system."
"There is one more question, that weighs heavily on my heart, Wayne," I said. "Is there comfort to give someone who is still grieving over the loss of a loved one? How do you move on when you miss someone so horribly?"
"First off, you have to tell yourself you can't do anything to change what happened yesterday, but you can change what happens tomorrow," he said. "You must realize the fact that you have to start over today."
"That's got to be the ultimate Wayne-ism," I said.
"Yeah," he said.
I got up to leave and turned around just as I reached the door.
"Hey Wayne! I am going to miss you when you're gone."
From the back of the room, he shouted his reply: "Don't be afraid of death. It's a piece of cake; everybody does it!"
Wayne Kamps succumbed to his illnesses on Friday, Jan. 10, 2014.
Russell Kinney is a longtime resident of Liberty Lake.
Advertisement