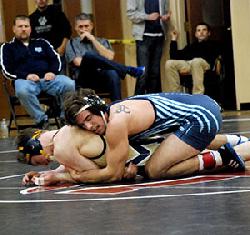 Submitted photo

Central Valley High School senior wrestler Colton Orrino repeated as 4A state champion at the Mat Classic in February.


Orrino hunts down second 4A state title
2/26/2014 9:59:12 AM
By Mike Vlahovich
Splash Contributor
It might come as a surprise, but wrestling takes a back seat to Colton Orrino's true passion.
"Hunting is my favorite thing," said the Central Valley senior who sports a tattoo on his left shoulder.
The two sports are one and the same considering the prey he's bagged on the mat as well as in the wild during four wrestling seasons at CV.
Orrino arrived in Tacoma the last weekend in February with a 115-11 career record and chasing his fourth top-three state finish and second consecutive State 4A championship during Mat Classic. Mission accomplished. Orrino swept through state, earning a 6-1 decision in the final. He lost just once over his final two seasons and not at all as a senior.
"I attribute it all to his dedication in the little things," Bears coach John Owen said. "It's in the preparation where he figures things out. He watches his diet, keeps his weight under control and lifts weights religiously."
Orrino obviously was a quick learner given his early success but insists his freshman brother, Braeden, also a state qualifier, learned faster.
"I could pick up on things pretty quick, but I was not as good as him when I was smaller," Orrino said. "It took me awhile to get the same thing."
Actions belie perception, despite taking his lumps in the beginning.
As a 119-pound freshman, Orrino finished second in state, losing 5-4 in overtime. The next season he was beaten in the semifinals but rallied with two wins to place third.
"It was horrible," Orrino said. "I actually wrestled the same kid in the semis that I beat my freshman year. He's at Arizona State right now."
Last year, he lost just once all season on his way to the 132-pound state title, winning four matches comfortably. This year, he wrestled at 145 pounds.
Wrestling isn't for the faint of heart and tends to attract solitary men. That's what ultimately drew Orrino to the sport as a youngster. When you're a member of a team sport like basketball, he said, there's always someone else to blame.
Orrino preferred the alternative sport where you are master of your destiny.
"Wrestling is a kind of a not-for-everybody sport. It's not being able to blame someone else for your loss," he said. "I liked the individual aspect of it. I liked the feeling of getting your hand raised."
And last year at Mat Classic XXVI in the Tacoma Dome, having his arm raised as champion in front of thousands was the ultimate thrill following the previous two near-misses.
"There was no doubt in my mind," Orrino said of reaching his ultimate goal. "There was no way I wasn't going to win that championship."
No one took him down during the tournament, he said, and most of the points he allowed were one-point escapes.
This year was more of the same. Ever the aggressor, Orrino's strength is on his feet. He said he believes he can take anyone down and that no one can take him down.
But he's also become a pinner this year, something he hadn't been known for. With 10, he said he thought to himself, "what the heck is going on?"
Orrino took up wrestling in the fourth or fifth grade, he said, and like most serious wrestlers traveled summers on a club team to tournaments, but nothing truly extensive.
He practiced against Brenton Beard, three years his elder and a Riverside High state placer. The Beard clan ultimately moved to Liberty Lake, and Orrino was joined on the Bears by Blake Beard, who has been his wrestling partner for the last three years.
The pair won a back-to-back state championship last season, Blake by pin at 126 pounds in a mere 21 seconds, followed by Orrino's 8-3 decision at 132 pounds.
"Back-to-back was awesome," Orrino said. "It kind of sparked me. He had such a quick win, I thought, 'I definitely wasn't going to lose now.'"
State turned out to be a case of déjà vu. Blake wrestles the weight below (138) again this year, and the two competed one right after the other again with identical results.
But there was a hirsute role reversal this season. Blake had an enviable shock of dark hair that was shorn late in the season.
"He had a 'fro the first couple of months," Orrino laughed. "He tried corn-rowing it against a team and John (Owen) said, 'you got to cut it.' I have the long hair now and am living the dream with it. It's not to the point of ridiculous yet."
Orrino figures to wrestle in college (Blake is a junior), but he'll still find time to hunt - and continue to watch Duck Dynasty.
"I love that show," he said. "It's hilarious."
Winning state championships is no laughing matter. But it is pure joy.
Advertisement