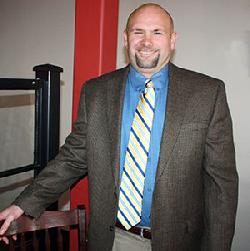 Splash photo by Craig Howard

Jeff Sitton was appointed to the Liberty Lake Planning Commission by Mayor Steve Peterson and unanimously approved by the City Council last month.


More News
A Cup of Joe: Beyond the ballot
1/29/2014 2:48:47 PM
By Craig Howard
Splash Contributor
True to his form as a successful business owner, Jeff Sitton quickly recouped and moved forward after losing his bid for a seat on the Liberty Lake City Council last November.
After the ballots were counted, the Spokane native had gracious words for his opponent, Hugh Severs, who collected just more than 56 percent of the vote to replace Josh Beckett on the governing board. When Severs was officially sworn in on Jan. 7, Sitton was at City Hall, applauding with the rest of those in attendance.
The first municipal gathering of 2014 also included Sitton moving into a new role of his own.
The City Council unanimously approved Mayor Steve Peterson's appointment of Sitton to the Liberty Lake Planning Commission, a group that provides valuable insight and recommendations regarding issues like development, zoning and signage. Sitton will attend his first meeting of the commission this month.
Sitton, who works as president of Spokane Roofing Co., has lived in Liberty Lake for the past three years. His wife, Stacy, is a mechanical engineer at Liberty Lake-based Telect. The couple has two children.
Sitton graduated from East Valley High School in 1995 and went on to attend Spokane Falls Community College. He spent four years in finance and management with Dave Smith Motors before moving into ownership and administration with Spokane Roofing. He and his father, Dave, purchased the company in 2002. Sitton's dad, brother, sister and grandparents all live in Liberty Lake.
A member of Valley Real Life church, Sitton has stepped up to support community causes like Habitat for Humanity and SNAP. In December, Spokane Roofing sponsored a table at the Holiday Ball, the traditional gala that generates funds for Friends of Pavillion Park and its annual agenda of events at the greenspace.
The Splash caught up with Sitton recently to discuss development standards, business strategies, lessons learned on the campaign trail and more.
Q: How do you think your role as president of a business will translate to your new responsibilities on the planning commission?
A: Just bringing people together - that's my job. I'm part of a service industry. I have a large crew I have to motivate on a daily basis. Every day I go into my office, and we have sales staff, office staff, accountants, attorneys, installers, the repair technicians. I'm the guy who coordinates everything. There's a lot of involvement. I'm a business owner, but I definitely work for my business.
Q: Why did you decide to go into the roofing industry?
A: It was more about the chance to be in business than it was about roofing. I enjoy the challenge of these big, complex commercial systems. You can't put a price of experience in that arena. There are so many variables. After a dozen years, you become a commodity in the industry. The one thing I will say when I went into the roofing industry is that it's a good, fair, honest living. If you're fair with the community, there's a lot of good that comes of it. Spokane Roofing had a good, established name prior, which has helped, but we've had a good time building it.
Q: Tell us about your decision to run for City Council.
A: It was kind of by accident. The Splash produced an e-bulletin back in May that no one was running. To this day, it boggles my mind that you've got 33 percent of the community that makes over $100,000 here. So, you've got a bunch of talent in Liberty Lake and no one was willing to step forward and take the initiative to help the community. So, at that point, I put my name in.
Q: What did you think you might have been able to bring to City Council?
A: The more that I've been involved, the more I realize I do have contributions to make. For one thing, I've dealt with a lot of public works in my business. Just listening to some of the discrepancies the city has had with some of the contracts like with WSDOT, that's a big part of what happens with the city and I can shed some light there. A while ago they were talking about the solar panels on the police building. I had some definite questions about the maintenance of those in the first seven years before the city owns them. Who covers that cost? From a contractor's point, things break. I would just be asking those questions with a common sense approach.
Q: What do you think made the final difference in the election?
A: I was outcampaigned completely. Hugh was very ambitious, and he's such a nice guy. I think he'll do a good job on council. I have no ill will toward him at all. I think I would have been a good addition, but I'm happy to be on the planning commission because I will have somewhat of a voice. You will still see me at most of the council meetings from here on out. I enjoy them, and I want to be a part of it.
Q: What did you learn as you were out on the campaign trail talking with residents?
A: I did learn that with each decision you make that is supported, there's going to be another portion of the city that doesn't support it. You're not going to make everyone happy all the time. At some point, you have to make a decision; that's why you're elected. I've always tried to make everyone happy. With my company, if there are issues, we try and work them out. It's a little more difficult with politics because, quite frankly, it's not going to happen. It is what it is. When I was campaigning, I was asked by citizens which way I was going to stand on an issue, and I answered honestly even when I knew it meant I wasn't going to get their vote.
Q: Do you think you'd run for City Council again or apply if a position became open?
A: I'm not going to say for certain at this point. I'm going to dedicate myself to the planning commission. Anything else is a long ways out.
Q: Your appointment to the planning commission was unanimously approved by the City Council on Jan. 7. How did the appointment take place?
A: The mayor approached me and asked me to be on the planning commission. I accepted right away. I want to be involved, and it was an opportunity to do that. I'm going to do the best job I can. (Director of planning and community development) Amanda (Tainio) has given me a plethora of information that I'm diving into. There's a lot there. I'm doing my best to educate myself. I'm really hoping to bring a common sense approach to it and use that as a reference. As I go, I will learn. I'm excited. I feel it was a privilege that the mayor asked me. It's a new chapter for me. I want to do the best I can for the city. I'm committed to this community and want to make it the best I can.
Q: What are some of the issues that the planning commission will be addressing in 2014?
A: Parking is really becoming an issue, especially over there on Signal where the town square is going to be built. Right now, STCU kind of takes over that street but it's more than that. It's tractor trailers which, in my opinion, are a safety hazard. You can't see around corners. I don't know if it's the city's responsibility to house those trailers. When this was approved in 2002, things were a lot different than they were now. As a growing city, I think Signal specifically need to be addressed for parking, whether it's diagonal parking on both sides of the street or something else.
Q: What about signage? This is a fairly controversial topic that both the planning commission and council have addressed over the years. Many businesses have lobbied for standards that are less restrictive, but the city continues to maintain regulations that maintain a certain aesthetic value. Where do you stand?
A: I favor the conservative point of view when it comes to signage. We have a beautiful city - it's green, it's great. To continue that standard is important to me. Especially with the types of businesses we have here in Liberty Lake, I'm not so sure it's that crucial. Again, you're never going to make everyone happy, but I like the way it is now. Even as a business owner, I don't know if it makes sense to change the rules.
Q: What about traffic on Appleway?
A: Something needs to be done. Getting out of this city at 5 o'clock is becoming more difficult. Fortunately, I'm coming the other way. It is a problem. I know there's been a talk of rerouting a road over there. The problem is only going to get worse. I don't know if I know how to fix the problem. I just know we need to start talking about it.
Q: What's your opinion on the city finding a balance between maintaining the development standards that have made Liberty Lake the community it has become and, at the same time, being known as a city that supports business? Are the two compatible?
A: It's a fine line. Businesses in Liberty Lake are important. They pay the bill. We have to make some concessions within reason. My vision for the city is to have a green environment and a good place to live. Businesses should feel privileged to be here. It's a great place to be. Let's not mess it up by having a big, neon sign out in front. Once you put that first sign out there, it changes the dynamic of everything. I do know I want to remain at an arm's length from the politics of Spokane. I feel like Liberty Lake is a unique community, a nice place to live. I think smart zoning is a key to that.
Q: How do you see the relationship between the planning commission and the council?
A: I think it's a good one. The way I understand it, the planning commission has a way to look at things first and present them to the City Council. Our job is to make recommendations. For the most part, it seems that most of the recommendations are accepted by the council. It's not about a confrontation. Obviously, if there needs to be a discussion, that's why we're here. I think they work well together.
Advertisement