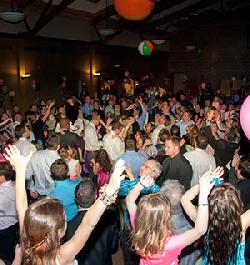 Photo courtesy of Roessler Photography

Girls of all ages enjoy the annual Father Daughter Dance, where they get a chance to dress up, dance, and hang out with their dads and other friends.


In the February Wave: Dancing with dad; Wave contest shares kids' dreams
1/29/2014 3:00:09 PM
Little ladies look forward to annual event
By Tammy Kimberley
Splash Staff Writer
While Valentine's Day brings thoughts of spending time with that special someone, there's one event a few weeks later that captures the attention of younger ladies - the annual Father Daughter Dance.
What started out as a dance for a couple hundred people at an elementary school has turned into the social highlight of the year, complete with dresses, flowers and professional photos. The Wave recently sat down with some local dads and daughters to talk about past dances as well as why they're looking forward to the March 1 event.
Ashley Boswell, 10, said she and her mom and 5-year-old sister Avery go shopping for party dresses prior to the dance. They said they love dancing with their dad, especially when he twirls them.
"It's fun because you get special time with your dad, plus you get dessert there," Ashley said.
Other girls enjoy preparing for the dance, which can include hair glitter, lip gloss and nails painted sparkly colors. Kylie and Emma Roessler said they sometimes get ready with other friends going to the dance and take pictures with them beforehand.
But when the getting ready is all done, the ladies belong to their dads for the rest of the night. The dads said the girls' restaurant choices have ranged from McDonalds to IHOP to Ding How.
"I think the girls just enjoy being with dad without mom around," Marc Roessler, the girls' dad, said.
Besides the dancing and music, all the girls shared a variety of things they look forward to at the event - everything from cupcakes and raffle baskets to the balloons and balls floating throughout the room.
"People are throwing beach balls everywhere and you can go up on stage," Kylie said. "It's really, really exciting there."
Ian Walker, who has been attending the dance with his 6-year-old daughter Samantha for the past three years, said the dance has become a tradition in their family.
"It's worth a month of excitement," he said. "It's fun to watch a bunch of girls at their best."
This is the 9th annual Father Daughter Dance put on by the Liberty Lake Kiwanis, and months of planning go into the event each year. While the event started out serving about 230 people, it's grown to more than double that with almost 500 in attendance last year.
Besides being welcomed by lifesize Oscar cardboard cutouts, organizer Pat Lutzenberger said the photographer will have a Hollywood backdrop for photos in keeping with their theme of Oscar Night. As in the past, each girl will receive a red rose and party favor.
She stressed that the event is for people from all communities and for any sort of father figure who would like to attend with a girl. She encouraged dads to bring cash for the $1 raffle tickets "so we won't have any sad little girls."
In fact, the smiles from the girls is what makes this Pat's favorite event each year.
"I love to see the girls come dressed up with their dads and with big smiles," Pat said. "The dance is one of our biggest fundraisers, but all the money raised got back into our community to fund K-Kids and Key Clubs and other things in the schools."
The work does not go unnoticed by the dads in attendance. They all marveled at how the event has grown each year and that a crowded dance floor is a small price to pay for a memorable night with their girls.
"It's unreal. The whole Kiwanis group dresses up and makes it first class," Brad Boswell said. "It's great for the community... and shows what kind of special community we have."
Father Daughter Dance 2014
March 1 • 7 to 9 p.m.
CenterPlace at Mirabeau Point (Spokane Valley)
Hollywood Oscar Night is the theme at this event presented by Liberty Lake Kiwanis and K-Kids.
Semi-formal attire is recommended; girls with any type of father figure are encouraged to attend.
Tickets are $45 per couple ($20 per additional daughter) until Feb. 24. Space is limited. For ticket info, visit
www.libertylakekiwanis.org
or call 979-6652 or 951-3573.
---
Kids Tell It
Like It Is

What do you love most about your dad?

Compiled by Tammy Kimberley




"I love dancing with my dad and playing card games."

Samantha Walker, 6




"He lets me play on his iPad."

Avery Boswell, 5




"He spends time with me. We go on walks, and he is the coach for my basketball team."

Ashley Boswell, 10




"He really cares about us. He plays Legos with me and flies me like an airplane."

Emma Roessler, 6




"He protects me and sometimes sleeps on the couch by me. He also lets me hold the leash when we walk our dog around the park."

Kylie Roessler, 9

Dads' Take

We asked the dads why they choose to attend the Father Daughter Dance each year with their daughters, and here are their reasons for making the night a priority on their calendars.




"With all the fathers spending time with their daughters-it's magical."

- Ian Walker




"The kids get a chance to see their friends in a great environment. The girls let down their guard and just have fun."

- Marc Roessler




"It's the one night just for them. The girls are going to remember this night forever."

- Brad Boswell
• • • • • • •
Wave contest shares kids' dreams
In the last issue, The Wave offered an acrostic poem contest around the word "Dream." In honor of Martin Luther King Jr. Day, we asked kids to write a poem about their dreams for the world we live in.
The judges selected William Jackson Van Amburg's poem as the winning entry. For his prize, 8-year-old Jackson received a $5 gift certificate to Just Chillin' Frozen Yogurt in Liberty Lake. Listed below is his poem.
Decide your place in life
Read to your little brothers
Example. Be one.
Act fast in presence of the injured
Make others feel good
By William Jackson Van Amburg, age 8
Thank you to all the kids who wrote a poem, and be sure to watch for more contests in future issues of The Wave!
Advertisement