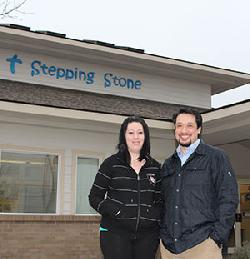 Splash photo by Tim Putnam

Josh and Jennifer Goodley are in the process of purchasing the Stepping Stone early childhood education and childcare facility.


Church selling Stepping Stone to LL couple
1/29/2014 11:08:59 AM
By Valerie Putnam
Splash Contributor
Never in his wildest dreams did new Liberty Lake resident Josh Goodley think he would be in the process of purchasing a school.
"Everything happens for a reason," Goodley said laughing. "It's truly amazing."
Goodley and his wife, Jennifer, who moved to Liberty Lake in July from Seattle, made an offer on Stepping Stone, a Christian early childhood education and childcare facility, this past fall. The sale is pending, though the Goodleys expect it will be finalized by early February.
Stepping Stone is currently owned and operated by Liberty Lake Church, which will close a chapter of offering weekday childcare and preschool that lasted more than 30 years.
The birth of Goodley's newest family member, Jacob, began a series of events leading to the offer for the school. Jacob was born in August.
"My wife and I decided it would be nice if I'd stay home more often," said Goodley, who is currently a traveling medical sales professional. "In order to do that, I had to find something to do that didn't take me out of town."
The couple were actively researching other business opportunities in Liberty Lake and Spokane Valley. They considered several options, including buying a restaurant franchise or opening a sleep lab to test for sleep apnea.
"We did consider a lot of different industries," Goodley said. "But when it came down to it, we would ask ourselves is that really what we want to do."
They had toured Stepping Stone as a childcare facility for their two children and fell in love with the facility and program.
"Honestly, Stepping Stone is the best program I've seen in Spokane," Goodley said, who looked at several other programs in the area. "They have a strong academic program."
About Stepping Stone
Stepping Stone is located at 23306 E. Mission Ave. It serves children from infants to fifth grade and offers a full-day private kindergarten.
Stepping Stone is one of only three facilities in the area that is National Association for the Education of Young Children (NAEYC) accredited. There are 10 program standards with specific criteria that a facility must meet to receive the accreditation, including advancement of children's learning and development through relationships, curriculum, teaching, child's progress and health.
The couple also liked the fact the facility is "purpose built," meaning it was built specifically to be a childcare center, an attribute Goodley said makes it safer for the children.
"When we found out the school was for sale, we said to ourselves, 'wow,'" Goodley said. "To be an integral part of our children's early development - that was appealing to us. Everything from that point on was how we were going to do it logistically."
Though there was an offer pending on the school, the couple decided to put in a back-up offer on the 9,964-square-foot facility for $850,000. The original offer fell through the following day.
Upon assuming ownership, the Goodleys plan to operate the program as it's currently being managed but eventually would like to add extracurricular programs.
"We are going to keep it the way it is," Goodley said of Stepping Stone. "The program is amazing."
The Goodleys said they will have a hands-on role in the day-to-day operation, interacting closely with the parents and the children.
"It's important parents know and trust who's there," Goodley said.
This spring, he hopes to introduce "Tennis Kids" for the children. The program teaches children ages 3 and up to play tennis on a smaller court. He plans to offer it to Stepping Stone families as part of a pilot program and, if successful, will eventually offer the program to other area schools.
Other extracurricular activities the couple is considering introducing into the program include gymnastics, karate or music.
The Goodleys' long-term vision of Stepping Stone includes expanding the program into first grade through sixth grade in a separate Christian elementary school.
"What the families are missing is continuity of education," Goodley said. "I would like to slowly add an elementary education program."
Goodley said the couple plans to add the elementary education program within three to four years.
They also hope to improve on the school's already good food service by renovating the kitchen and incorporating a menu using fresh whole organic foods made from scratch.
"It would be sourced from local farmers and ranchers," Goodley said. "We can help local businesses and provide our students with amazing food."
With Stepping Stone currently at capacity, they also hope to expand the current program and accommodate more students by building on the existing lot.
"We're thrilled to start this new chapter," Goodley said. "We want to make a difference in our community and our kids' lives at the same time."
The first iteration of what became Stepping Stone began as a Christian-based early childhood education and childcare facility in 1978 in the basement of Liberty Lake Church.
"It was designed to service the families of the church, and it just grew and grew," said Denise Kolva, Liberty Lake Church's resource and financial director.
In 2006, the church purchased property on Mission Avenue with the intent of building a new church building. The purchase included the building housing Stepping Stone Child Developmental Center.
"We merged their program with our program," Kolva said. "And it became a Christian childcare like what it had been at the church."
The church decided to sell Stepping Stone after its elder board brought it to the congregation for a vote in October 2010, asserting it did not believe the church should be running a business. The congregation voted in agreement with the elders, and Stepping Stone went up for sale that fall.
Advertisement