City navigates shift to regional waste management terrain
1/22/2014 10:20:25 AM
By Craig Howard
Splash Contributor
As far as garbage goes, the city of Liberty Lake is not going to let anything pile up.
With the management of regional solid waste transitioning from the city of Spokane to Spokane County this year, jurisdictions from Airway Heights to Liberty Lake are preparing for the possibility of a shift in cost. Yet, according to Liberty Lake City Administrator Katy Allen, area cities are still unsure exactly what sort of budget impact the change could mean.
At Tuesday night's City Council meeting, Allen said the ultimate price point will likely hinge on the contract the county finalizes with the city of Spokane Valley. The nearest solid waste transfer station to Liberty Lake is the site on Sullivan Road near Wellesley in Spokane Valley.
"I don't think they'll have a price for us until they know what Spokane Valley is doing," Allen told the City Council at the Jan. 21 meeting.
Advertisement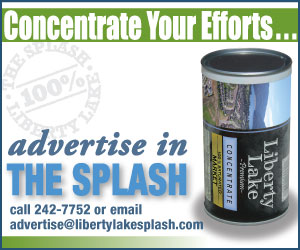 Instead of waiting to agree to a contract based on the county's agreement with its neighbors to the west, Allen said Liberty Lake will reach out to a collection of smaller jurisdictions like Deer Park, Millwood, Medical Lake and Airway Heights to draw up a request for proposals with the intention of securing an agreement and price that works for each city.
"If we wait, there's the chance we could be stuck with a bad price," Allen said. "We want to make sure the services and the costs are competitive."
Allen said the RFP will be patterned after a document utilized previously by Whitman County in similar waste management deliberations.
Marijuana moratorium
In another decision regarding a topic that spans beyond Liberty Lake, council voted unanimously on Tuesday to pass Ordinance 210, a moratorium on the processing, sale and use of marijuana within city limits in relation to Initiative 502 passed in Washington in 2012. The ban – instituted for a six-month period – draws upon a recent legal opinion published by state Attorney General Bob Ferguson that states the referendum never specified that statewide regulations would have precedence over local laws.
Cities like Yakima and Walla Walla have already moved ahead in response to the Attorney General's announcement to ban the growth, use and sale of marijuana as outlined in I-502. Ferguson's opinion indicates that "normal powers of local governments to regulate within their jurisdictions" remain in place.
Meanwhile, groups like the state Liquor Control Board appear they will bring the matter up during the next legislative session. Liberty Lake Police Chief Brian Asmus told council on Tuesday that the moratorium would "give us some time to let all these things work out."
The city is required to hold a public hearing on the passage of Ordinance 210 within 60 days after its approval. Allen said that hearing is scheduled for the council meeting on Feb. 18.
PulsePoint presentation
Spokane Valley Fire Chief Bryan Collins provided council with an overview of a new program called PulsePoint on Tuesday night that will be available as a mobile app next month. The free app will alert citizens trained in CPR and the use of Automated External Defibrillators (AEDs) in cases of cardiac arrest.
PulsePoint was introduced in the Bay Area in 2010, when Collins was working for the San Ramon Valley Fire Department. The program connects directly to the 9-1-1 system and is now utilized in more than 400 cities throughout the U.S. and Canada.
"We're enlisting citizens to help," Collins said.
The average response time by SVFD to a cardiac incident is just under eight minutes, Collins noted. Chances of successful resuscitation are reduced 7 to 10 percent with each minute that passes after a cardiac arrest. In urban areas, PulsePoint subscribers within a quarter mile of an incident receive an alert that includes the location of the cardiac arrest and surrounding AEDs. The radius increases in rural areas.
On Tuesday, Mayor Pro Tem Cris Kaminskas told of a fellow employee who was saved two years ago after suffering a heart attack at work. Quick response by colleagues and a nearby AED made the difference, Kaminskas said. Liberty Lake City Hall has an AED device installed near the front entrance.
"The more people who can get trained on this, the better," Kaminskas said.
SVFD offers CPR/AED training twice a month. Collins said that schedule might ramp up after PulsePoint goes live on Feb. 14.
"I think you'll see an increase in CPR training and, with that, an increase in the survivability of cardiac arrest," Collins said.
The PulsePoint app will be available at Apple App stores and Google Play. More information is available at www.PulsePoint.org.
In other city news
• Allen said the city should be receiving LED street lighting fixtures next week. The standards are part of an increased emphasis on citywide pedestrian safety that will also include illuminated crosswalks.
• Council Member Shane Brickner provided an overview of GriefShare, a free support group for those who have lost loved ones. Brickner, who launched the local chapter of GriefShare after losing his brother seven years ago, said the group "helps people find peace in times of loss." Jean Simpson, one of three GriefShare members to speak on Tuesday, said being involved in the program has helped after her husband passed away. "Since I started going, I began healing," Simpson said. GriefShare meets every Thursday evening at 6:30 p.m. at ONE Church, 15601 E. 24th in Spokane Valley. More information is available at www.GriefShare.org or by calling Brickner at 993-8276.
• Pat Dockrey addressed council in the citizen comment portion of the meeting, questioning why the city's Public Arts Commission, established by Ordinance 161 in 2007, was not involved in the discussion regarding community art at the Harvard Road roundabout. Council voted at the end of 2013 to remove $100,000 initially set aside for the project in the 2014 budget. Allen said that an ad-hoc citizens committee was formed to discuss roundabout art but added that a group "could be formally appointed" as the city revisits public art at a later point.
• Council unanimously approved Mayor Steve Peterson's appointment of Ralph Williams as Liberty Lake's representative to the Housing and Community Development Advisory Committee.
• Allen and Peterson will be in Olympia this week as part of a Spokane-area delegation organized by the Greater Spokane Inc. interacting with the state legislature. The Liberty Lake contingent will discuss improvements to Interstate 90 with lawmakers that include proposed widening, bridges and interchanges along the freeway from Barker Road to the state line.
• The next City Council meeting is scheduled for 7 p.m. Feb. 4 at Liberty Lake City Hall.