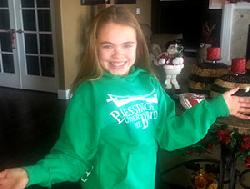 Submitted photo

Chassity Stanisich shows off a green hooded sweatshirt created especially for her by Blessings Under the Bridge. Chassity's family helped fund sweatshirts to hand out to the homeless at the charity's recent winter event.


In the January Wave: Seeking to serve others
12/31/2013 10:59:31 AM
By Tammy Kimberley
Splash Staff Writer
When Chassity Stanisich was planning for her birthday party last fall, she put gloves, jackets and socks on the list of gifts she'd like to receive. But when the gifts came her way, it was clear the winter items weren't intended for her.
In place of personal gifts, Chassity, 11, requested that party guests bring warm supplies to donate to Blessings Under the Bridge, an organization that serves the area's homeless population. She said her friends (and their parents) really got into the spirit by researching what the organization needed including hot cocoa to make warm drinks for people who live on the streets.
Chassity said she had served in 2012 at the winter event put on by Blessings Under the Bridge by sorting clothing items and helping people look for the right sizes.
"I felt very happy doing it," she said. "I was kind of shocked and wondered how they could live in that freezing weather."
But ever since her October birthday, Chassity and her mom have volunteered on Wednesday nights in downtown Spokane to serve a meal and hand out needed supplies to the area's less fortunate. But Chassity doesn't limit her involvement to one night a week.
At home, she helps her mom bake desserts for the charity's special events and bags dog food to feed the pets of those who are homeless. Chassity and a friend recently created bracelets to hand out at the winter event put on in December.
Jessica Kovac, founder of Blessings Under the Bridge, called Chassity a "baby Teresa" (referring to humanitarian Mother Teresa) because her heart is like an old soul. She said Chassity went from doing little jobs when she first started to now serving food and hot coffee. Whatever task she is given, Jessica said, Chassity humbly serves and cheerfully gives to others.
"She thinks very deep for an 11-year-old and has positive views and reasons for helping," Jessica said. "She never slows down and she is always thinking of new ways to give or creative ideas to make things to give."
When asked what inspired her to serve with this non-profit, Chassity said she just realized how much she had compared to how little others had.
"Imagine if you were someone who was less fortunate," she said. "I feel really proud that I get to help people."
April Stanisich, Chassity's mom, said that their family has always donated to charities like this in the past but they have never been as "hands-on" with an organization as they are with Blessings Under the Bridge.
As they bake desserts for the homeless or serve together on Wednesday nights, April said she's noticed a change in Chassity. It was especially reflected in her Christmas list that was made up of items that could help the homeless.
"She used to really want everything," April said. "Now she's definitely thinking more of others and less of herself."
Blessings Under the Bridge organizes a Wednesday night weekly feed as well as special events in downtown Spokane off 4th and Browne. There are simple jobs for kids and families to do together such as filling baskets with treats and handing out snacks.
To learn more, go to
www.butb.org
or search for their page on Facebook.
Advertisement