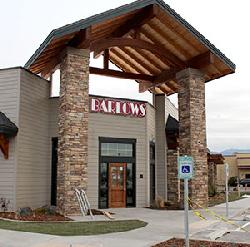 Splash photo by Valerie Putnam

Barlows in Liberty Lake has grown up. The revamped restaurant is getting set to open its new location at 1428 N. Liberty Lake Road.


New Barlows opens Jan. 20
12/31/2013 10:47:30 AM
By Valerie Putnam
Splash Contributor
The new year marks a new beginning for Alicia and Michael Fry. On Jan. 20, the couple celebrates the opening of their Liberty Lake restaurant, Barlows, in its new location at 1428 N. Liberty Lake Road.
"I believe with this move we're going to be put on the map," Alicia said. "We've been kind of hidden in the background. Even after four years, people are still going, 'Wow, I had no idea you were back here.'"
Though off the beaten path, Barlows has outgrown its current location on Meadowwood Lane. Since determining renovating the current facility wasn't an option, the couple decided to build a larger facility.
The first step came with the November 2012 purchase of the last available lot at Liberty Lake Town Center, next to Starbucks on the north side of the complex. It took the couple more than seven months to complete the design of the restaurant, meeting with architects, engineers and kitchen designers.
The groundbreaking came in mid-July for the 6,800-square-foot facility, estimated at $2.2 million dollars.
"We didn't want to rush anything," Alicia said. "We wanted to do it right."
Differences from the current facility are features such as a semi-open kitchen, extensive sound system, full-service lounge with fireplace, two banquet rooms and exterior patios. But the intimate family style restaurant design has elements of the current location, such as warm woods, a coffee counter and a fireplace.
"We have fiercely loyal customers," Alicia said. "They're concerned they're going to lose that little restaurant feel that we have right now."
Barlows will close for week during transition
Described as a traditional, full-service, family-style restaurant, Barlows opened in December 2009 at 1400 N. Meadowwood Lane. The last day of business at that location is set for Jan. 12. The restaurant will then close for seven days to allow for staff training.
The new location will open Jan. 20 at 1428 N. Liberty Lake Road. Hours of operation will be 6 a.m. to 9 p.m. Sunday through Thursday and 6 a.m. to 11 p.m. Friday and Saturday.
The new main dining room has the capacity to seat up to 124 guests. Two large banquet rooms on the south side can accommodate 60 to 100, and a full-service lounge seats 46 comfortably. There are 170 spaces of parking around the restaurant compared to the current location's 24 spots.
A grand opening celebration is tentatively planned for spring. For more, call 924-1446.
- Valerie Putnam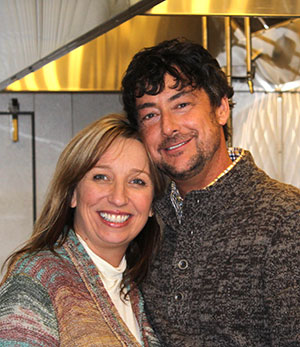 Splash photo by Valerie Putnam
Barlows owners Alicia and Michael Fry are shown here in the new restaurant's 1,450-square-foot professional kitchen.
Wanting to encourage a sense of community, the new Barlows has elements of the area as part of the décor, with framed and mounted prints from the Liberty Lake Historical Society. The couple commissioned Joel Rabie, a professional artist from Newman Lake, to paint a 16- by 11-foot mural on the west wall of the dining room depicting the history of Liberty Lake.
"We want Liberty Lake to be the focus of our restaurant," Michael said. "Back in the day when the Coeur d'Alene Tribe was here, this was a place of gathering. That's how we look at Barlows, a gathering place for Liberty Lake."
A focus during the design process of the 1,450-square-foot green kitchen was ensuring custom details and efficiencies were added to create a better working environment. The team of designers from Smith & Greene from Kent, Wash., incorporated elements such as natural gas, LED lights and high efficiency appliances. One key feature is the advanced computerized hood system, which monitors how much air it needs.
"The professional design team I've been working with says it's one of the best kitchens they've done," Alicia said.
The lounge is named Alicia's Market Side Lounge due to its windows facing the Liberty Lake Farmers Market. Keeping with the theme, the design incorporates elements of the market into the décor, such as a long, blue-striped awning stretched over the bar.
The new location will allow Barlows to begin offering a dinner menu, starting at 5 p.m. While the current menu, which includes Alicia's mother's homemade recipes, will still be available, there will be a fresh sheet with special menu selections on Friday and Saturday evenings.
"We've taken a whole foods approach to the menu," Alicia said. "We want to go more fresh, eating well, not eating processed, high-sodium dishes."
New menu items include vegetarian dishes, waffles, Panini Sandwiches, a crab eggs benedict, freshly squeezed orange juice and soft serve ice cream. In addition, the larger kitchen allows for more dishes made from scratch, including fresh-baked bread goods such as biscuits and cinnamon rolls.
"We have the space, so we can do more with our menu," Alicia said. "Our customers already love what we are doing, but we're adding some things to it, not taking away."
Garth Hicks, from Vehrs Inc., is also creating a wine collection for the restaurant.
"We'll start out with 150 bottles in stock," Michael said. "The wine is paired and matched to our menu."
Great food, nice atmosphere and good service are the three elements Barlows focuses on to create the ultimate dining experience. With more than 30 years in the restaurant industry, Alicia learned traditional service is fundamental when operating a business.
"That's what sets us apart," Alicia said. "Our servers serve you and stay with you your entire meal."
Alicia and Michael won't be involved in the day-to-day operation of the business. Alicia's twin sons, Beaux and Brad Dodd, will be co-managing the restaurant.
The new restaurant has been renamed Barlows in Liberty Lake which prepares for the possibility of opening another location sometime in the future.
"After this experience, it will be easier," Alicia said, noting that they will focus on the new location for a few years before entertaining that option.
Advertisement