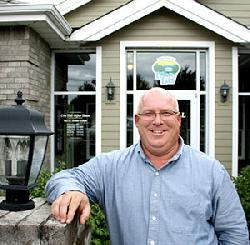 Splash photo by Craig Howard

Liberty Lake City Council Member Keith Kopelson was appointed to the governing board in January 2012, replacing Ryan Romney. The native of Massapequa, N.Y., is the only council candidate running unopposed on the November general election ballot.


More News
Alone on the ballot
9/25/2013 1:43:43 PM
By Craig Howard
Splash Contributor
Keith Kopelson chose not to mire in the post-ballot stew after falling 77 votes short of the Liberty Lake City Council in November 2011.
Instead, Kopelson took what he had learned on the campaign trail and turned it a resilient soup.
When Ryan Romney announced in December of 2011 that he would be leaving the governing board to pursue his master's degree and other interests, Kopelson was the first to apply. He would eventually be joined by four hopefuls in an appointment process that included a tough line of questioning on Jan. 31, 2012, from City Council members and Mayor Steve Peterson.
A resident of Liberty Lake since 2003, Kopelson was well-versed in municipal matters and adeptly addressed each inquiry. When council emerged with their decision, he was the unanimous pick.
Since then, Kopelson has been a refreshing presence around the dais, known for his reflective evaluation of topics and an opinion that sometimes goes against the grain. When the discussion on re-evaluating the utility tax stalled at a council meeting in August, it was Kopelson who spoke up and urged that a separate workshop be held on the topic.
A native of Massapequa, N.Y., Kopelson spent part of his adolescence in St. Louis before leaving for college. Kopelson's professional background includes 20 years in retail management. He now owns a security/janitorial company as well as a limousine business. Kopelson and his wife, Nicole, have been married for 18 years and have four children.
In addition to his work on council, Kopelson is active in other civic arenas. He is the co-founder of the Liberty Lake Merchants Association and a past president and current member of the Liberty Lake Rotary. In his spare time, Kopelson enjoys travel and scuba diving.
Unlike his fellow council members, Lori Olander and Odin Langford, Kopelson will not face a challenger in this November's general election. Despite the lack of opposition, Kopelson remains far from complacent going into the vote. The Splash caught up with the lone candidate for position 6 recently to discuss his recollections of campaigns past and present, the latest priorities hovering over City Hall and the benefits of listening to the advice of a wise grandmother.
Q: Let's go back to fall of 2011. What are some of your memories of that election and why you decided to run for City Council?
A: Well, I love Liberty Lake, and I always felt like I wanted to do something to improve or maintain the city. It's one thing talking about it or going to City Council meetings and standing up for a few seconds with something that's usually a negative blurb. I just felt like if I was able to be part of council, I would be able to serve the city the way I wanted to on a volunteer basis. I probably made the decision to run three months before the election. I was a little intimidated by the election process. My grandmother believes that it starts at the city level, and we can change the country that way, so she was very enthusiastic about me running.
Q: What was the strategy when it came to running against Shane Brickner? Were you out putting up campaign signs, doorbelling, handing out flyers?
A: I did not do signs. The sign controversy was heated back then, and personally speaking, I felt that it was overused and it really took down the look of the city. I didn't want people to vote for me because they saw my name - I wanted them to vote for me because they knew what I stood for. I spoke to a lot of people. The debates really helped quite a bit. The coverage from the Splash really helped.
Q: Are there any aspects of your career in retail management that have carried over into your role in city government?
A: I think so. I think when you have a fiscal responsibility to a company and their shareholders, you think of things a little differently. Now that I'm responsible for the city's funds and the activities, I can translate my experience and make good decisions for the city. Customers in retail are very much like citizens in a city. They're customers as well.
Q: How would you characterize citizen interest in what's happening at City Hall? Do you receive much feedback on key issues like the budget, streets and the utility tax?
A: I get more emails than phone calls. I think the perception was that the city was on a spending spree, but that's changed recently. I think people were frustrated because the city was cutting back on resources and then the next thing you knew, the next year, we had too much money and there was talk about spending money on this and that. People didn't really understand that that's not what was happening.
Q: After you lost narrowly to Brickner in November 2011, what were some of your thoughts? Did you think right away about running again?
A: The most impressive thing to me about that election was that people who didn't know either one of us didn't vote for us. So, there was a third who voted for Shane, a third who voted for me and a third who didn't vote. When I found out Ryan (Romney) was leaving, I was very interested in applying for it. I would have run again.
Q: After you were appointed to council, what sort of learning curve did you face? Was it more or less what you'd anticipated?
A: I think the amount of time outside council meetings caught me a little off guard, although I was still enthusiastic about it. There were the committee meetings, the time spent researching the issues, the different events they want you to attend. It all worked really well, though. My schedule allows me to do that.
Q: What was your approach in that first year on council? Did you make it a point to sit back and absorb what was being discussed or did you want to establish a presence right away?
A: I wanted to jump in and be part of the decision-making process. Within the group, I think it's important that everyone have comments and opinions. I went to the elected officials training in Olympia. It was very valuable and rewarding. I felt, early on, that there was a lot to learn. I knew that there was a certain protocol you had to follow.
Q: You were the one who recommended that council hold a workshop in September to talk in more detail about the utility tax. What is your take on this tax right now?
A: The utility tax is very misunderstood. It's $100 a family. It provides the services across the board. I'm not going to be held to previous councils' promises that it would be a temporary thing to get them out of a deficit situation. I look at each year as a new situation. So, you end it one year for the deficit and then you're starting it again for the roads. We need to let the public know what the impact would be if we didn't have the utility tax. Staff put that together. In reality, we'll be in trouble again a couple of years down the line if we don't act prudently.
Q: Are you disappointed at all that you are not facing a challenger on the ballot this fall?
A: To the last minute, (Council Member) Josh Beckett was calling, saying he was running against me just to keep it honest. I was like "Really?" He was kidding. It's disappointing from a citizen's standpoint that there aren't more people interested in running for council. From my personal standpoint, I think I'm a good addition to council and have a lot of good things I want to accomplish. The time period I was in wasn't long enough. In the next four years, I hope to really make an impact in a positive way for the city. I'm glad it's not going to be a fight.
Q: Why don't more people run?
A: It's an intimidating job. It's tough. Some people don't like confrontation.
Q: What about the chemistry of the council right now? There is a chance you could have three new people around the dais in January.
A: I think the retreat was a good chance to not necessarily get things done, but to find out where we stand on issues. If I have a generally good idea, I can find out who's going to be supportive and who's not. If we didn't get anything else out of it, we got that. I think we have a real good group right now. I think there's a lot of good things we can accomplish moving forward. I've been supportive of Odin Langford. I think it's important we keep that continuity on council. I think the people who vote should have an opinion specifically on the candidate. If you don't know who the candidates are, it's better to not vote for either of them. Just recognizing who has the most signs to vote one way or another is not a good program.
Advertisement