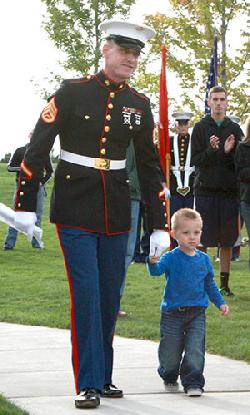 Splash photo by Craig Howard

Former Marine Bob Wiese escorts Bodie, the son of Joshua Dumaw, at the Sept. 21 ceremony honoring Dumaw and dedicating the Rocky Hill Park station of the Fallen Heroes Circuit Course. The date of the ceremony happened to correspond with Bodie's third birthday. The boy was born three months after his father was killed while serving the country as a Marine corporal in Afghanistan.


More News
Fallen Heroes installment honors memory of Marine
9/25/2013 12:16:13 PM
By Craig Howard
Splash Contributor
Before Joshua Dumaw was a respected Marine, he was a boy growing up a few miles to the west of Liberty Lake, playing blacktop basketball, rooting for the Zags and making people laugh with his trademark wit and exuberance.
"Josh was a real jokester," said his mom, Jenifer Dumaw. "Nothing really ever got to him. He didn't dwell on things. He was just very personable. I never met anyone who didn't like Josh."
His mom, wife and a son born three months after his 2010 death in Afghanistan were among more than 250 people who gathered at Rocky Hill Park Sept. 21 to honor the fallen hero. The ceremony also dedicated the first installment of exercise equipment in Liberty Lake's Fallen Heroes Circuit Course.
After attending West Valley High School, Dumaw worked for an electric company but in June 2007 decided to enlist in the U.S. Marine Corps. He left for basic training in San Diego and afterward attended military police school.
Jenifer remembers Josh hiding his enlistment from her for three weeks. When he was deployed to Iraq in 2008, she was again among the last to know.
"I'm the kind of mom who's always worried about my kids," Jenifer said. "He was putting himself in harm's way, and he knew I would be worried about it."
Jenifer recalls Josh being adept at everything he tried, from skateboarding to basketball - and the military was no exception. He thrived as a Marine and rose to the rank of corporal while in Iraq.
"He saw the uniform and what it represents," Jenifer said.
Jamie Nilles, former West Valley varsity basketball coach and current athletic director, recalls Dumaw as a "good kid around school."
"We never had any issues with Josh," Nilles said. "He was polite, always on time and had a good work ethic - a lot of traits that I'm sure carried over to the Marines."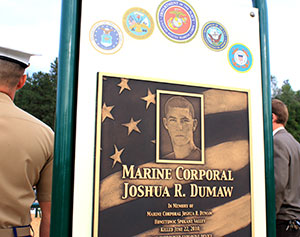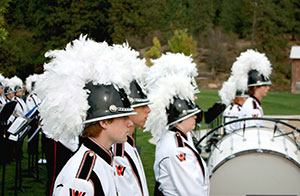 Splash photos by Craig Howard


Above, the West Valley High School band performed at the ceremony honoring Joshua Dumaw. Dumaw graduated from West Valley.




Below, Liberty Lake resident Lyle Hatcher tries out some of the newly installed equipment that makes up the Rocky Hill Park feature of the Fallen Heroes Circuit Course. Organizers plan to install features at four other parks to eventually honor fallen heroes from every branch of the military.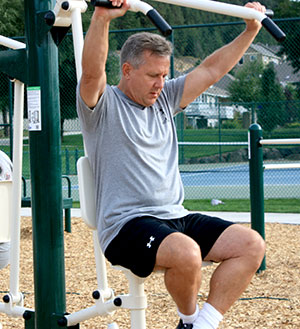 Dumaw returned to the U.S. from the Middle East in January 2009. That August, he was married to Kailyn Linson whom he had met online during his deployment. Josh and Kailyn made a new life for themselves while he was stationed in North Carolina and, toward the beginning of 2010, discovered they were expecting their first child.
"Josh could always make me laugh," said Kailyn. "He was as sarcastic as me. He was just an amazing, caring person."
Wanting to provide for his growing family, Dumaw volunteered for another tour of duty that would bring added pay. In May 2010, he left North Carolina for Afghanistan.
Less than a month into his deployment - and only nine days after his 23rd birthday - Dumaw was part of a patrol unit sweeping for improvised explosive devices outside the Marine base. After locating an IED with his metal detector, Dumaw made sure his fellow soldiers were dispersed from the area. Before he could reach safe ground himself, Dumaw was caught in an explosion and killed.
Bob Wiese discovered the story of the courageous squad leader from Spokane Valley when he was searching for an honoree at the first installment of the Fallen Heroes Circuit Course. Eventual plans call for installments at parks throughout the community, with Rocky Hill being the first. Wiese, a Liberty Lake resident, served in the Marines from 1993 to 2000, a period that fell between the two Gulf Wars. Although he never saw combat, Wiese wanted to do his part to pay tribute to those like Dumaw who sacrificed their lives serving their country.
Wiese brought his idea for the course to Liberty Lake City Hall last summer. The idea would be to install outdoor exercise equipment at five locations throughout Liberty Lake with each site honoring a branch of the military. A local "Fallen Hero," representing the Marines, Army, Navy, Air Force and Coast Guard, would be remembered at each location with a personalized plaque.
The Rocky Hill project was awarded $35,000 by the city last year. Wiese and his committee - comprised of Liberty Lake residents - were charged with raising the remaining cost of around $4,300. Committee member Amy O'Connell said the community rallied enthusiastically on behalf of the cause. Between businesses and civic organizations, more than 20 groups contributed on some level.
"First of all, it was neat that the city supported it so well and we had such a great response going door to door," O'Connell said.
Kristi Dodson, another committee member, recalled how the project "started with one vision and wound up being embraced by the entire community."
The nine-piece circuit course includes features that emphasize cardiovascular exercise and strength training. Since being installed, the site has been utilized heavily by residents of all fitness levels.
Liberty Lake Parks and Recreation Director Michelle Griffin said Wiese and the committee deserve kudos for all their work in bringing such a unique concept to the city of Liberty Lake.
"This has been by far the best project I've worked on in a long time," Griffin said. "This group is really terrific. They're extremely dedicated to this cause."
Landing on Sept. 21, the Rocky Hill dedication ceremony landed on the third birthday of Dumaw's son, Bodie. A gathering of Dumaw's friends and family attended the celebration.
"Josh would have been so humbled by this," said Jenifer. "As his mom, I've always thought he was pretty darn cool, but to have others recognize him like this is amazing."
Kailyn, who lives with Bodie in Sedro Woolley, Wash., and will graduate with a degree in office management from Skagit Community College next June, called the tribute to Josh "a true honor for me and my family."
"It's amazing to see what they've done," she said. "It's a great feeling to know that his memory is still being kept alive."
Speaking at the ceremony, Liberty Lake Mayor Steve Peterson described the circuit course and what it represents as "a living statue of those who have served their country."
"This is here to honor, educate, inspire and remind us who has served," Peterson said.
Wiese provided the dedicatory address at the event, saluting Dumaw for "selfless actions that not only saved the lives of his comrades in arms but also showed tremendous bravery."
Wiese expressed hope that those who utilized the circuit course would pause to remember the sacrifice of Dumaw and others that have made the freedoms in Liberty Lake, and throughout the nation, possible.
"This is here to celebrate the lives of those individuals and the service they gave," Wiese said. "Someone like Josh is a real hero."
Advertisement