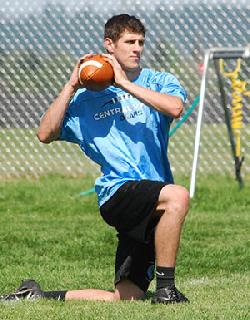 Splash photo by Mike Vlahovich

Central Valley High School quarterback Adam Chamberlain found the football back in his hands on the first day of practice Aug. 21. He was a welcome sight for the Bears following a summer basketball injury that left his status questionable.


2013 Bears will lean on the run, QB Chamberlain
8/29/2013 11:33:38 AM
By Mike Vlahovich
Central Valley football coach Rick Giampietri didn't need to hear this bit of news.
Do-all athlete Adam Chamberlain, the returning Bears quarterback, strained an Achilles tendon playing basketball this summer, was put in a protective boot and there was uncertainty of his football status.
But the boot came off and there he was, much to Giampietri's relief, the first day of practice on Aug. 21 as if nothing had happened. Giampietri had said he hoped he'd be ready for CV's season opener Sept. 6 at home against Ferris, a pre-season Greater Spokane League favorite.
"Things took off when we got him in the lineup last year," Giampietri said of Chamberlain, who became eligible the last half of the season. "He's one of the better athletes in town (and) just makes things happen - by accident if nothing else - with his legs as much as anything."
The Bears won five of six games with him behind center, including an upset victory over league champion and then unbeaten Gonzaga Prep.
"He's as valuable in the secondary and made a lot of saving type tackles," Giampietri continued. "He's as good a two-way player as there is in town."
Fortunately, all but the center returns on the offensive line. Veterans include the whole right side - tight end Beau Byus, first-team All-GSL tackle J.D. Boden and guard Shayne Riordan. Hunter Wardian started the last seven games at left tackle following injury to a senior starter, and guard Zach Millard was All-GSL on defense.
Editor's note
A version of this story appeared as part of a preview to all Spokane Valley area high school football teams in the September issue of The Current, The Splash's sister publication serving the greater Spokane Valley area. Future issues of The Splash and The Current will feature other local prep athletes and teams during the 2013-2014 school year. With story ideas featuring Liberty Lake angles for The Splash, email editor@libertylakesplash.com.
2013 Central Valley football schedule
Sept. 13
Rogers at Joe Albi Stadium, 7:30 p.m.
Sept. 19
Mt. Spokane at Albi, 7:15 p.m.
Sept. 27
North Central, 7 p.m.
Oct. 3
Lewis and Clark at Albi, 4:14 p.m.
Oct. 11
at University, 7 p.m.
Oct. 25
Shadle Park, 7 p.m.
Nov. 1
at Gonzaga Prep, 7 p.m.
"We have to rely on the offensive line," Giampietri said. "We should be able to run the football. That's kind of the idea."
Giampietri said junior running back Spencer Miller had a good summer's training, running a 4.6 40, and Jackson Axtell and Hayden Wolrehammer add depth.
P.J. Bowden, J.P. Benson and Tucker Stout are in the mix as receivers.
"It looks like we have people who can catch it and run decently, so I think we're OK," Giampietri said.
Such depth comes in handy since the bulk of them also play defensive positions.
The Bears, he said, can stack up "really well" in the GSL. A healthy Chamberlain is vital if CV is to challenge, as usual, for the postseason.
Advertisement