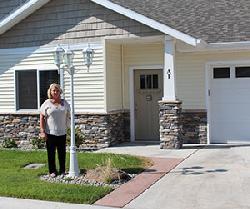 Splash photo by Valerie Putnam

Joan Estudillo, facility administrator at Guardian Angel Homes in Liberty Lake, stands in front of the new duplex units that opened in April. The units proved popular, and Estudillo said only one remained open.


Guardian Angel expansion fills quickly
8/29/2013 11:08:41 AM
By Valerie Putnam
Splash Contributor
Guardian Angel Homes, an award-winning assisted living and memory care community in Liberty Lake, recently expanded its campus and services.
As part of its expansion, the facility added four new duplex units for independent living to its campus at 23102 E. Mission Ave.
"It's a complete world of difference here," said resident Jim Dunbar, who moved into a duplex unit in April. "I love it."
Each of the new 1,100 square-foot units has two bedrooms, two bathrooms and a one-car garage. The residents of these units also get a full laundry room, granite counter tops, upscale appliances, hard wood floors, a patio and extra storage.
The duplexes are surrounded by $10,000 worth of landscaping, featuring a gazebo gate with climbing roses on each side. Finished in April, the duplexes proved popular.
"We couldn't get landscaping in before people moved in," said Joan Estudillo, Guardian Angel's Liberty Lake facility administrator. "We have one unit left."
Estudillo says they are currently working on plans to add additional independent living duplexes, another assisted living facility and an adult playground on the property.
"We need to let the dust settle from this expansion," Estudillo said. "I'm not sure what we will build first, the duplexes or the assisted living facility."
The proposed adult playground, by Life Trail Advanced Wellness Systems, features outdoor exercise equipment. Each piece of equipment has instructions posted on how to operate so residents can work independently or with the aid of a therapist.
"The adult playground will be the first of its kind in the area," Estudillo said.
Six different pieces have been selected based on input from residents, including a wobble board (a device you stand on that promotes balance), lower and upper body cycling, push up and stair exercises.
The expansion was made possible when Guardian Angel purchased property from Liberty Lake Church in 2011.
"We didn't have room to expand," Estudillo said. "After we purchased the land, then we determined what we needed most. We felt independent living was the most needed."
The project was completed by Geddes and Company from Phoenix, Ariz.
The first Guardian Angel Homes facility opened in 2000 in Post Falls. The idea for the business was sparked when owner and entrepreneur Marty Frantz's father was diagnosed with dementia.
Frantz researched facilities and couldn't find a loving homelike environment for his father. Instead of settling for what was available, he developed a facility for him. Unfortunately, Frantz's father passed away before the project was completed in the summer of 2000.
His concept incorporates small individual homes with a maximum of 15 residents. Limiting each home helps memory care residents from feeling overwhelmed. Each home is self-contained with a full staff, beauty salon and barber shop, whirlpool, patio and courtyard, and a back-up generator.
"People found it more home-like," Estudillo said. "Everything we do is on a smaller basis."
Above the memory care homes are independent living quarters designed with the intention of offering a place for spouses to live, so they can be in the same home.
"They can still have meals together, and spend time together," Estudillo said.
Frantz's facility was honored by the National Assisted Living Federation for home-like design.
Since that time, Frantz, along with John Geddes, have opened four other facilities - Liberty Lake, Richland, Wash., Lewiston, Idaho, and Hermiston, Ore.
The complex in Liberty Lake began in 2003 with one memory care home. Since then, the facility has grown to include five individual homes, a 31-apartment assisted-living facility built in 2009, and the new duplex units. The complex currently has 109 residents and 68 employees.
"I've got to tell you these are the most terrific people to work for," Estudillo said. "I've been doing this for over 30 years, and there is not another company that I've seen care as much as they do about the residents."
Estudillo believes the success of the locally owned company is its reputation built on serving the residents and adapting to the ever-changing needs of seniors.
"Guardian is known for getting it right and building what people want," Estudillo said. "They want good things for our residents, and that shows."
Advertisement