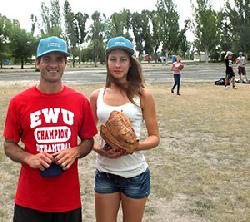 Submitted photo

Liberty Lake native Bailey Wolff is a Peace Corp volunteer in Ukraine. A former Central Valley High School baseball player, he has used the American past time to help build connections and community during his work in Ukraine. He holds regular pick-up games, and thanks to donations from Liberty Lake community members, he has new equipment to use in his efforts.


Thanks to LL for exporting baseball to Ukraine
8/29/2013 10:24:56 AM
By Bailey Wolff
Splash Guest Column
Last winter, when I talked with the Splash about baseball in Ukraine ("Play ball! (In Ukraine)" Jan. 3 cover story), I had a flimsy baseball bat, three tennis balls, two gloves, a few interested kids and a hope that people might donate equipment so that we could organize a real game in our community. We didn't even have a regular place to play. I thought that if people would donate their old gear and my parents would send it to Ukraine, that by this summer we would be able to play ball. What ended up happening was better than I could have imagined.
Instead of getting old bats, dusty gloves, stinky hats and chewed-up baseballs from peoples' basements and garages, we got brand-new gloves, brand-new bats, new baseballs and unworn hats. Kimmel Athletic Supply, thanks to financial help from the Liberty Lake community and the initiative of my old baseball coach, Steve Rasmussen, supplied enough gear to equip an entire baseball team.
I remember my dad telling me this news through a Skype conversation and then joking, as he looked at all of the gloves and bats sitting in boxes in his living room, "The only problem now is figuring out how to send it all to you."
Coach Ras and my dad were able to purchase four bats, eleven gloves, a mix of six dozen baseballs and incrediballs, five helmets, a batting tee and a set of catcher's gear at the discounted prices offered by Kimmel. We also received 13 baseball hats with the Kimmel insignia so that when we play, we look like a real team. Ed Garcia, another of my baseball coaches from Central Valley, also donated a few dozen baseballs, making the total number that crossed the Atlantic Ocean close to 100.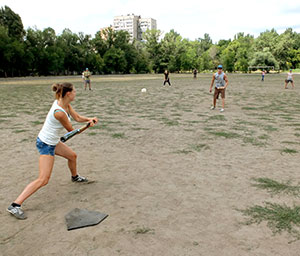 Submitted photos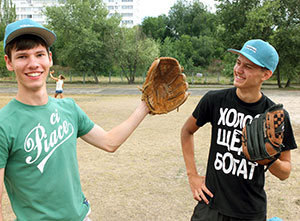 The two boxes weighed a combined 60 pounds and took eight weeks to get here by truck, ship and train. When they arrived to my apartment, they were so bulky that the delivery driver and I had to carry them up the stairs together.
This was sometime in June. And even though I had the equipment, I didn't have a team to use it with. Since playing last fall with the kids from my school, interest in the game had waned and those with whom I had played were on summer break at the seaside. Fortunately, I know some Canadian volunteers in my town who spend a lot of time working with kids, and it just so happened that they came to me the same week I received the baseball equipment and said that they wanted to put on a baseball camp.
"The only problem," they said, "is that we don't have any equipment."
"Ah ha," I told them. "If you've got people to play, I've got some equipment."
We did put on a baseball camp, and following the camp we played a game with the kids that became an every-Saturday sandlot game on an unused soccer field near the river. I said last fall that my goal was to start a regular game where any person that wanted could come and learn how to play. Barring the occasional drunk man who walks by and wants to take a couple cuts with the bat, we allow most everyone who wants to play to join, and it has all been made possible by the generosity of the Liberty Lake community.
There are some difficulties in teaching the game that I can report. Sometimes, it feels like trying to teach a PE class full of students who would rather listen to their iPods and search for four-leaf clovers. The etiquette, rules and habits of baseball are so new to them that it often feels that we are teaching fish how to walk.
When I tell Sasha that she has to play deeper in the outfield, she whines and says that she wants to be close to her friend who is playing shortstop.
"But a leftfielder needs to be out there," I say, pointing to the apparent wasteland of the outfield. Sasha shrugs, and I relent, and then Oleg (once again) crushes the ball over her head, and she chases it, only to return, after the play is over, to her position too close to the shortstop, unwilling to understand that leftfielders are to cover an area and not to keep the infield company.
Several times, we've talked about warming up with one partner and slowly moving farther and farther apart while playing catch.
"One person stands here and the other person stands there and the two of you play catch like this," I say, demonstrating how every baseball team I have ever seen plays catch; in two lines, stretching and slowly lengthening the distance between them.
Without fail, these Ukrainian kids organize themselves into interesting ovals, sometimes octagons, tossing one or two baseballs around and across this shape, creating (what seems to me) a complicated mess that is again, more about socializing than it is about warming up.
"You're supposed to do it this way," I tell them, and they all look at me like I am grumpy, or at least a little tired, and that maybe I should come back after I've received a good night's sleep.
It takes a lot of patience to balance my expectations of what they should do and the reality of what they do do. It takes a lot of craft to teach them "how the game is played" without coming across as overbearing and authoritarian. It's an interesting balance finding the middle between allowing them to have fun and learn the game at their own pace and insisting that they practice and play the way I "know" it should be done.
Thank you again for your donations and helping to make this baseball game possible in Ukraine. It's been wonderful for me, and the kids really love it too.
Liberty Lake native Bailey Wolff is a former Central Valley High School baseball player and a 2010 graduate of Eastern Washington University.
Advertisement