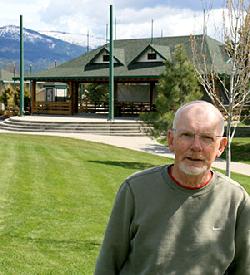 Splash file photo

Longtime community volunteer Bob Schneidmiller became president of Friends of Pavillion Park in March.


Profiles: Humble Schneidmiller leads FOPP
8/28/2013 11:49:10 AM
By Brenna Holland
Splash Contributor
Bob Schneidmiller does not seek any praise nor crave any attention. So how does the current Friends of Pavillion Park feel about a newspaper story written about him?
"It's OK," Schneidmiller rolled his eyes and smiled after finally assenting to The Splash's repeated request. Then he made one more plug for somebody else: "I mean, you could write this on so many different and other people."
Schneidmiller's humility, drive and commitment to helping others throughout the Liberty Lake community is what - unfortunately for him - garners praise from the many people it touches.
Schneidmiller first came to Liberty Lake in the mid-1960s after a stint with the U.S. Army. He needed a job and worked at the Schneidmiller Land Company, a family business that included farms that dominated land that today is largely developed as the city of Liberty Lake. The seasonal work prompted a move to the Seattle area, where Schneidmiller procured a job at Boeing as a forklift operator.
After a few months at Boeing, he decided it was time to obtain a degree and went to back to school at Seattle Community College. He left with an associate's degree in Information Systems. He soon found work at Uniguard Insurance and dedicated 34 years to the company.
It was never a part of Schneidmiller's plan to come back to Liberty Lake, but after visiting friends and family in the area, Schneidmiller's wife, Sue, confided in him that she could live in Liberty Lake.
"I had never thought about it before, and at first I didn't really know what to think," Schneidmiller said. "But we talked about it for quite some time, and it soon became clear that we needed to get away."
After retirement, the Schneidmillers relocated to Liberty Lake permanently in 2002, where Bob immediately began looking for opportunities to get involved.
"I asked (cousin and fellow Liberty Lake resident) Ross and Kelli Schneidmiller one Fourth of July what I could do," he recalled. "They suggested I could get involved with Kiwanis. … Sue and I volunteered for our first event, the (Friends of Pavillion Park) Holiday Ball."
Involvement in both Kiwanis and FOPP became regular outlets for Schneidmiller's energetic goodwill. He is currently the FOPP president and has held leadership positions with Kiwanis, including a stint as president and as the longtime organizer of one of the club's flagship fundraisers: its annual Scholarship Scramble golf tournament.
"The members are so great, and volunteers for Kiwanis are not just one age; there are a wide array of ages," Schneidmiller said.
Schneidmiller ascended to the presidency of Friends of Pavillion Park in March 2013 after years volunteering in various posts in the organization.
Pat Lutzenberger first met Schneidmiller when he showed up for a Kiwanis meeting in 2002. She had a quick answer regarding her longtime friend's greatest qualities.
"Leadership," she responded. "He has a heart of gold and always wants to be involved.
When the history of Liberty Lake is written, Bob should be mentioned as an honorable community service servant. Since moving here he has been involved with SCOPE, served as Kiwanis president, and as president of FOPP. He always has a lot on his plate, but he is willing to step up and do the right thing. He does a lot of community service, he's always there and never complains. He quietly goes about his business and does good."
David Himebaugh, a former FOPP president himself who now serves in the vice president role, describes Schneidmiller as "dedicated, accountable, organized and committed to serve our community."
Your turn
As the curtain closes on another Friends of Pavillion Park summer concert series, President Bob Schneidmiller is looking for volunteers to help with the efforts that make those free events possible.


The annual Holiday Ball, which this year will be Dec. 7 at the Davenport Hotel, is FOPP's sole fundraiser to cover the costs associated with the series.


"His work ethic is second to none," Himebaugh said. "He keeps the entire board on their toes as he gets things done quickly and efficiently. … Bob represents the spirit of Liberty Lake and what makes this community a great place to live through his service and dedication."
As for Bob Schneidmiller, he can only deflect praise onto his community.
"Liberty Lake is a great community that is friendly and offers so many different things to do," he said.
Part of what makes it that way is volunteerism.
"I believe that every person who is capable of volunteering should do so - especially younger people, as they are the future of our volunteer organizations," he said. "… I think that it is good to extend yourself through the community. It just gives me so much pleasure."
Advertisement