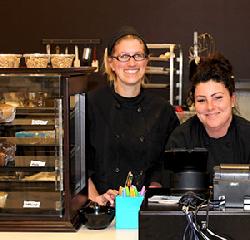 Splash photo by Valerie Putnam

Molly Patrick, right, Eat Good chef and Martha Morrill, Eat Good baker, pause behind the counter of the Roast House Coffee Bar.  While the restaurant closes at 2 p.m., customers can get homemade pastries and coffee drinks Monday through Friday until 4:30 p.m. at the coffee bar.


Eat Good focuses on healthy and fast
8/28/2013 11:35:54 AM
By Valerie Putnam
Splash Contributor
"Fast food service with fine dining skill and execution" - that's how Chef Molly Patrick describes Eat Good, the new open-to-the-public restaurant inside Liberty Lake's Meadowwood Technology Campus. The premise behind Eat Good is to serve food both healthy and fast.
"Nothing is pre-made," Patrick said. "We make everything here."
The idea began as a joke between Patrick and Adam Hegsted. Hegsted, who is helping get Eat Good up and running, previously worked with Patrick at the Coeur d'Alene Casino.
"We always joked about bringing fine dining to the fast food world," Patrick said. "Then this spot opened up, and it was the perfect location to implement it."
In addition to providing a calorie count on the menu for each item served, Patrick explained she doesn't use additives or preservatives in the dishes.
"You know what you're putting into your body," Patrick said. "You can feel good about eating out and eating on the go."
Most of the ingredients for Patrick's dishes are purchased from the Liberty Lake Farmers Market and other local farmers. The beef comes from Snake River Farms in Boise, Idaho.
"Anything we can get local, we do," Patrick said. "We try to use as many local farmers and ranchers as we can in a 300-mile radius."
Preparing each of her dishes from scratch, Patrick on occasion scours the area surrounding the restaurant to prepare local delicacies that feature tastes indigenous to the area.
Her creative approach to cooking has led to unique menu items. One such item is her pine lime sorbet in which she used pine needles gathered from outside the restaurant to create the unique flavor.
IF YOU GO ...
Eat Good

Hours: 7 a.m. to 2 p.m. Monday through Friday, with the Roast House Coffee Bar and grab-n-go options such as cold sandwiches, salads and fruit available until 4:30 p.m.

Where: Eat Good is located in the Meadowwood Technology Campus, 24001 E. Mission Ave. It is open to the public.

Join the club:
A weekly Wednesday night supper club is available from 6:30 to 8 p.m. Featuring a family-friendly, home-style menu, the cost is $25 for adults and $10 for children. Tickets can be purchased at
www.brownpapertickets.com
.
One of the restaurant's biggest sellers is non-fried chicken tenders. Patrick's secret to this recipe includes using tomato soup, Rice Krispies and oatmeal in the batter.
"They taste like they're fried," Patrick said. "We go through 20 pounds of chicken tenders a day."
Other feature menu items include a bacon and fried egg sandwich, mushroom burger and fish tacos.
In addition to the set menu items, the café offers a daily hot entree, salad bar, daily grill special and grab-n-go items. Two soups, including a seasonal soup, are prepared daily.
"You could get lunch, coffee and a pastry for under $10," Patrick said about the cafe's reasonably priced menu. "We want it to be affordable."
The Roast House Coffee bar, also on the campus and managed by Patrick, offers home-made pastries and coffee until 4:30 p.m. Selections include Winkies (a pastry similar to Twinkies), marbled brownies, monkey bread, bear paws, lemon poppy seed muffins, cookies and lemon and raspberry bars.
Eat Good's menu tries to accommodate any food allergy. The baker is currently working on perfecting a gluten-free flour, with the goal of making special pastries.
Prior to Eat Good, Season's Cafe operated in the location. It served the estimated 3,000 employees in the building.
"They were open about a year," Patrick said. "It wasn't working financially. We came in and took it over. Eat Good was born."
Patrick began managing the restaurant in late April by watching the operation of Season's to see what changes needed to be implemented.
"It was going to be a drastic change," Patrick said. "We tried to make it as smooth as possible."
Many of Season's employees remained on staff. Patrick restructured the layout, implemented from-scratch cooking and within a couple weeks changed the restaurant. The restaurant remained open during the transition.
"I've opened other restaurants, but this by far has been the roughest," Patrick said about transitioning concepts while the restaurant remained open. "It was Season's one day and Eat Good the next."
Season's continued serving breakfast and lunch until closing on May 5. On May 6, it became Eat Good.
Eventually Patrick hopes to transform the cafeteria-style atmosphere into one that has "old-world charm," with big comfy high back chairs and round dark wood tables.
Patrick also envisions opening other Eat Good restaurants in the area.
"It will be small with a drive-thru," Patrick said. "All the production will be out of this kitchen."
But before any expansion, Patrick wants to ensure the first location is running at its full potential.
"We don't want to rush it," Patrick said. "That's not what I'm about. It's doing it right and doing it right the first time."
Patrick's career in food service began at a small Italian restaurant in Macon, Ga., when she was 16. Later, at only 19 years old, she traveled around France to learn the art of country French cooking.
"In France, they really love food," Patrick said. "They're all about the food. It was lovely to watch them cook."
Since moving to Spokane in 2002, her experience includes working in the kitchens at the DoubleTree, C.I. Shenanigans, Ella's Super Club, and Coeur d'Alene Casino's Sweet Grass Cafe, Tselum and Chinook Steakhouse.
Advertisement