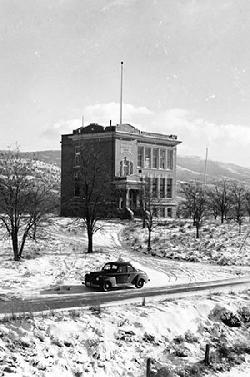 Photo courtesy of the LL Historical Society

The first Liberty Lake School was a one-room school-house with a handful of students. Pictured is the second Liberty Lake School, a two-story brick building with a basement. Average attendance for the school through the years was somewhere around 25. Statistics disclose the 2012-13 student population at the present Liberty Lake Elementary School at 674.


History: LL School provided 'old-fashioned' education
8/28/2013 11:07:50 AM
By Karen Johnson
Liberty Lake Historical Society
Rote memorization, reading aloud, copying sentences and recitation in front of the class. How did our older generations get so smart? When formal American education was birthed in 1647 through a Massachusetts Court recommendation that schoolhouses be built, the three R's -reading, writing and 'rithmetic - were secondary to developing moral, spiritual and aesthetic values. In rural areas, the reality for an education was a parent's responsibility, and subject matter largely revolved around family and community needs. Where schools did exist, they usually provided a map, globe, Bible, dictionary and blackboard (often merely a black board).
Before textbooks (mid-19th century), children read whatever books were available. The Sears catalogue transformed into math story problems about community needs; literature stressed values and virtues. Discipline consisted of a quick rap on the hand with a ruler or being sent to the cold corner of the room. Before taxes supported schools, box socials, where females created lunches that males purchased (knowing the creator and purchaser dined together), secured a few dollars for schools through "tasting" a bit of fun and romance!
As the east to west transcontinental rail blazed through the Spokane area in the 1880s and populations rapidly increased, schools became a priority. By the 1890s, Liberty Lake, Spokane Bridge, Saltese, Quinnamose, Greenacres, Trent, Mica and Lone Fir boasted individual school districts comprised of a schoolhouse and a school board. Five-year-old Amanda Madson, whose parents were contemporaries of Steven Liberty (for whom the lake was named), remembered neighbors asking her parents if she might be allowed to attend school. It was 1897, and that marked the beginning of Liberty Lake School, as Amanda and two others became its first class. They met for three months each spring and fall. Her teacher, Miss Mitchell, would sometimes hold Amanda on her lap because she was so tiny, and that motivated Amanda to become a teacher. She graduated from Coeur d'Alene College in 1912 and taught in the Spokane area for 35 years, including two at Liberty Lake.
• By the 1880s, the national fashion statement regarding school buildings evolved from white (because red paint was too expensive) one-room schools to brick schools sporting indoor bathrooms, cloakrooms, porches and bell towers. Liberty Lake's 1912 brick school was a fashion icon, sans the bell tower.

• Liberty Lake School never had a principal or secretary.

• Fun recess activities at Liberty Lake School included playing on the big old wooden teeter totters, swings and merry go round, plus games like Ante Ante Over the Shanty, Crack the Whip, Fox and Geese and Kick the Can.

• When Liberty Lake School was condemned, it was sold to two CV teachers who repurposed the school's bricks for their home located on the site.

• The county library system sent its bookmobile to the school on occasion for lake students and families to check out selected books.

---
The Development of a Community
A series from the Liberty Lake Historical Society, appearing in the first Splash issue of each month in 2013.
January - Relocation of the Coeur d'Alenes
February - Formation of the Coeur d'Alene Indian Reservation
March - Transportation Overview
April - Railroads
May - Homesteaders
June - Homesteaders in the hills
July - Utilities
August - Church
September - School
October - Commerce
November - Government
December - Medical
Meanwhile, federal, mandatory attendance laws became effective, and districts were to provide adequate facilities and transportation for all children. A Massachusetts educator, John Philbrick, subsequently introduced a new concept in school design: one building with 12 equal-sized classrooms to house 12 grades with 12 teachers. It was a bold move toward consolidation, though not easy to accomplish in more rural areas where parents fiercely protected their schools' independence. But in time, they couldn't resist consolidation's promise of curriculum options, better teachers, up-to-date equipment and organized sports programs.
Locally, two of these larger schools were built in 1912. With increasing numbers of students advancing through the early grades, Vera High School opened at Sprague and Progress, offering advanced levels of education. Attendance soared and academic options expanded within a few years to include typing, physics, biology and geometry. In 1918, Vera closed for six weeks when its principal was drafted in World War I. Despite the war and its heavier dependence on students to work plus a lethal flu epidemic nationwide, Vera's continued growth compelled the district to hire three more teachers for its next school term. Further consolidation occurred in 1925, when Vera and Liberty Lake schools combined with three others to become Central Valley School District. Two years later, a new Central Valley High School opened on Appleway (later becoming Greenacres Junior High and presently replaced by Greenacres Middle School). Students, faculty and others immediately initiated an annual Campus Day, where they planted and maintained the school's yard, track and athletic fields, then added a gym a couple years later. In 1941, students raised funds and erected lights so that CV's Douglas Field became the first lighted field in Spokane. Untamed growth districtwide was the driving force that pushed CV district's facilities to multiply in the '50s, including a new $1.1 million CVHS in 1956 at its present site.
The other school built in 1912 was a two-story brick Liberty Lake School located on the southeast corner of Sprague and Molter, just north of the old one. There was one classroom per level, with an occasional kindergarten class occupying the basement. In 1941, after Liberty Lake was a part of the CV district, Liberty Lake's newly hired teacher didn't show on the first day, so the board shut it down for the year and bused the eight to 10 students to Greenacres Grade School on Barker. By 1948, though, Liberty Lake was accommodating five grade levels.
Former Liberty Lake students tend to reminisce fondly about their schools' history and old-fashioned character. When asked what they remember, a loud and heavy school bell tends to lead everyone's list. Even Amanda shared a New Year's Eve remembrance where "those boys someway crawled up and rang that bell," the bell that she believed was transferred to the brick school. "Brick schoolers" readily describe a large, heavy and loud handbell teachers swung and clanged to signal the end of recess. Some lakers tell of walking to and from school eating their way through the crab apple orchard (east of the school), of building forts out of tumbleweeds and eating wheat grain picked out of the head of the stalks that grew voluntarily in the dirt schoolyard. There was an inside classroom corner known as the jail when playing cops and robbers. Academics included the Dick and Jane readers as well as math practice without pencils and paper, only boxes of Scrabble-like wooden tiles with numbers and symbols students arranged in the lids, hoping not to trip en route to the teacher (voice of experience). Some stories apparently never die, like the rumor about the boy who got in trouble for swinging on the classroom light, then jumped out the window and was chased all the way home by the teacher.
Sadly, the brick Liberty Lake School was condemned midway through the 1957-58 school year, and students were bused to and awed by the "supersized" Greenacres Grade School. The older part of that school was demolished, but the remaining portion is utilized today as CV's Kindergarten Center. From crab apples to Apple iPads, and from Scrabble-tile boxtops to computer-chip laptops - what old-fashioned characteristics will our 2013 Liberty Lake Patriots be reminiscing about in 2063?
Karen Johnson is a longtime resident and Liberty Lake Historical Society board member. She attended Liberty Lake School as a girl.
Advertisement