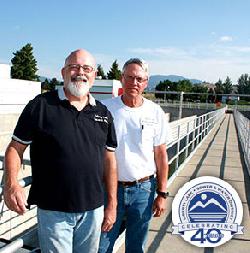 Splash photo by Craig Howard

John Yake, left, and Dan Grogg represent institutional knowledge for the Liberty Lake Sewer and Water District. Both men have served at least 30 years with the utility.


More News
LLSWD 40: Towing the line
8/28/2013 11:14:09 AM
By Craig Howard
Splash Contributor
Pillars, cornerstones, stalwart girders - pick your foundational metaphor and chances are that Dan Grogg and John Yake fit the bill.
Since the early 1980s, the pair has been central to the institutional framework of the Liberty Lake Sewer and Water District, serving as savvy catalysts on the operational side of a utility that sprang from a community campaign to rescue Liberty Lake four decades ago.
"The staff here is very efficient about what they do, and we always make it a point to emphasize customer service," said LLSWD General Manager BiJay Adams. "We're spending the customers' money. The district has really benefited in so many different ways from having staff that is committed long-term to the service of the community, and both John and Dan have shown that. They've been here since close to the beginning."
In 1976, Yake was part of an engineering team that helped design and build the facilities for sewer collection and treatment in Liberty Lake. From 1980 to 1982, he worked as a systems inspector before being brought on by the district in 1982 as an operator.
"This place has my name on it a few places," Yake said. "I like the work."
Yake arrived on the scene just three years after the district was formed in 1973 and knew each of the original LLSWD commissioners - Denny Ashlock, Skip Toreson and Bill Lancaster.
"I wasn't too far behind the leaders," Yake said.
After completing an associate's degree program at Boise State University and working for a time in Meridian, Idaho, Grogg joined the LLSWD crew in March 1983.
"I didn't know much about the history of the district, but it was clear from the facilities that this was a first-class deal," Grogg said.
Grogg is the chief operator at the water reclamation facility, where wastewater is treated. The state-of-the-art facility opened in 1982 and underwent an expansion in 2006. Along with numerous honors awarded to the plant from the Washington state Department of Ecology, Grogg himself was named "Operator of the Year" by the Pacific Northwest Cleanwater Association in 2010.
"An award like that gives you an idea of the type of people who work here," said former LLSWD General Manager Lee Mellish, who led the district for 20 years beginning in 1993. "The staff is outstanding."
Yake serves as the chief operator for the district's sprawling water and wastewater collection operation, overseeing miles and miles of sewer line, lift stations and other machinery. As part of his role with the district, Yake helps with the operation and maintenance of two utility entities that contract with LLSWD - the Eastside Liberty Lake Improvement Club and Greenridge.
"I like being outside," said Yake, who estimates he spends 75 percent of his time removed from a desk. "There's a lot to do other than just operating and maintaining. There are calls where you have to go out and work the lines."
Yake and Grogg are part of a team that includes Mike Schmidt, Hayden Symbol and Larry White as operators on the water and wastewater side and Darrell Gamble at the reclamation facility.
"The district has always prided ourselves in being a lean and efficient machine," Adams said. "Districts similar to us would have more employees on the operations side and the water reclamation side."
Turnover is almost nonexistent among district employees, resulting in a seasoned staff that, according to Grogg, has always felt valued by LLSWD administration.
"I think there's a reason the longevity is there, and that's because the district is such a good employer," he said. "They offer good benefits; they let you do your job. That's what makes the district special."
Grogg describes his duties at the reclamation plant as those of "a rancher," corralling bacteria that work to remove substances like phosphorous and ammonia while also breaking down nitrates.
"Basically, we're running a biological system," Grogg said. "We're working with certain microorganisms and varying environmental conditions. We're not adding any chemicals, although the next upgrade will require chemicals. We're putting a lot of oxygen and nitrogen back into the air. Consistency is your ultimate goal, but there's always something that's changing. In the winter, it's not a lot of fun collecting samples."
Both Grogg and Yake said they don't concern themselves with the lack of appreciation common in an industry that provides the community with critical water and sewer services. Grogg said even though the work may often be taken for granted, residents could stand to know more about how drinking water is provided and wastewater is treated. Among the items flushed down the commode, Grogg said, dental floss "is just one of the things that causes us grief."
"I just wish the general public understood more of what happens," Grogg said. "I think it's important for them to take pride in the district."
As LLSWD celebrates the 40th anniversary of its formation this year, Grogg and Yake have reflected on their individual tenures as well as the impact of a district that now serves well more than 6,000 customers. Looking back, Grogg said one of the concerns in the years after the treatment plant went online was the dearth of development and a facility operating far short of capacity.
"To me, the technology is probably the biggest change, other than the geography," Grogg said. "When I came on board, the word was that they would really need some operators because the area was really going to start growing, but for 10 years the biggest challenge of running the plant is there wasn't enough sewage coming in. That changed."
Looking ahead, Yake said the district will continue to build on a solid foundation.
"I think about where we started and where we've been and also where we're going," he said. "I just see great things for the district. It's been a good district; it really has."
Advertisement