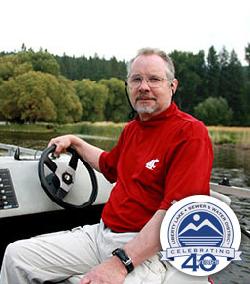 Splash photo by Craig Howard

Dr. Barry Moore has been working on water quality at Liberty Lake since 1978, when he arrived from his native Alabama as a fellowship student at Washington State University. Moore took over for another WSU professor and lake protection pioneer, Dr. Bill Funk, in the coordination of Liberty Lake sampling and testing efforts when Dr. Funk retired.


More News
LLSWD 40: Lake doctor
8/28/2013 11:19:36 AM
By Craig Howard
Splash Contributor
Touring Liberty Lake with Dr. Barry Moore is like strolling through the Grand Canyon with Ansel Adams or exploring the farms of New England with Robert Frost.
From identifying a great blue heron in the far distance to pointing out an area near the county park where early homesteaders once harvested crops, Moore is a floating encyclopedia of lake history and traits. He began surveying the lake in 1978 when he arrived as a graduate student with Washington State University to help with a treatment strategy designed to reduce the levels of phosphorous in the water.
Moore came to the Palouse from his native Alabama where he had graduated from Birmingham Southern College with a degree in biology and plans to pursue a career in air pollution control. At WSU, he discovered the work of Dr. Bill Funk, one of the pioneers in lake protection who had been working with the founders of the Liberty Lake Sewer and Water District since the early 1970s. Not long after arriving in Pullman, Moore would shift his area of study from the air to the water, or limnology, with Liberty Lake serving as the central research lab.
These days, graduate students from WSU migrate to Liberty Lake twice a month from May to October to take samples on the lake. With Funk now retired and living in Utah, Moore has taken over the coordination of the research here as well as on Newman Lake and several sites on the Colville Indian Reservation. He makes the trip from Pullman to the greater Spokane area once or twice a month during the warm weather season.
"Dr. Moore and his predecessor, Dr. Funk with Washington State University, have been instrumental to the success of the Liberty Lake restoration," LLSWD General Manager BiJay Adams said. "Washington State University was the first connection homeowners made to address water quality issues on Liberty Lake. For 45 years, they have been dedicated to the management and continued protection of this precious resource."
Moore chose Liberty Lake for the setting of his Master's thesis, examining the recycling of phosphorous through aquatic weeds. He has his doctorate degree in engineering and has been teaching at the WSU School of the Environment since 1992. He took up scuba diving in order to do research in Liberty Lake for his Master's and eventually became a scuba instructor, teaching diving at WSU since 1982. According to the National Association of Underwater Instructors, Moore has certified more scuba divers - around 8,000 - than any other instructor in the country.
The North American Lake Management Society has honored Moore with a technical merit award in 2011 for his restoration work on both Liberty Lake and Newman Lake. He serves on the editorial board for "Lake and Reservoir Management," the journal published by NALMS, and is also active in the Washington State Lake Protection Association.
Improved water quality in Liberty Lake has acted as a catalyst for development since the involvement of Funk, Moore and WSU. Moore estimates that nearly all of the homes now around the 710-acre lake have been built since he began taking samples 35 years ago. Before that, he recalls little more than cabins and cottages. In addition to the community of shoreline dwellers, the lake is home to a thriving ecosystem that includes rainbow trout, bass, perch and blue gill as well as waterfowl like osprey, ducks and eagles.
Over the years, Moore has run into muskrats on Sandy Beach, seen bass nesting below the surface and pulled rows of invasive milfoil by hand. Then there was the winter of 1992, when an influx of crawfish meant filling a five-gallon bucket and transporting them back to Pullman for a boil while catching the second half of Washington State's legendary "Snow Bowl" victory over cross-state rival Washington in the Apple Cup.
The Splash visited with Moore about his years studying Liberty Lake during a recent stop he made in the community.
Q: What were some of your first impressions of the Liberty Lake community when you visited here in 1978?
A: Well, there was nothing where the whole city of Liberty Lake is now. I remember kind of where the golf course is now, north of that was just a turf farm. Hewlett Packard came in and told the local community that the reason they came in and built that plant was they wanted a place where they could get good workers and keep them here, and they said they wanted a community that had a commitment to the environment, and the lake restoration was part of that. I think this community continues to be a great resource for outdoor recreation, from fishing to boating and just aesthetically. The local community, I know they love their lake. It's a resource for the entire state and the region.
Q: What about your transition from Alabama to Pullman? What was it like going from the heart of the South to the Palouse?
A: The biggest difference was that there were no trees. Where I grew up, in the suburban area around Birmingham, we were kind of on the edge of the city, but you'd think you were out in the middle of nowhere because you can't see so far with all the trees. Pullman is a tremendous (agricultural) area, lots of rural lands and tremendous interest in the environment. In Birmingham, we had access to a lot of wilderness areas and that was one of the things I liked about here is that a short drive gets you to a wilderness area. The variety of landscapes up here is tremendous.
Q: What was the status of environmental awareness in Alabama and the South in general when you were going to college some 40 year ago?
A: I think the South, in some respects, was a little behind certain parts of the country back then, but in other respects, they were a little ahead. Much of the South is still rural, and people are very close to the environment. There are a lot of situations where people were directly affected by pollution, and there was a lot of concern. I was involved in a case where we shut down a guy in a swamp north of Mobile Bay that had no air pollution control and was using some hazardous waste material. It took us six months, but we caught him. He destroyed 40 acres of cypress trees around his plant.
Q: What are some of the main differences between protecting against air pollution in comparison to water pollution?
A: In air pollution regulation, you're dealing more with sampling of stacks - it's more on an engineering approach. In order to quantify the amount of material that's being emitted there are some pretty elaborate engineering, technological procedures as opposed to dealing with the biology. I had done a little bit with air pollution effects on vegetation, but what's different with water is you have a tremendous ecosystem, so we try to understand what happens to the plants and animals when pollution is having an impact on the system and try to reverse that.
Q: What can you tell us about Dr. Bill Funk and his involvement with the formation of the Liberty Lake Sewer and Water District and the restoration of Liberty Lake?
A: Bill was instrumental in helping Liberty Lake get funding from the EPA. The folks around the lake who were instrumental in forming the sewer district really wanted to get WSU involved to see what was the cause of all these algae blooms. As a result of those studies, they made some recommendations as to what could improve water quality in the lake, and one of the first recommendations was to get the nutrients out of the lake and sewer it. But in order to do so, you had to form a sewer district. Bill also recommended doing an alum treatment, which removes particulates out of the water, but also removes phosphorous. Lake restoration is really only about five decades old, and Dr. Funk was one of the first practitioners. The paradigm was that reducing phosphorous was the key to reducing blue-green algae growth. As with all paradigms in science, it pays to test them. We are just starting to see the results of 30, 40 years of lake restoration. One of the things I've been real fortunate in working with Liberty Lake and Newman Lake for so long is we have a data set which is pretty unusual in that we have 30, 40 years of data to show what has happened as these nutrient reductions have kicked in. Liberty Lake has been a tremendous success.
Q: As you've probably heard, the Liberty Lake Sewer and Water District is celebrating its 40th anniversary this year. What do you think the district's impact has been over the years?
A: In the east and central part of the U.S., people have been living around lakes for 50, 100 years. Here, you have these small communities that have to protect their lake but they also are doing all the other things that communities do and, really, the sewer and water district has grown into a mini-city entity. I think if you look at communities around the state, the Liberty Lake Sewer and Water District has really been at the forefront. They've done a great job of protecting their lake and having dealt with the staff and the commissioners through the years, protecting water quality has been uniformly a priority.
Q: We hear a lot about the damage that too much phosphorous can have on a lake or a river. Can you set us straight on what actually happens?
A: Phosphorous is the key. Plants need nitrogen, phosphorous and carbon to grow. Carbon is in the air, nitrogen is too. Phosphorous has to come from terrestrial sources, so in most fresh waters, phosphorous is the nutrient relative to the need of the plant that's in shortest supply. So, it's the phosphorous that really drives the plant growth you have in the water. If you get too much phosphorous, blue-green algae are able to use nitrogen that's dissolved from the atmosphere. The blue-greens are able to use this nitrogen source that's not available to other algae. We call it blue-green algae, but it's really bacteria. The blue-greens short-circuit the food chain; the zooplankton don't eat them. They're toxic. They shade out other plants and other algae and they die. And when they die, they can deplete oxygen. Before the sewer district, you had this tremendous biomass, rows of blue-greens concentrating on the surface and they would shade out the rooted weeds and those plants would die and release more phosphorous which would drive more blue-greens. The blue-greens would end up on the shore and decay and stink.
Q: Looking back at the history of the district, the elimination of septic tanks around the lake really seemed to be the key to addressing water quality. But what about the alum treatments that you were a part of when you first worked here in 1978? How much of an impact did they have on phosphorous levels?
A: The alum dropped the level of phosphorous in the water, short-term. Much of that phosphorous that had accumulated in the lake over time, it all ends up in the sediment, and these lakes become real efficient at recycling, so we were intervening in that recycling. So, between what was coming from the outside and what was being recycled, we had to intervene in both. The change was pretty dramatic, but I remember Bill Funk always said one problem with the alum treatment is that the lake clears up and everyone thinks you fixed the problem, but it's not that easy. A good analogy I always use is it's like a heart attack patient. If you have a heart attack, you go to the hospital, you have to intervene and get the person back in a healthy state, but long-term, you have to make those lifestyle changes. For a lake, it's about protecting the watershed, and that's where the community has to be committed to it.
Q: Between the removal of septic tanks, sewering, the alum treatments and other strategies, how long did it take to really see a difference in water quality?
A: I will say there was a very immediate response in not having those blue-green blooms. The blue-greens were still a pretty substantial part of the community from year to year. We use the term "blooms," but what you really had then were concentrations of cells that were millions of cells, per cubic meter, and now we're talking about tens of thousands, at most. We haven't seen, over the last four or five years, a substantial blue-green component in the lake. The trend is definitely going in the right way. There's still stormwater, and that's been addressed and there are still nutrients going in the lake from individual pieces of property. It's a constant education. BiJay's talked about some restoration in the wetlands in the south side of the lake. All those things are keys to protecting the lake. Liberty's got a great advantage in that the upper watershed is a county park; it protects those lands around the streams.
Q: When the crews from WSU are working on Liberty Lake, what exactly is taking place?
A: When the days get longer and there's more sunlight, so that's when the plants start to grow. What we're trying to see is the ecological trend over time that we're seeing in terms of plant growth and the types of animals that are in the lake. We measure dissolved oxygen, temperature and other parameters at established stations. Then we take samples and bring them back to the lab. We look at the algae, the zooplankton. We also look at benthic invertebrates; those are the little critters that live on the bottom of the lake that are an important part of the food chain for fish. We also analyze the nutrients that are going in and out of the lake. For every day spent up here on the lake, we probably have around 10 days of lab time. We're not trying to keep up with all of the minutia; we're looking for long-term trends, what's changing over time with the lake. This lake is a tremendous laboratory.
Advertisement