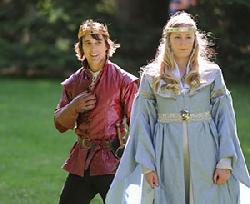 Submitted photo

King Henry V (Sean Driscoll) woos the French princess Katherine (Grayson Heyl) during "Henry V." The play, which is free of charge, will be performed at Pavillion Park 5 p.m. Aug. 25.


Shakespeare troupe returns with 'Henry V'
7/31/2013 4:12:21 PM
By Brenna Holland
Splash Contributor
"O for a muse of fire to ascend, that would ascend to the brightest heaven of invention, A kingdom for a stage, princes to act and monarchs to behold such a sweltering scene!"
And so begins a play of epic proportions restricted to the finite confines of a stage and its members. This is the first line of Shakespeare's "Henry V," the play that Montana Shakespeare in the Parks will be performing for Liberty Lake at 5 p.m. Aug. 25 at Pavillion Park. The event is part of the Friends of Pavillion Park Summer Festival Series, and like other such events, is free to attend.
The mission of the Montana Shakespeare in the Parks is simple: provide live and enthralling productions of Shakespeare's plays and other classics to communities in Montana and nearby communities. The program also emphasizes an importance on reaching rural and less accessible communities who might not have the chance to see a quality Shakespearean performance.
The first season of Montana Shakespeare in the Park was in 1973 and was an amalgamation of professional and amateur actors. The company didn't perform full plays, but a myriad of Shakespearean scenes for a sprinkling of performances throughout rural Montana.
Since its inception, MSIP has performed more than 2,250 times to nearly a million people, becoming a fixture in the Montana arts and entertainment landscape. The productions, since the beginning, are always free and outdoors with a bare stage and minimal sets. MSIP tries to have a fresh rotation of Shakespearean plays. The last time the company performed "Henry V" was in 1993.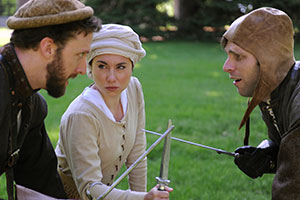 Submitted photo
Montana Shakespeare in the Parks will be performing "Henry V" Aug. 25 at Pavillion Park in Liberty Lake.

---
Artistic Director Joel Jahnke credits his own bias for the return of the tragedy.
"Well, it is one of my favorite Shakespeare plays because it's a hero story," he said. "It's a story about coming of age, a story about proving yourself, a story about … bravery, about trust, about working together for a common cause. It's a hero story, and I think that we could use a hero story right now."
Because of the scene that plays out in the play, a historically massive battle, Jahnke - and Shakespeare himself in writing the play - calls on the audience to employ a healthy dose of imagination.
"Shakespeare gives us this chorus character, a sort of narrator, which he used in other plays, but never as extensively as this one," Jahnke said. "At the beginning of the play, the chorus asks us to 'on our imaginary forces' work.' To imagine that, even though this is a stage, 'an unworthy scaffold,' we must still tell this epic story. And to top it off, there are only 10 actors. How on earth can we possibly present this great Battle of Agincourt and this great saga, given those elements, the limitations of the theater? And so the chorus says please, you're going to have to work on your imaginations here."
The actors and crew of MSIP beseech not only the Liberty Lake audience, but everyone who in his or her lifetime has the opportunity to see a live performance of a Shakespearean play, to employ their own imagination. Enjoy the brilliant acting and the delicious lines Shakespeare wrote hundreds of years ago that still reverberate in our day-to-day lives. Through this open mind, as the beginning of the Henry V states, massive historical events can come alive on a simple wooden stage. Whether it is in the countryside of Montana or Pavillion Park, Shakespeare's timeless words still weave magic to audiences.
This is the third year the Montana Shakespeare in the Parks has come to Liberty Lake, and the first year that they are not performing a comedy. Liberty Lake was the first venue in Washington to host the company, Friends of Pavillion Park President Bob Schneidmiller said.
"They had been trying for a long time for a venue (like ours), and when we contacted them we were exactly what they were looking for," he said.
Schneidmiller encouraged entire families to attend this free community event.
"Kids are important to the community; we want to broaden their horizons," he said.
Advertisement