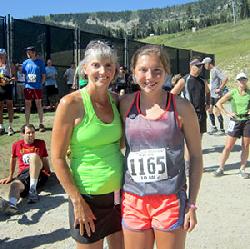 Submitted photo

Liberty Lake Running Club founder Kathy Whybrew and her daughter, Emma, completed the Schweitzer Mountain Trail Run July 20. Emma, a member of the Central Valley High School cross country team, took first place in the 13- to 18-year-old division for the 10-mile race, while Whybrew opted to run the 3.5-mile route with fellow LLRC member Paula Kahl.


Running club another way to connect for Whybrew
7/31/2013 11:23:28 AM
Submitted photo
Liberty Lake Running Club members celebrate a birthday as they prepare to launch out on another three-mile run recently from True Legends Grill.

---
By Jocelyn Stott
Splash Contributor
Kathy Whybrew says she's not a runner. The 45-year-old dynamo founded the Liberty Lake Running Club more for the love of people than for beating the pavement.
"It's really the only time I run," Whybrew said of the club's weekly Thursday gathering. "It's just a great way to be active and drink a beer. I think the fact that I'm not super competitive makes it easier for all types of people to feel like they can join in the fun."
The running club is a perfect example of how Whybrew's inspiration works. One Thursday evening several years ago, Whybrew and her husband, Howard, were downtown at O'Doherty's Irish Grille and Pub when the Flying Irish Running Club arrived for a beer and club initiation (telling an Irish joke while standing on the bar). Whybrew loved the concept, but with three kids and a home in Liberty Lake, she wanted something for her community.
Not long after, Whybrew and a few friends met at Palenque's Mexican Restaurant to start a running club of their own. Now, the group has about 45 regulars and 133 folks who have shown up for a three-mile run and a beer afterwards between March and Nov. 1. The club has since moved its meeting location to True Legends Grill but still meets every Thursday at 5:45 p.m.
The club's most recent run included a Spokane Shock coach, and a few players ran along with the club.
"We saw about 16 new runners just that night," Whybrew said.
Profiles: Kathy Whybrew


Alma Mater
Purdue University

Age
45, going on 25

Most recent outdoor adventure
The only female (with her sons) on a 50-mile canoe trek with Boy Scout troop in Montana

Activity she's not interested in trying
None

Next big project
An Ultimate Frisbee group for Liberty Lake

---
IF YOU GO ...
Run, play tennis and listen to music
The Liberty Lake Running Club and Liberty Lake Community Tennis Association are hosting free activities and a neighborhood concert from 6 to 8:30 p.m. Aug. 8 at Rocky Hill Park. A 3-mile run will begin at 6 p.m., and a tennis clinic will begin at 6:30 p.m. Music by the Angela Marie Project will also begin at 6:30 p.m. Food will be provided, and participants are encouraged to bring blankets or chairs.

---

How to join the Liberty Lake Running Club
Meet at True Legends Grill, 1803 N. Harvard Road in Liberty Lake, at 5:45 p.m. on Thursdays. Run three miles with the group six times to earn the right to purchase a $16 club T-shirt. For more, call 954-9806 or email
kathyawhybrew@msn.com
.
Submitted photo
Liberty Lake's Mayra Oakes enjoyed last year's Jingle Bell Run with her three children. The annual run is one of many themed runs organized each year by the Liberty Lake Running Club.
About 40 people have earned the right to purchase a $16 Liberty Lake Running Club T-shirt, which comes when a person has run with the group six times.
The running clubs holds several themed runs throughout the year - even after the regular running schedule. A Turkey Trot is planned for Thanksgiving morning and a Jingle Bell Run is scheduled Dec. 21. Whybrew said the group will likely hold another Story Time Stroller Run for parents with kids (story boards are placed along the route for the parents to read to their kids) and a St. Patrick's Day run. The group also hosted an Earth Day Run, where runners placed plants from a local grower on doorsteps along the running route.
The group is also known for its impromptu celebration runs on birthdays, crazy sock day, Cinco de Mayo and other such events.
As the group has grown, they've organized to help other events, like this year's start of the Windermere Marathon and the Aug. 8 concert at Rocky Hill Park, featuring the music of the Angela Marie Project.
In addition to starting the running club, Whybrew also serves as vice president of the Liberty Lake Community Tennis Association and on the board of directors for the Liberty Lake Fallen Heroes Circuit Course. The Fallen Heroes Circuit Course is a collection of exercise equipment (chin-up bar, sit-up bench, etc.) along the walkway between the parks in Liberty Lake started by local Marine, Bobby Wiese, to encourage fitness and honor the memory of Marine Corporal Joshua Dumaw of Spokane Valley, who was killed in Afghanistan.
Not that Whybrew hasn't been a part of community organization for a while now. The Whybrews - Kathy, Howard and children Emma, age 15, Calvin, 12, and Nelson, 10 - moved to Liberty Lake in November 2004 from southwest Michigan. Within a few months, Kathy had started a Liberty Lake Moms and Friends group that united a number of local moms for playgroups.
Whybrew said growing up with a lot of opportunities to plug in to community through her church and family friends, as well as her mother's sense of hospitality, has a large influence in her tendency to create connections. Throughout her life in Michigan, she enjoyed attending and later running her local church camp. For several years, she went back to her hometown for eight weeks in the summer to help with the camp.
Whybrew also teaches preschool at Liberty Lake Children's Academy - and has since its inception seven years ago. The position at the preschool has played a large part in her connecting with local families.
Whybrew said the running club hopes to form a board of directors and begin the process of seeking nonprofit status so it can do more for the community.
"We are supposed to live in community with one another, and I try to facilitate that," she said. "I try to look for ways to connect people, and I just like to do stuff outside."
Advertisement