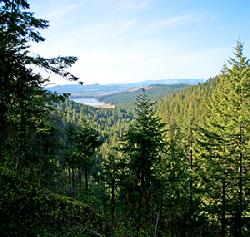 Splash file photo

An overlook along the loop hike at Liberty Lake County Park allows a glimpse of the lake, marsh and hundreds of surrounding trees.


Parting Shots: How the 'witches' saved Liberty Lake County Park
7/31/2013 11:30:16 AM
Splash Guest Column
In the mid-1980s, residents of Liberty Lake began hearing rumors about logging trucks hauling logs from the park out through back roads to Idaho. My friend, Lisa Nania, called me saying she was greatly upset by what was happening to the park. While on a vision quest in the park, she had heard the trees "screaming" and the sounds of a logging operation. She knew I would understand, as I am a poet and fellow "tree hugger."
We decided to ask three other women to join us in protesting what appeared to be a destruction of Liberty Lake County Park. These women were all deeply concerned with preserving the lake and the 4,000-acre park that feeds into it. We were a group of five women who privately called ourselves "The Liberty Lake Witches." We were good witches determined to protest to protect the park and lake.
Each of us was dedicated in our individual ways and brought our passions and talents to this cause. Sue Kahn was then director of the Liberty Lake Sewer District. Mary Vollmer was then president of the Liberty Lake Property Owners. These two women had much experience as environmentalist leaders. Lisa Nania was a sensitve, courageous woman who was talented in making media contacts. She and I were willing and able to speak out for what we clearly saw were mistaken public policies. Swanie Tyler was the eldest member. Swanie liked a conflict; she was of a generation of women who found it difficult to express their thoughts or feelings. She, however, could be depended on to be present and to stir up controversy in the community as she had lived near Liberty Lake most of her life and knew just about everyone who lived around the lake.
We soon discovered the Spokane County Park Director, Sam Angove, was responsible for the decision to carry out a large logging operation involving building roads in the wilderness of the park and cutting down and hauling away trees through Idaho. He justified this operation by giving two improperly announced hearings in which he claimed the logging operations were necessary to preserve the park by cutting down diseased and dying trees.
The Liberty Lake Witches in response soon demanded a public hearing to address park officials and to express our outrage at this subterfuge. We were outraged that park officials were destroying the park and threatening the lake. None of us bought the ruse that harvesting trees that were supposedly "diseased and dying" was protecting the park.
We elicited the help of Stan Schultz, an attorney for the Sewer District and a friend of Sue Kahn. We were not familiar with all the laws and regulations but knew we had a right to speak out against a blatant threat to Liberty Lake Park and the lake. I sat next to Lisa and felt her fear when no legal voices came to our defense and supported us in our right to protest. We were intimidated and humiliated, but defended our right to speak out and the improper manner in which the logging had been instigated.
It made no sense to allow park officials to run a logging operation just because the park director had a limited budget and wanted to pay for salaries and toilets he felt he needed. A shortfall in his budget was one of the explanations given for the logging - not a legitimate one in our eyes. Shultz, the attorney, who had professional ties to the county, did not speak in our defense during the meeting. We learned later Schultz visited Angove privately and warned him that his actions to log the park were not only unwise, but possibly illegal.
We learned later there were park department employees who objected to the logging operation. Later, Lisa arranged for representatives for the Departments of Natural Resources, Wildlife and Ecology to visit the sites of the ongoing logging operations. Lisa promised these officials she could show them where there were run-offs into the lake from the logging roads. I went along to see what she had discovered, but silently prayed for help, because I could see these officials were unimpressed with what she showed them.
Then something unexpected happened: the head of the "soil conservation," a park department employee, led these officials to an area within the lake watershed we did not know about. Here we found an impressive stormwater runoff directly into a major stream that fed the lake upon one of the logging roads leading to an area of the watershed that was soon scheduled to be logged. Shortly after this episode, this park employee recommended these 50 acres of the watershed not be logged. The other government agencies agreed and later required water-bars be made in the logging roads where the runoff occurred to prevent further harm to the lake.
After the logging operation stopped, Mary Vollmer and Sue Kahn considered suing the park director after reviewing the receipts from the logging operations. They discovered there was little or no profit from the logging operation after the cost of constructing roads and the transportation of the logs to Idaho were considered. They decided a lawsuit was unnecessary since the logging operation had stopped after our protests.
The Liberty Lake Witches saved Liberty Lake County Park and Liberty Lake from further destruction.
Eleanor Limmer is a longtime Liberty Lake resident. For more on Limmer, visit www.eleanorlimmer.com. To submit an opinion column to The Splash for future consideration, email editor@libertylakesplash.com.
Advertisement