By Josh Johnson
Splash Staff Column
Andy LaBolle, 25, got married in February and is planning to spend a year serving God in Kenya starting later in 2013.
In between those two significant mileposts came a life-changer he didn't plan. That would be the day he was hit by a car.
That was a few weeks ago now, and the Liberty Lake Starbucks barista is doing great now. That outcome looked like a stretch the day he was riding his bicycle home and a driver didn't see him - blowing a stop sign and wrecking Andy's leg and his bike.
I have known Andy only casually for a few years now, but everything I know about the guy is infectious. He is the type of person who lives a great story. You want to engage with what he's up to. After all, the last time he appeared in the pages of The Splash, it was for dropping 150 pounds. (Yes, he lost somewhere close to half of his body weight.)
But as much as I want to tell you more about Andy, probably the coolest story coming out of his accident wasn't spearheaded, for once, by one of my favorite protagonists.
Enter Jeff and Rob. Jeff Denney and Rob Hartman like to go to Starbucks, and since Andy's worked there for five years, they've gotten to know him pretty well. Both cyclists themselves, when they learned of Andy's accident, they spearheaded an underground movement to buy him a bicycle.
Andy's a simple guy. The day of the accident, he was riding a 20-year-old hand-me-down with three speeds.
Jeff and Rob weren't going to have any of that. Instead, they hatched a plan to bless Andy with a first-class commuter bike.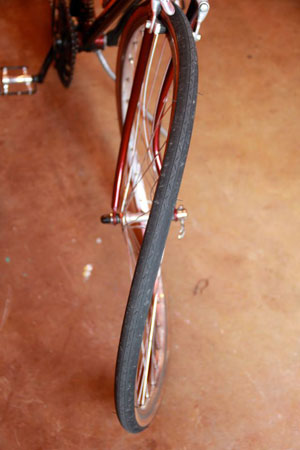 Andy's wrecked bike.
They grilled his Starbucks coworkers to estimate his height for a blind bike fitting. They talked to friends and other Starbucks customers to build a pool of cash. They pled Andy's case to WheelSport East, which threw in a 10 percent discount for the cause.
Then, when Andy was ready to return to work about three weeks after his accident, they surprised him with a big reveal: a Specialized Euro Pro hybrid bicycle worth more than $1,000.
Andy was floored. He was also nervous. He was having trouble walking, let alone getting back on a bicycle for the first time since his accident. But he wanted to live a good story, so he put the bicycle in his car and drove to the Centennial Trail. And he got back on a bike.
Andy described that initial ride as about six miles out and back - and very slow. But re-engaging the muscles turned out to be therapeutic.
"It was the first time I saw my leg normal since the accident - it brought all the swelling down," he said.
What's more, he started commuting by bicycle to work again, just a handful of weeks after the accident.
Friends he gained through his work - by serving coffee, encouragement and a healthy dosage of one-liners - blessed his life immensely.
"Andy is someone who knows his values and who he is, and he lives day by day through his faith," Rob said. "Honestly, for me, that's a huge inspiration. ... It was more of a privilege for us than a kind gesture. It took a community, and everybody stepped up and put a smile on his face."
In the process, Rob and Jeff both say they enjoyed the caper so much it's inspired them to be on the lookout for similar needs to meet.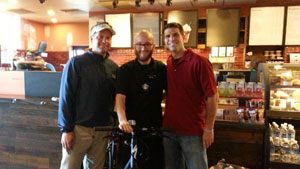 Jeff Denney, Andy LaBolle and Rob Hartman (from left to right) take a picture after the reveal.
Meanwhile, they are just glad Andy is back on a bicycle, one that he would never have expected to be riding.
"We definitely upgraded him to disc brakes cause we felt he needed to stop a little better next time," Jeff joked.
Andy LaBolle would like to thank the many community members who pitched in for the bicycle, many of whom he doesn't know. Among those he does know, however, he would like to thank Rob Hartman, Jeff and Laurie Denney, Heath and Kelsy McHenry, Frank and Sharon Sell, Josie Moore, Kathy Schaefer and Brian and Krista McLelland.
Josh Johnson is editor and publisher of The Splash. Write to him at josh@
libertylakesplash.com.