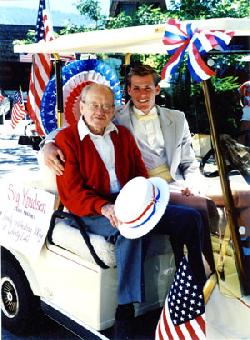 Submitted Photo

Sigwell Knudsen, pictured here with his grandson, Eric Knudsen, was grand marshal of the first Fourth of July Parade in 1989. The honor coincided with the Knudsen family's 100th anniversary living in Liberty Lake.


A glossary of LL grand marshals
6/26/2013
For the 25th anniversary of Liberty Lake's Fourth of July parade, The Splash asked Ross and Kelli Schneidmiller, who have been part of the committee to select the grand marshals from the beginning, to help provide a short synopsis of each honored person or couple. For some of the more recent years, The Splash staff filled in the blank. What follows is your guide to the 25 grand marshals who have been recognized in the annual parade.
1989, Sigwell Knudsen: His family came to Liberty Lake in 1889 and homesteaded on the hill east of the lake. Sig built a resort on the west shore of the lake and his family remains here as active community supporters.
1990, June Bailey: June was the postmistress at Liberty Lake for many years. Consequently, she knew everybody and was a well-known, well-liked personality of the community.
1991, Ann MacKenzie Wyatt: Ann's family owned much property in the course of Liberty Lake's history. McKinzie Bay on the east side of the lake is named after her family. The family still owns a few lots where different generations of McKinzies enjoy the waterfront every summer.
1992, Alex Ferrante: Alex had a long history at Liberty Lake as one who would do yard jobs for folks. He always rode his three-wheel bicycle from just north of Dreamwood Bay to the west side of the lake to visit and do things for people.
1993, Della Neyland: Della and her husband built and ran Sandy Beach Resort on the northeast side of the lake. Several generations of Neyland family members continue to enrich the community today.
1994, Bob Wills, Sr.: In celebrating D-Day, the 50th Anniversary of World War II's invasion of Normandy, Bob was honored. He was a World War II veteran as well as an active resident in the Alpine Shores neighborhood.
1995, Jim Brumm: Jim lived on the northeast end of Liberty Lake for many years and was active in the Eastside Liberty Lake Improvement Club, Property Owners Association and the Central Valley School Board.
1996, Bob Blair: Bob had been coming to Liberty Lake since the early 1900s and had been a resident since the 1920s. He was an active member of the Property Owners.
1997, Ruth Barnes: Ruth was a long-time resident of the lake and active in several groups within the community, such as Cub Scouts, Garden Club and Property Owners.
1998, Rosie Brady: Rosie was very involved in the Garden Club group that was quite active during the 1960s-1970s at Liberty Lake. All told, a community member and supporter for more than 50 years.
1999, Elmer Schneidmiller: Elmer and his family farmed the area now known as Meadowwood. Elmer's fingerprints are on many favorable attributes of the Liberty Lake community.
2000, Lee Smith: Lee was known for her "green thumb" and was an active member of Garden Club and also delivered many plates of cookies to shut-ins.
2001, Ludlow Kramer: Lud and his wife, Patricia, came to Liberty Lake and immediately began working on community projects such as the first Pavillion Park Auction (now the Holiday Ball) and the Liberty Lake Library. As a prior Washington Secretary of State, his expertise in government was invaluable in forming the vision for the city of Liberty Lake.
2002, Floyd and Betty Johnson: Floyd and Betty were the first couple honored as grand marshals. Floyd was instrumental in the Liberty Lake Sewer and Water District and Betty volunteered many hours for Pavillion Park in its early stages, as well as was a Scout Leader and involved in Garden Club.
2003, Lyle Stephenson: Born in Liberty Lake in 1916, Lyle served in all four branches of the military and set an example of service to country.
2004, Howard and Mary Floy Dolphin: This couple ran Sandy Beach Resort for years and invested in countless youth through Howard's longtime involvement as an educator and coach.
2005, Anton "Ras" Rasmussen: Longtime resident, educator and veteran of World War II, where he served in the U.S. Marine Corps.
2006, Harold and Joan Hughes: Longtime residents and educators who shared a passion for the Liberty Lake lifestyle and a love for the community.
2007, Pastor Ray and Karen Ruef: Ray and Karen led Liberty Lake Community Church for years and have ministered to countless local families.
2008, Richard and Donna Hoover: Another couple with a long family legacy in the community that continues to grow, Richard was a longtime Spokane journalist and educator.
2009, Darlene Stokke: Longtime resident who also made her mark on the parade for years as the official "Pie Lady."
2010, Lois Hatch: Longtime resident known for her active lifestyle and commitment to community service.
2011, Bob and Barbara Gamble: Community servants both, Bob has served on numerous boards (including LLSWD), while Barbara was a longtime Sunday School and childcare teacher through Liberty Lake Community Church.
2012, David and Susan Graham: Unofficial hosts of many a Fourth of July parade, the longtime Alpine Shores residents are devoted to community causes.
2013, Harley and Lorraine Halverson: For more on this year's grand marshals, see the article elsewhere in this issue.
Advertisement