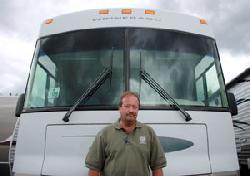 Splash photo by Craig Howard

R 'n R RV General Manager Jerry Wagner's company was seeking freeway property when they moved to Liberty Lake in 2001.


More News
Cover Story: RV central
6/26/2013 4:11:51 PM
By Craig Howard
Splash Contributor
The two letters hover above a three-mile stretch of Interstate 90, as familiar as the surrounding tree-covered hills.
As an acronym, "RV" may be brief, but the reign of retailers specializing in recreational vehicles on the eastern fringe of Spokane County appears to be anything but short-lived. A trio of stores – Freedom RV, Camping World and R n' R RV – call the city of Liberty Lake home, while two more – Spokane RV Liquidators and RVs Northwest – are a Frisbee toss from city limits.
"RVs represent leisure living," said Liberty Lake Mayor Steve Peterson. "They're a part of our environmental heritage in Liberty Lake. It seems if people don't have a place by the lake, they go and buy an RV."
From a financial perspective, Peterson said the RV business represents between 20 to 25 percent of the city's sales tax revenue, depending on the year. In the early part of this year, when the city saw a significant jump in sales tax revenue, local RV retailers were the key, thanks to robust numbers from January.
"You look at the major drivers of sales tax in the city and it's RVs, cars and houses," Peterson said. "I see these RV dealerships bringing people into Liberty Lake."
RVs Northwest was the first to set up shop along the freeway, moving from a site on Sprague Avenue in 1995. Original estimates were that sales would increase 20 percent with the transition – instead business improved 100 percent in the first six months. General Manager Ron Little said the confluence of stores has created "an easier avenue for RV shopping."
"I also know that everyone who is going to my competitors has to go by my front door," Little said.
Before RVs Northwest changed venues, Little said the trend for RV shops was to plant roots along Sprague or Division. Now, "RV row" is firmly entrenched along the freeway that carries its own share of motorhomes and trailers sailing the open road.
"I'd like to think we're all friendly competitors," Little said.
Freedom RV
Freedom RV General Manager Mike Stanisich is all smiles these days.
The locally owned store at 19605 E. Cataldo Road has been a commercial staple in Liberty Lake since relocating from Spokane Valley in 2006. Currently on five acres, the venue is undergoing a four-acre expansion that should be ready by sometime this month.
"The owners were on Sprague, and they wanted to relocate to a freeway frontage area," Stanisich said. "They felt the market for retail was moving out toward Liberty Lake with the addition of several auto dealerships. It's a location that has worked out well."
Previously known as Milestone RV before a change of ownership in 2003, Freedom RV opened another site in March called Spokane RV Liquidators across the freeway and next door to RVs Northwest. There are generally around 80 used RVs in stock on the 2.25-acre lot.
At Freedom, new motorhomes run anywhere from $49,000 all the way up to $400,000.
Stanisich said the start of the nationwide recession led to a crash of the RV market in 2008, but sales began to pick up the following year and have been increasing 10 to 20 percent each year since.
As for the prototypical RV customer, Stanisich says it can't be limited to the retiree with a list of National Parks.
"We sell a lot of RVs to people who work on the road, so instead of staying in a hotel, they're staying in an RV," he said. "If you go to North Dakota right now, you'll see 100,000 RVs parked in farmers' fields because of the oil boom. This is also a large market for camping and for people who go down south for the winter. Then you have younger people buying travel trailers and fifth wheels for hauling motorbikes and ATVs."
The inventory at Freedom includes a variety of items that have been traded in for RVs, including motorcycles, boats, homes and the occasional horse. Like each of the neighboring dealerships in Liberty Lake, Freedom provides on-site financing and vehicle service.
"This area has become kind of a central hub for RVs," said Stanisich, who has been in the business for 20 years. "If you go to any metropolitan area in the country, all the dealers are in the same area because it brings people to them. So, here, instead of going to one RV dealership in north Spokane and Cheney for another dealership, people can come to Liberty Lake and shop for every RV that's out there."
Stanisich said it is not uncommon for Freedom RV to go to a manufacturer's trade show and buy a large number of motorhomes at a significant discount that is then passed along to customers. As for the climate with so many nearby rivals, Stanisich says it's competitive but not contentious.
"I think it's a pretty civil group," he said. "They're all good companies. They're all going to stand by their products."
Camping World
Boats – not RVs – once docked at the site on Cataldo Avenue now occupied by Camping World.
The nationwide retailer with more than 85 locations moved into the former Mastercraft space last August, becoming a neighbor to Freedom RV. Camping World General Manager Dave Schreiner, whose corner window office overlooks I-90, says being part of an RV nucleus makes sense.
"It's like anything – you can go to Fred Meyer or Wal-Mart within two minutes of each other," Schreiner said. "We hope our advertising and our customer base and that kind of thing gets people coming in here."
Camping World was founded 47 years ago in Bowling Green, Ky., as a retail store providing camping supplies to visitors at a nearby park. While many of the stores stock RVs – the Liberty Lake site specializes in travel trailers and fifth wheels and also carries motorhomes – the emphasis on vehicle and camping accessories is still prominent. The sprawling store on Cataldo looks like a cross between Napa, White Elephant and REI.
"We have bikes, T-shirts, barbecues, board games - you name it," Schreiner said. "There's stuff for your house here. I've never seen anything like it. There's a Camping World in Tacoma that just has supplies, no RVs."
Schreiner said the company's history and name recognition are a benefit as well as its affiliation with Good Sam, the world's largest RV club that offers information on parks and camp sites as well as campground discounts. Customers who purchase an RV at Camping World receive a three-year Good Sam platinum elite membership, while items at the retail store are marked with Good Sam member and non-member prices.
"People throughout the country know the Camping World name and Good Sam," Schreiner said.
Schreiner worked at two RV dealerships in the Tri-Cities from 1999 to 2012 before coming to Liberty Lake last year. He says the amenities of home can now be found in a broader array of RVs than ever before.
"It's like technology, things change and you've got to keep up," he said. "Things have gotten lighter and because they have better tools, they're being built better. Something like a solid surface countertop, you can now get that in a lower level RV. You see more units with TVs and things like that."
The Liberty Lake store joined a Northwest Camping World network that includes sites in Burlington, Tacoma, Meridian, Idaho, and two in the Portland area.
"This is the location Camping World picked," Schreiner said. "It's kind of a destination – people are going by on their way from Spokane to North Idaho. There's all the camping, fishing, hunting. The hills are here, there are pine trees. This is an outdoorsy place."
Schreiner said the RV experience continues to represent a fun and cost-effective get-away.
"In today's economy, it's inexpensive entertainment," he said. "You're going to have an RV payment, even if you finance, but everything else is the stuff you have in the house. You can go camping and have a great vacation and not spend a lot of money."
R 'n R RV Center
R 'n R RV Center, the easternmost dealership on the corridor, relocated to a lot on Knox Avenue in 2001, the same year Liberty Lake incorporated as a city.
Launched in 1991 under the banner of the McCollum Auto Group, the business was located on Auto Row in Spokane Valley at a space near the old U-City Mall before becoming the second retailer to give the freeway a try.
"While we were at U-City, we started looking for freeway property," said R 'n R General Manager Jerry Wagner. "Most dealerships that were growing to any extent were on major interstates across the U.S., and that was pretty well known. RVers are traveling people. We built the sales building and parts building first, followed by the first 20-bay service center."
Another 20-bay service building followed, distinguishing R 'n R as the single dealership on the West Coast with the most space dedicated to repair and maintenance. The 15-acre lot also includes a makeshift RV park where customers can stay until their vehicle is ready.
Around 250 RVs line the display area at R 'n R with another 200 or more routinely in for service. The space also includes an extensive parts and accessory store as well as a restaurant known as the R 'n R Clubhouse Cafι that recalls the motif of a '50s soda fountain and is open to RVers and non-RVers alike.
Wagner says that while most customers live within an 80-mile radius of a dealership, R 'n R draws its share of clients from places as far away as Florida and New York as well as a handful from Europe who purchase an RV in Liberty Lake and head out to explore America.
"The reason why people buy different RVs usually has something to do with what they're doing once they get somewhere," Wagner said. "They could be taking mountain bikes or towing a ski boat or a fishing boat or a horse trailer. The cost is also an issue. If people already own a truck, the least expensive way to get into an RV is to buy a travel trailer."
A recent phenomenon that Wagner has seen involves a twist on the "snowbird" exodus of residents fleeing winter for warm weather locales.
"Now we're seeing people in hot weather climates coming up from places like Texas, Arizona and Florida in their RVs to escape the summers," he said.
R 'n R has another store in Airway Heights on a much smaller lot that features mostly towables, a few motorhomes and a seven-bay service center. Between the two stores, there are more than 100 employees in peak season.
Wagner said a client can drive away in a towable at between $150 to $200 a month. Travel trailers can span up to 32 feet and run between $9,995 to $45,000 . Fifth wheels range up to 40 feet at a cost of anywhere from $25,000 to $100,000.
"Travel trailers are what the majority of dealers sell the most," Wagner said. "Most people have towed a boat or a trailer before."
From building contractors traveling to distant construction sites to workers on location for months at a time to repair a dam, Wagner said the RV has its share of utilitarian value as a home away from home.
"People buy RVs for a lot of different reasons," he said. "Most people think it's just a luxury item, but that isn't always the case."
Advertisement