SCOPE seeks to bolster volunteer base
6/26/2013 1:16:11 PM
By Brenna Holland
Splash Contributor
It's summertime. With countless community events such as Liberty Lake Days and the traditional Fourth of July Parade just around the corner, July is a prime time to be out and about in the community.
It's also prime time for SCOPE, as the volunteer branch of the Spokane County Sheriff's Office has a presence and a role at community events. SCOPE - an acronym for Sheriff's Community Oriented Policing Effort - is searching for new volunteers to provide public safety services. The program also strives to increase community involvement and awareness.
"We are the all-around local eyes and ears," said Ray Baesler, who was recently honored as Liberty Lake SCOPE's most valuable volunteer of the year for 2012. "We are the good guys. We can roar a lot, but we don't bite. We don't stop, scold or ticket."
SCOPE programs include business watch, bicycle safety training/helmet fitting and even neighborhood watch - specifically checking if residents closed the garage doors.
"We do everything for public safety," said Baesler, who also serves as the secretary, treasurer and office manager for the Liberty Lake chapter. "We even check expired parking tabs, leave cards as a friendly reminder for the owner."
SCOPE also does simple services such as monitoring houses in the neighborhood when residents have left for vacation and making sure businesses are locked. They help direct traffic and provide extra eyes and ears at major community events.
Daily patrols during the school year around Liberty Lake Elementary are another common part of the job.
"The kids recognize me when I do patrols and they always smile and wave; it's great," said Joe French, who is president of Liberty Lake SCOPE, which is one of more than 18 stations.
The 18 or more SCOPE stations in the Spokane area all depend on the success and commitment of volunteers, and Liberty Lake officers are really pushing the need for additional volunteers. The commitment requires as little as four hours a month, and the team asserts that anyone can join.
"You can be 18 to 80 and volunteer," Baesler said.
The training to be part of SCOPE is also particularly painless, with only one day of full training where volunteers acquire myriad skills.
"The sheriff provides training, defensive driving, CPR, first aid and computer training," said Rochelle Renninger, Liberty Lake SCOPE's vice president.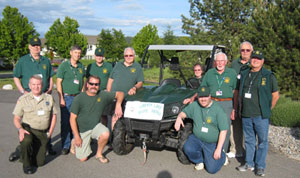 As a partner to law enforcement such as the Spokane County Sheriff's Office and Liberty Lake Police Department, members of Liberty Lake SCOPE provide eyes and ears regarding public safety issues in the community.
French asserts that the organization is anything but an all-boys club.
"We encourage women of all ages to join," he said.
The group joked about the only thing necessary to become a SCOPE volunteer are eyes and ears, but Renninger highlighted the unifying aspect to become a part of the program, "You must have a community-minded spirit," she said.
Added French: "We are here to help make Liberty Lake a better place and help keep it that way."
Advertisement