Submitted photo

Pawpular Companions Pet Supplies grew from 1,250 to 2,500 square feet following a recent expansion. The store is owned and operated by Mara and Carl Crowell, pictured here with "store mascot" Tess, the couple's 14-year-old Bichon Frise.


Pawpular Companions doubles size, expands services
5/29/2013 4:34:22 PM
By Valerie Putnam
Splash Contributor
A broken ankle led to the opening of a "pawpular" Liberty Lake store – the recently expanded Pawpular Companions Pet Supplies.
"The broken leg is what got her out of construction and into this," laughed Cheri Scandalis, a frequent customer and co-organizer of an annual benefit hosted at the store, the Mutt Strut. Scandalis was referring to the February 2010 snowboarding accident that prompted owner Mara Crowell to start the business with her husband, Carl, three years ago.
Instead of Crowell's broken ankle being a setback, it served as the catalyst for Crowell to speed up the pursuit of a lifelong dream.
"I didn't know what type, but I knew eventually I wanted to own my own business," Crowell said. "It just came sooner than later."
Two years before opening the business, Crowell and her husband moved to Otis Orchards from San Diego. The move followed his retirement from 38 years working in construction.
"I grew up in Pullman," Crowell said. "We knew we wanted to retire here."
Crowell's company transferred her from San Diego to the Bellevue office. For over a year and a half, Crowell commuted to spend weekdays on the west side of the state, coming home on the weekends.
Until the accident.
"I was tired of traveling," said Crowell, who worked as director of business development for Swinerton Builders. "I didn't want to be away from Carl, so when I broke my ankle, it all just came together. I decided to quit my job."
That's when the couple researched opening a small business.
"We knew we wanted to do something pet related," Crowell recalled. "I enjoy working with people, but I also love animals."
The couple approached the Liberty Lake City Council to find out what type of business the Council wanted to see in the city.
"We wanted to be in Liberty Lake because we absolutely love this community," Crowell said. "They said a pet store would be perfect, so it was a perfect fit for us."
The couple's first step was to conduct their own market research. After travelling to the West side of the State and into Oregon to meet with pet store owners, they decided to open a pet supply store.
After encouraging her husband to come out of retirement, the business had its grand opening in September 2010.
Today, they own and manage the growing business together.
"I know 80 percent of our customer names that walk through our door," Crowell said. "And their animal names, too."
The store's mascot, Tess -- the couple's 14-year-old Bichon Frise -- sets the store's laid-back tone.
"She is not intimidating," Crowell said. "She just comes out and greets people then comes right back here."
The Crowell's passion for animals goes beyond the walls of their store. The couple is actively involved in supporting local animal rescue agencies by participating in area events, raising money for area animal shelters and donating items to help other animal agencies.
"Before we opened our shop, we really knew nothing about how many animals were in need," Crowell said.
"Once we opened our doors and got to know our customer base, we realized over 70 percent of the animals that came through our door were rescued or adopted from animal shelters."
Along with Scandalis, Crowell organized and hosted the store's first Mutt Strut event two years ago. The event has raised more than $15,000 to help Spokane County Regional Animal Protection Service (SCRAPS).
"The Mutt Strut is a perfect example of our community's generosity," Crowell said.
The event features mutts strutting their stuff on a 2.5-mile route, held in honor of Chris Anderlik, a longtime Liberty Lake resident and animal rights advocate who passed away in 2011. More than 400 dogs participated last year, and Crowell is expecting the event to grow.
The idea came from customer Angela Keatts, who saw an article on a Mutt Strut and asked the Crowells if they would be interested in organizing a similar event.
"We organized the first event in three months," Crowell said. "It was crazy."
This year, the Strut will be held Aug. 17, with all the proceeds going to Higher Ground Animal Sanctuary.
Higher Ground is a non-profit organization founded by Scandalis earlier this year. Funds raised will help provide food, medical care, spaying and neutering as well as education.
Expanding services, space
As of May 1, the store became an official location to license dogs and cats. Increasing the number of licensed and registered pets was a point of emphasis with both the city of Liberty Lake and SCRAPS during recent contract negotiations. During the summer, Crowell plans to have a booth at the Liberty Lake Farmers market once a month to sell the licenses.
Also this summer, the couple plans to expand their outreach into agility training by attending area events.
The expanded services come on the heels of expanded space. This spring, Pawpular Companions doubled its square footage from 1,250 to 2,500 square feet. The expansion was in response to the company's growth over the past three years.
"We were starting to feel the walls closing in on us," said Crowell, who began planning the store's expansion eight months prior. "We were literally stacked to the ceiling with product. It just didn't allow a good experience for customers when they came in."
A planning consideration for the expansion was to have space available for multiple animals to visit the store without any complications.
Over Easter weekend, the couple knocked down the center wall and expanded their business into the neighboring space.
"Carl comes from construction, so it was a quick process," Crowell said. "Everything just lined up to make it happen. There was no interruption in business."
She said it's the customers who are really to thanks for the expansion.
"We wouldn't be able to do it without great community support," Crowell said. "People who come through our door are loyal to us. We're very lucky."
Now that the expansion is complete, the couple plans to increase the options in the pet food lines for both dogs and cats as well as their unique line of pet supplies.
"Nutrition is first and foremost for us," Crowell said. "There is no wheat, corn, soy or byproduct in any of our foods or treats."
Crowell also noted the couple seeks out products manufactured in the Pacific Northwest or in the United States.
Another recent change to the business is the name: formerly Pawpular Companions Boutique, the store was renamed business Pawpular Companions Pet Supplies. Crowell said the name "Boutique" gave customers a negative connotation.
"For us, animals come first, not high price points," Crowell said.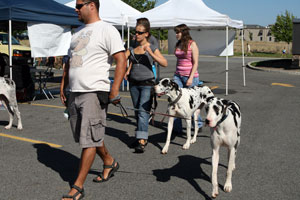 Advertisement