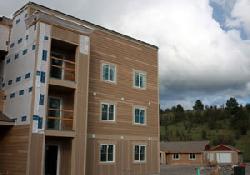 Splash photo by Craig Howard

The 50-unit Broadwing apartment complex, left, going up near First Liberty Apartments and Talon Hills provides income-restricted housing for families.


More News
Broadwing, Courtyard grow multi-family options
5/29/2013 4:29:49 PM
By Craig Howard
Splash Contributor
As he walks down a street bordered by townhomes to the left and apartments to the right, Kevin Schneidmiller of Greenstone Homes talks about building "a sense of community."
Even though he is in a neighborhood under construction that may not fit the traditional mode of residential projects in Liberty Lake, the priorities Schneidmiller speaks of are the same reflected in Greenstone communities across the region, from Manito Place to Meadowwood. Beyond the construction of structures marketed as homes, the Liberty Lake-based company emphasizes a holistic approach to development where accessible greenspace is just as important as a two-car garage.
On its website, Greenstone notes how "each community is evidence of our commitment to street trees, sidewalks, trails and parks." For Schneidmiller, the new Courtyard development adjacent to the Bitterroot Lodge apartments on the north side of Liberty Lake is about "creating a livable area." The project is the latest layer to Greenstone's ambitious development known as the River District.
"We want open space and green corridors," Schneidmiller said. "We want to establish a nice setting for people. We feel that creates value."
While the Kendall Yards project near downtown Spokane may be grabbing most of the spotlight for Greenstone these days, Courtyard is generating its own interest with an addition that includes 15 townhomes and 32 apartment spaces in a bucolic area just a stone's throw from the Spokane River. Both the townhomes and the apartments (one-and two-bedrooms) will be for lease while another project closer to the river will break ground in about 90 days and feature 10 townhomes for purchase.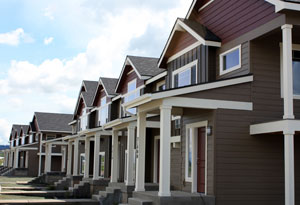 15 Courtyard townhome options join a 30-unit apartment complex north of Bitterroot Lodge. All of the properties in the Greenstone project are for lease, though the developer is poised to add 10 more townhomes closer to the river for sale later this summer.
With the main living area on one level and another bedroom and bathroom on the garage level, the Courtyard townhomes have the spacious feeling of single-family homes. The 15 spaces are divided among three contiguous buildings to the north of the Courtyard apartments and should be ready for move-in within the next month or so. Schneidmiller said there has already been considerable interest in the townhome product.
"I'm confident these are going to be leased out pretty quickly," he said.
The apartment portion of Courtyard features what Schneidmiller called "a bit more of a modern style" than the neighboring Bitterroot complex. Bonuses like deck space and walk-in closets create a classy effect while apartments on the top floor of the tri-level structure include vaulted ceilings.
Tisha Goodman, regional manager of Rockwood Property Management, Greenstone's property oversight group, says the construction of sites like Courtyard reflects an increased demand for multi-family housing in Liberty Lake.
"People want to live here – it's a great community," Goodman said. "What we're trying to do is cover all the demographics with our housing options."
The goal of matching a variety of residents with a corresponding number of housing alternatives emerged as a predominant theme in the organization of Liberty Lake's comprehensive plan in the days after incorporation in 2001. Eventually approved in 2003, the city's blueprint for development over the next 20 years mentions several such priorities in chapter five in which it state the city should "provide the opportunity for all household income levels to obtain adequate housing" while implementing a policy that would "accommodate a supply of all housing types and … a broad range of ownership and rental housing opportunities."
Amanda Tainio, Liberty Lake Planning and Building Services manager, said the city now features a wider range of affordable housing than ever before.
"I think the diversification in housing has definitely grown," Tainio said. "Liberty Lake is now more accessible because there's more variety in housing."
From the economic downturn to an aging population looking to downsize to a general move away from the "McMansions" of the '80s and '90s, Tainio said there are many reasons for the accelerating trend toward cost-effective housing. In the case of an area like Liberty Lake, she said it may often be a case of giving up square footage to reside in a safe, well-maintained community.
"I think some people are willing to live in a smaller home so they can live in a nicer neighborhood," she said.
Tainio added that the city's rigorous design standards have contributed to affordable housing "that's going to look like any other project in the city." Grumblings about the stringency and cost of such standards over the years have come more from commercial developers than those on the residential side.
While Greenstone prepares for the debut of Courtyard, Whitewater Creek Inc., a development company based in Hayden, Idaho, has been at work on their own multi-family project called Broadwing in the eastern portion of Liberty Lake off Appleway Road. The 50-unit complex with one-, two-and three-bedroom spaces will feature "workforce level rents with income restrictions," according to Todd Prescott of Whitewater Creek.
Prescott said Broadwing is expected to open "late this year" with an on-site manager and adjacent community center. The community will complement two nearby Whitewater developments – Talon Hills Senior Complex and First Liberty Apartments.
Tainio described both Greenstone and Whitewater Creek as "excellent developers to work with" and said the fact that both have already overseen projects in Liberty Lake helps to add efficiencies to the review and construction process with Courtyard and Broadwing.
"They understand the established design standards," Tainio said. "It's not like someone reviewing the development code for the first time."
Advertisement