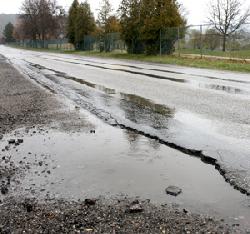 Splash photo by Craig Howard

Cracks and crevices in Valleyway Avenue pool with water during a recent spring rainstorm. Valleway would receive an overhaul this year if the first phase in a multi-year street maintenance plan is approved.


More News
Cover Story: Street strategy
4/24/2013 2:43:46 PM
By Craig Howard
Splash Contributor
Katy Allen arrived at Liberty Lake City Hall on a soggy April morning with the latest update on hydroplaning just north of the lake that bears the city's name.
It turned out the report from the city administrator had less to do with the aquatic hovercraft that descend on Lake Washington during Seafair weekend - and more to do with the ruts on Valleyway Avenue that a spring rainstorm transformed into ravines of standing water.
Just three days earlier, Allen had brought up the same Valleyway Avenue in a presentation to City Council that outlined a proactive approach to street preservation from 2013-2019. The city has targeted both Valleyway and Mission Avenue as streets that should be the focus of major renovations this year. Overall, the Street Maintenance Program recommends overhauls to 11 collectors and arterials at a total price tag of $8.25 million.
Allen's overview of a proposed plan for capital street upkeep on April 16 featured the underlying theme that "ongoing funds should align with ongoing expenses." With that in mind, the much-maligned utility tax has emerged as the chief source for addressing the city's 90 lane-miles of roadway. The 3 percent toll on phone, waste management, electric, cable and gas services is expected to generate $662,000 this year.
Advertisement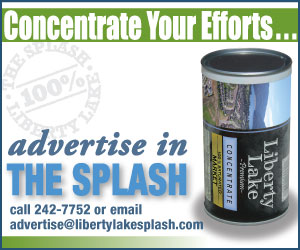 Fully aware of the pushback on the utility tax, particularly from the business community, Allen emphasized that the city "has done its homework" on streets and funding options.
"We at City Hall do our due diligence," she said. "We spend the citizens' money wisely."
At the end of 2012, Mayor Steve Peterson recommended that the funds from the utility tax be dedicated to road maintenance. The remainder of the $815,000 budget for streets in 2013 comes from the city's portion of the state gas tax. A total of $415,000 of the allocated money goes to operations and maintenance costs for everything from snow clearing to pothole repair to signage - while the balance of $400,000 is set aside for capital repairs.
"There are efficiencies when you have a dedicated funding stream for roads and you're not taking it out of the general fund every year," Allen said.
Emphasizing "the right solution for the right situation," Allen said the city should set aside $800,000 for capital road projects every other year. After tackling Valleyway and Mission in 2013, Allen said the city should address a trio of accompanying arterials - Appleway Avenue, Liberty Lake Road and Country Vista Drive - in future years due to their proximity to the Harvard Road roundabout project set for this summer.
While maintenance approaches like pothole repairs and slurry seals represent short-term solutions to ruddy roads, Allen said more expensive strategies like overlays and complete rebuilds will actually save the city money in the long run. She cited the example of Settler Road near Pavillion Park that was rebuilt in 2012 and should last for another 30 years. A chip seal of the same street would have added only five to 10 years to the life of the road.
"I guarantee you if we don't do it now, it will cost more later," Allen said. "We have good streets now. I think we're a community that wants to maintain the condition of our streets."
Allen pointed to the roads crisis faced by the city of Spokane, which deferred maintenance for years, finally passing a $117 million capital bond in 2004 to address 110 miles of deteriorating streets.
"That's only about 10 percent of their inventory," Allen said. "They didn't pay as you go."
Allen told council that funds for the Mission and Valleyway projects are available in this year's budget, but would require a budget amendment. If approved, work on the two roads would likely begin in late summer or early fall.
"The dollars are there, they just have to be appropriated for this year," she said.
Gauging current conditions
Budinger and Associates, a Spokane-based geo-technical company, conducted the research on municipal roads that lies at the center of the Street Maintenance Program. Once the thaw of winter took place a earlier this year, representatives from the firm took to Liberty Lake streets to remove samples of pavement, leading to the evaluation of criteria like base rock and subgrade.

"This gives us more details on a particular road and allows us to make a better decision on the ideal repair of that road," said City Engineer Andrew Staples.
In the big picture of streets in the greater Spokane area, the transportation network in Liberty Lake is one of the newest, Staples said.
"We inherited good roads from the county when the city incorporated (in 2001)," he said. "We don't have a lot of the deficiencies that some municipalities have had to deal with. We're very fortunate. Our streets, for the most part, are in good condition."
Yet Staples emphasizes that streets, like buildings, parks or any other capital investment, require consistent maintenance to operate efficiently. While a piecemeal approach may address issues for a time, Staples said a serious investment in repairs remains the key to long-term road health.
"You can only patch so much," he said. "We're looking at restoration instead of a compromise."
The Spokane Valley strategy
Steve Worley has echoed that same message repeatedly as the city of Spokane Valley's capital projects engineer. Liberty Lake's neighbors to the west went through their own assessment of streets in 2006, forming the basis for a Pavement Management Program that applies a grade to each road as well as a subsequent plan for maintenance.
"I think most people get it," Worley said. "It's going to be many times more expensive if you wait and let a street deteriorate."
Pointing to a decline in revenue from sales tax and the statewide gas tax, Spokane Valley implemented a 6 percent phone tax in 2009. The toll raises around $4 million each year with proceeds going solely to roads.
"We haven't put as much money into streets as the project called for from the beginning, but we're trying to be as strategic as possible about our road repairs," Worley said.
Finding a revenue source
In the first few months of 2013, Liberty Lake Finance Director RJ Stevenson provided the City Council with an overview of municipal tax revenue, pointing out the volatility of property tax and sales tax. While sales tax numbers have not completely returned to pre-recession levels, Allen did give an encouraging report on property tax at the April 16 council meeting that showed record earnings from city building applications in the first quarter of 2013. The projects amount to a projected property valuation of $15 million.
Peterson, who ran his mayoral re-election campaign in 2011 speaking out against the utility tax, says now that had the council officially designated the resulting revenue for roads, he may have supported the idea. The mayor and others have advocated for a "cafeteria-style" approach to the utility tax, lowering the rate on essential services like gas and electric with higher rates levied on "non-essentials" like phone and cable. The proposal has been applauded by Huntwood and other local businesses.
Peterson said the continued growth of Liberty Lake could eventually drive down the cost of the utility tax by spreading the impact out over more cell phones, for example. At the same time, the mayor emphasizes that the city must maintain costs and reinvest in its roads, law enforcement and other municipal priorities in order to preserve "the safe, clean, green community" that Liberty Lake has become.
"That's why people are choosing to live here," Peterson said. "You don't grow if you say 'I'm not going to do anything to make our community better.'"
Other funding options outside the utility tax would not address the primary issues involving most streets, Peterson added. Impact fees, paid by property developers, can only be used for capacity and site improvements like drainage, sidewalk upgrades and treescapes, while dollars from the LIFT and TIF (Local Infrastructure Financing Tool and Tax Increment Financing) would be limited to projects in the River District. Another possibility - increasing the car tab fee through a Transportation Benefit District - would only be applied to Liberty Lake residents, not the thousands of commuters who utilize city roads each day.
Peterson, who is serving as chair of the Spokane Regional Transportation Council board this year, emphasizes that "the revenue sources we've had in the past are changing," including a drastic dropoff in grants available over previous years. The declining stream of funding includes the shift in income from the streamlined sales tax to plummeting revenue from the state gas tax that could be reduced by half in the near future.
"I still say you need a dedicated source of revenue for roads," Peterson said.
Council Member Josh Beckett is one voice on the governing board who continues to remind anyone who will listen that the utility tax was only meant "as a short-term solution" to a projected deficit. While Beckett acknowledges the need to maintain city streets, he is not enthused about Allen's strategy that he says "uses these (utility tax) dollars to make the plan work."
"I'm not a fan of this approach," Beckett said. "We absolutely need repairs, but we need to figure out a way to pay for it, not just make assumptions about the utility tax."
Beckett said he supports putting the question of street funding on the ballot.
"Let's figure out what we need in terms of our streets and then come up with a way to fund it," he said. "Let's put it up for a vote."
Council Member Shane Brickner said Allen's presentation on road preservation "really shed a light on how much work needs to be done on our streets." As for the prospect of funding the repairs, Brickner said no one has yet emerged with a better avenue than the utility tax.
"I'd support eliminating the utility tax, but it would mean a financial struggle for our city," said Brickner, who has also advocated for lowering the rate on gas and electric. "Every one of us on council understands the importance of maintaining streets. If we keep going down the path of patching, we're going to spend way more money than if we make the investment and fix them the right way."
---
LEARN MORE, WEIGH IN
The city of Liberty Lake is holding an open house from 5 to 8 p.m. May 16 at City Hall, 22710 E. Country Vista Drive. Learn more about what's happening at the city, meet with the mayor and Council members and share your perspective. For more, call 755-6700 or visit www.libertylakewa.gov.

---
The Road Map
The city of Liberty Lake recently presented a multi-year street maintenance program that would begin with two projects in 2013 (bolded below). The rest of the projects would be tackled in future years. City officials are proposing that the utility tax be used as a designated funding mechanism to meet street maintenance needs, with additional money coming from the city portion of the state's gas tax. Other projects on the list are not necessarily listed in order of priority.
STREET

PROJECT SCOPE
ESTIMATED COST
(2013 dollars)
Mission Avenue
Molter Road to east city limits
$550,000
Valleyway Avenue
Molter Road to east city limits
$350,000
Mission Avenue
Harvard Road to 2,200 linear feet west
$500,000
Appleway Avenue
Liberty Lake Road to east city limits
$2.1 million
Mission Avenue
Country Vista Drive to Molter
$550,000
Liberty Lake Road
Country Vista to Appleway
$400,000
Liberty Lake Road
Sprague Avenue to Country Vista
$350,000
Country Vista Drive
Liberty Lake Road to Knudson
$600,000
Harvard Road
Mission Avenue to river bridge
$500,000
Country Vista Drive
West city limits to Liberty Lake Road
$1.5 million
Molter Road
Sprague to Appleway
$850,000