In Biz
4/24/2013 10:54:46 AM
Family Home Care changes ownership
The Wiberg family of Liberty Lake took ownership of a longtime hometown business, Family Home Care, 22820 E. Appleway Ave., on March 24, Family Home Care President Jeff Wiberg announced.
The business provides private-pay home care services to families throughout the Inland Northwest, and it continues to be locally owned and operated. Michael Nowling previously owned the business.
"Family Home Care has been a hallmark figure in our community for over 45 years," said Wiberg, who has worked for the company for the past five years. "We are pleased to have the stewardship for this wonderful organization and will continue that legacy into the future."
All 200 employees were retained in the transaction, keeping Family Home Care as one of Liberty Lake's leading employers.
Last summer, Family Home Care divested its Medicare Certified home health, hospice and primary care divisions to Gentiva Health Services Inc. Since then, Family Home Care has continued to be owned and operated locally to provide private high-quality care giving services.
Advertisement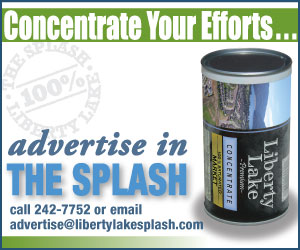 Providing personal in-home care to clients on an hourly basis, Family Home Care was established in 1966 and serves clients in Spokane, Whitman and Asotin counties in Washington and Kootenai, Latah and Nez Perce counties in Idaho.
Lakeside Holistic opens LL office
Lakeside Holistic Health PLLC, a full-service natural health care center, opened a Liberty Lake office at 21651 E. Country Vista Drive, Suite F, early this year to expand on the company's Coeur d'Alene headquarters.
The company's services include acupuncture, Chinese medicine, chiropractic, cosmetic acupuncture, naturopathic medicine and nutritional counseling. For more information, call 385-0218 or email contactus@lakesideholistic.com.
LL represented among tourism finalists
The 14th annual Inland Northwest Tourism Awards, to be held May at the Red Lion Hotel at the Park in Spokane, features a pair of Liberty Lake-connected finalists.
The HUB Sports Center, 19619 E. Cataldo Ave., is one of three finalists for the honor of "Best Attraction." Rita Santillanes, owner of Best Western Plus PepperTree Inns, including the location in Liberty Lake, is one of three finalists for the distinguished individual honor of Tourism Professional of the Year.
For more about the event, go to www.inlandnwtourismawards.com.
Chamber golf tournament seeking sponsors, foursomes
The 17th annual Greater Spokane Valley Chamber of Commerce Golf Tournament will be held Aug. 8 at MeadowWood Golf Course, 24501 E. Valleyway Ave. Sponsors and foursomes are being sought to participate in the Liberty Lake event.
For more information, visit www.spokanevalleychamber.org or call 924-4994.
In Biz features Liberty Lake-connected business items. Contact The Splash with business news at editor@libertylakesplash.com.