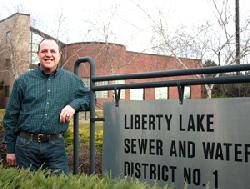 Splash photo by Craig Howard

Liberty Lake Sewer and Water District General Manager BiJay Adams sees opportunities and challenges ahead for the district.


More News
A Cup of Joe: Utility man
3/27/2013 1:26:03 PM
By Craig Howard
Splash Contributor
You won't find BiJay Adams diving among aquatic plants in Liberty Lake this spring as he has for more than a decade. Instead, the former lake protection manager for the Liberty Lake Sewer and Water District has traded his fins in for an administrative badge, winning out over nearly 30 candidates to be named the utility's newest general manager back on Jan. 11.
Adams replaces longtime general manager Lee Mellish who stood at the district helm for 20 years. LLSWD Commissioner Steve Skipworth said Adams made sense as a replacement because of his background as someone "who cares about the community and has a proven record of excellence as a member of the district staff."
Adams was originally hired by LLSWD in 2002, taking on duties as a water resource educator in addition to his responsibilities overseeing lake protection. As part of the ongoing push to protect the Spokane River, Adams was integral in campaigns to ban phosphorous-laden dishwashing detergent and fertilizer, adding to a list that began with laundry soap products containing the mineral found harmful to aquatic life. Along the way, he became the first person in Washington state to be certified as a lake manager with the North American Lake Management Society and served as president and a board member for the Washington State Lake Management Association.
Adams takes over a district that has historically adapted to the times - online bill pay and credit card payment options are on the way for customers in 2013 - but faces its share of challenges in the years ahead. The Splash caught up with Adams at LLSWD headquarters recently to learn more about what it takes to navigate the waters of a stand-alone sewer and water district.
Advertisement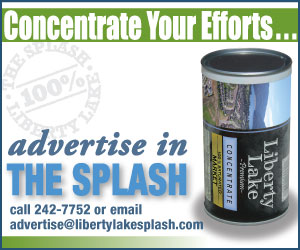 Q: You officially took over for Lee Mellish on March 1. How have your first few weeks as general manager gone?
A: It's been good. There was a little transitioning in the last month with Lee. I guess the most difficult part of it is coming in on some of the projects that are in motion, just trying to get some background on what has happened a few months prior, so that's been a little bit of a challenge. But we have a great, knowledgeable staff here. I'm used to working with all those individuals already, so that's helped.
Q: You had been with LLSWD for almost 11 years as lake protection manager and water resource manager when you were named as Lee's replacement. How much has that experience helped as you transition into the new role here?
A: Being an employee here before certainly helps me understand how the district operates, what our core values are and the emphasis on community and customer service. So, I have a good knowledge of how the district is run. In terms of the actual job duties, they're distinctly different. Some of the water/sewer operations are new to me, but being here, I've also aided in some of these operations previously. While I do know everyone here, I'm meeting with each individual on the staff to talk about what they do and what we might be able to do better.
Q: Lee was such a fixture for the district and in this community over the years. How conscious are you of the legacy he leaves behind and what are you trying to do to establish a leadership approach that acknowledges his footprint, but still sets you apart?
A: I'm just looking to find my niche. I certainly learned a lot from Lee, so there are a lot of things I took away from his management style. Some of those will apply, but there are other areas that I want to put my stamp on. I have a good working relationship with the entire staff, and I want to carry that into my management role. I'm definitely not a micromanager type - that wouldn't work here.
Q: Speaking of your last role here, I know you put a lot of work into making sure the lake remained healthy. Do you think the average person appreciates what it takes to achieve that?
A: I don't. In the Northwest, we're blessed to have an abundant amount of lakes, but, unfortunately, many of those lakes don't receive the amount of dollars or attention from state and federal programs. In Washington, the lakes that get that attention are going to be Lake Washington, Lake Sammamish, Lake Roosevelt perhaps, some of the larger lakes, but lakes like Newman Lake or Liberty Lake need that group of local citizens or local government to protect it, because they don't get that funding.
Q: Going back to the early days of the district in the early 1970s, there was a lot of community involvement that really helped form the foundation for the utility we see today. These days, LLSWD is such a smooth-running machine that it seems most people just kind of take it for granted. Does that ever get to you?
A: No, not really. We have such an emphasis on customer service here. We just want to continue that legacy that we've established. When we do customer surveys, we get good feedback as well as negative. We take the negative and work on it to see where we can improve.
Q: Within the past few months, the district has lost quite a bit of institutional knowledge with the passing of longtime Commissioner Frank L. Boyle last fall and the retirement of Lee. What is that like to know that you're part of the next generation of leadership as the district moves into the future?
A: Some of my initial thoughts were that some places get one new boss, and we were going to be getting two. We lose a lot with those two. You just forge on and try to build upon what they've left behind.
Q: Back in December, the LLSWD board of commissioners approved a sewer rate increase of 8.5 percent, bringing the monthly charge for an equivalent residential unit to $35. Now that you're district manager, what's your take on rate hikes?
A: Education plays a key part in that, just telling people why. I'm certainly not speaking for everyone, but it's relatively common knowledge in this area about the issues with the Spokane River and wastewater treatment. If you look at our sewer rates and our water rates, it's not a water issue; it's distinctly a sewer issue. I think people hear about and read about it and they're a little more knowledgeable about why we have to raise our rates. We have large, high-dollar capital facility projects on the horizon.
Q: Speaking of wastewater treatment, you have a $12.6 million dollar mandatory upgrade of the water reclamation plant that needs to be online by March 2018. Would you say that's the top priority of the district right now?
A: I would say so. It starts with engineering then we can move on to try and secure other funds. We need to get the money. I'll be going to some meetings on funding to educate myself and see what other funds are available and do our due diligence. Rate increases aren't usually used to pay for the construction, they're generally used to pay off the loans you've received. Liberty Lake is in a good place in terms of what our current costs are, when you compare us to someone like the city of Spokane. Unfortunately, there are not a lot of grants that are out there or that we are eligible for, but there are a number of loan programs and then we may research into revenue bonds. We'll look at all avenues.
Q: You were around in the days after the incorporation of Liberty Lake when the city was trying to take over the district. Those were pretty contentious times with a lot of legal battles and heavy costs accrued on both sides. I know a lot of that is water under the bridge now, but how would you characterize the district's current relationship with the city?
A: I think what came out of that is the district wanting to improve the working relationship with the city. Communication is the key. I think that respect is mutual. The city's goals are similarly aligned with ours. We meet more on a project basis, like the roundabout that's coming up. The commissioners are probably talking more with the mayor and city administrator than I am.