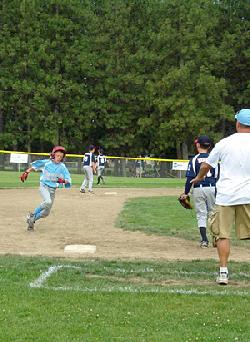 Submitted photo

Austin Tomlinson rounds third during a Little League game last season. He said his goals for this season include improving his batting average and practicing switch hitting.


In the April Wave: Stepping up to the plate
3/27/2013 11:55:41 AM
The Wave is a special section just for kids,
geared toward children in kindergarten through fifth grade

---
By Tammy Kimberley
Wave Staff Writer

Whether he's lifting weights during winter workouts, earning straight As in school or playing a neighborhood game of wiffle ball, Austin Tomlinson works hard to give his best.
Though he has had success in a variety of sports such as basketball and football - even being selected as Athlete of the Season for his football division - there is no hesitation when asked what his favorite athletic activity is.
"Baseball for sure," Austin said. "Sometimes I don't feel like practicing other sports, but baseball is the one sport I always look forward to playing."
With the support of his family and a passion for the game, the Liberty Lake 12-year-old has become a respected competitor in Little League as well as an involved member in bringing local baseball fields to the Liberty Lake community.
Advertisement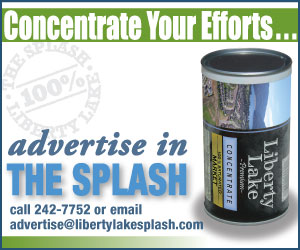 Austin plays shortstop (the field position between second and third base) and also serves as a pitcher. His dad, Gary Tomlinson, said Austin has always shown a natural ability for the game.
"We've got video of him when he was less than 2 years old holding a bat," Gary said. "I'd intentionally put his hands the wrong way, and he would switch them back (the right way) and hit the ball off the tee."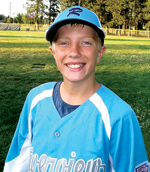 TOMLINSON

In fact, the entire Tomlinson family is caught up in baseball. Austin's parents and some of their friends started a local Little League that combined with another league a few years ago to form Riverview Little League. Gary serves on the Riverview board and Austin's mom, Jennifer Tomlinson, has played a big part in bringing ball fields to Liberty Lake.

Austin said the family has attended City Council meetings to ask for ball fields in the parcel of land next to Liberty Lake Elementary School, which they hope will be ready to play on by 2014. In similar fashion, the family helped bring about the ball field known as Rookie Field at Pavillion Park.

"Our whole family helped make that field," Austin said. "We helped pick the weeds and create the infield."

But Austin's baseball roots run deeper still. He shared that his grandpa played baseball for Arizona State University (a college baseball powerhouse) and also played in the minor leagues for the Giants organization.

"My grandpa taught me how to throw a changeup," he said. "He comes up every summer (from California) and watches me play."

One of his favorite baseball moments happened in the district championship game last summer, when his All Star team beat the South Hill team in dramatic fashion to send Riverview on to the state tournament. Besides making it to the state tournament again, Austin looks forward to improving his batting average and practicing switch hitting when the season begins in April.

And he'll be sure to spend some time playing catch with his brother, Trevor, a CV senior who is planning to play college baseball at Northern State University in South Dakota. Besides dreaming of making it to the Little League World Series, one of his goals is to play on the Arizona State University team.

"Trevor going to college to play has motivated me to do the same thing," he said.

---
Take me out to the ballgame

By Tammy Kimberley
Wave Staff Writer

With opening day right around the corner, there's no better time to brush up on some baseball trivia. In honor of the nine innings played in the sport known as America's favorite pastime, complete the multiple-choice quiz below. When you're done, check the bottom of this page to see how you scored.

1. How many games does a Major League Baseball (MLB) team play during the regular season?
A) 106
B) 126
C) 162
D) 200

2. What MLB player was named Rookie of the Year in 2001?
A) Jay Buhner
B) Ken Griffey Jr.
C) Alex Rodriguez
D) Ichiro Suzuki

3. How many teams did Babe Ruth play for in the big leagues?
A) 1
B) 2
C) 3
D) 4

4. What retired NBA basketball player tried out for the Chicago White Sox in 1994?
A) Kevin Durant
B) LeBron James
C) Magic Johnson
D) Michael Jordan

5. How far apart are the first and second bases on a MLB field?
A) 75 feet
B) 90 feet
C) 100 feet
D) 125 feet

6. Who are the only father/son MLB players to homer in the same game?
A) Bobby and Barry Bonds
B) Tito and Terry Francona
C) Ken Griffey Sr. and Ken Griffey Jr.
D) Cal Ripken Sr. and Cal Ripken Jr.

7. Where is the National Baseball Hall of Fame and Museum located?
A) Cooperstown, New York
B) Kansas City, Kansas
C) New York, New York
D) Seattle, Wash.

8. What MLB stadium is famous for the ivy growing on the outfield wall?
A) Dodger Stadium
B) Fenway Park
C) Safeco Field
D) Wrigley Field

9. When did the Mariners have their first winning season?
A) 1991
B) 1995
C) 2001
D) 2005

Sources: www.party411.com/baseball-trivia.html, www.funtrivia.com
---
Wave awards contest winner


HOBBS


In the last issue, The Wave offered a poetry contest and received several limerick poems. The judges selected a limerick by Samuel Hobbs, age 5, as the winning entry. For his prize, Samuel received a $20 gift certificate to the Liberty Lake Quiznos. Here is the limerick of our lucky winner:

There once was a little brown cat,
Who decided to look at a bat.
She bit its wing,
The bat starts to sing:
"Go get yourself a rat!"

Thank you to all the kids who wrote a poem, and be sure to watch for more contests in future issues of The Wave!
---

Answers to Take me out to the ballgame from above: 1-C, 2- D, 3-C, 4-D, 5-B, 6-C, 7-A, 8-D, 9-A