Submitted photo by Nick Stewart

Lead Pastor Joe Pittenger leads worship at a recent Uplift service. The church is holding its official kickoff at 10 a.m. on Easter Sunday (March 31) at 23424 E. Swing Lane.


New church kicking off with Easter services
3/27/2013 11:06:50 AM
By Valerie Putnam
Splash Contributor
Twelve years ago, Joe Pittenger literally laid the foundation of the Liberty Lake building that today houses Uplift, the church he and his wife Betsy are planting.
Pittenger, working construction to supplement their ministry income, remembers sitting on the curb outside the 7,000-square-foot building at 23424 E. Swing Lane, cutting every piece of rebar used in the foundation with a chop saw.
"Betsy said it so well," Pittenger said, quoting her about planting the church, "'How interesting that 12 years ago while you were physically working on the foundation of this building, God was working on the foundation of your heart to do this.'"
With a mission to "make much of Jesus," Uplift, which is affiliated with the Foursquare family of churches, is a plant of The Kings Way in Sequim, Wash.
Advertisement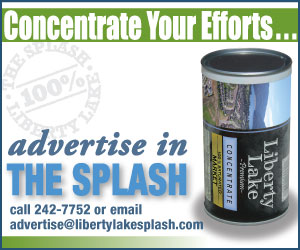 Although it has held six services to date, Uplift's official kickoff is scheduled for Easter Sunday (March 31) at 10 a.m. with a special Easter message for the worship service and those participating in Uplift Kids, the church's children's ministry.
"We really want to be a place where people can grow in their faith and deepen their relationship with Jesus," Pittenger said. "We want it to be a community church where you feel welcome and loved the moment you walk in."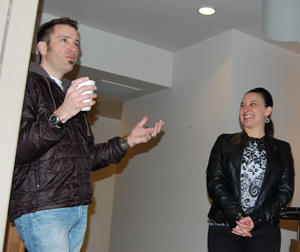 Submitted photo by Nick Stewart
Joe and Betsy Pittenger share about their new Liberty Lake church plant in the lobby of Uplift Church.

---
EASTER SUNDAY
The following Liberty Lake churches have announced special Easter weekend services.

• Lakeside Church, 23139 E. Mission Ave.: Good Friday service, 7 p.m. March 29; Easter Sunday service, 10 a.m. March 31

• Liberty Lake Church, 704 S. Garry Road: Easter Sunday services, 8:30 a.m. and 10 a.m. March 31

• Uplift Church, 23424 E. Swing Lane: Easter Sunday service, 10 a.m. March 31

---
As Uplift's sponsor, The Kings Way is providing a "logistic" umbrella to operate the church. It also donated operating equipment such as chairs, keyboard, drum set and a projector screen.

"I have nothing but high expectations on how this is going to go," The Kings Way Pastor Mike Van Proyen, who went to college with Pittenger, said of Uplift. "I'm excited for them."

Graduates of Northwest University in Kirkland, Wash., with degrees in church ministries, both Joe and Betsy Pittenger are leading the church as a team. Each is working on receiving their official pastoral license through Foursquare International.

"With their education, they are more than qualified to pastor the church," Van Proyen said. "This is a just matter of formality. They are learning how a Foursquare Church operates."

Since meeting and marrying in Eureka, Calif., the Pittengers have been in ministry together for more than 22 years.

"I really think everything we've done in the last 22 years has been in preparation for this." Betsy Pittenger said. "And as beautiful and encouraging as that is, I love that Joe and I don't think that we have it all together. We know that God is calling us, and I love what (Joe) shared on Sunday, 'God qualifies the called.'"

Leading up to planting Uplift, the two served God together as youth leaders and in music ministry. As worship leaders, they have been part of two previous church plants: Lake City Community Church in Coeur d'Alene and - for 10 years - at Eastpoint Church in Spokane Valley.

Last spring, the two began to feel a "stirring in their hearts." After months of prayer, the couple took a leap of faith, stepping down from their positions at Eastpoint the end of August.

"We didn't know what we were going to do," Joe Pittenger said. "We just knew that God was calling us out of where we were."

For the next two months, the couple spent dedicated time in prayer seeking direction. They tried to pursue other opportunities, such as moving to Nashville or participating in a mission trip to Chile, but each time the door closed on the opportunity.

"We were in the wilderness for two months," Joe Pittenger said. "We prayed and fasted. We had other people praying for us. It was two months of just silence."

Then, on Oct. 20, he came to his regular early morning prayer time with some direction.

"I woke up with literally the idea in my head," he remembers. "I was writing as fast as I could, names of people, ideas. I wrote the name Uplift Church. I said 'whoa,' and closed (the journal)."

Confirmation of Uplift came the day before Thanksgiving when Pittenger received a phone call from a friend he hadn't heard from in a while.

"Out of the blue, he asked me if I ever thought of doing my own thing," he recalled. "I'm standing in my kitchen and for 45 minutes he spoke into my life. I got off the phone and fell to my knees.

"You're calling Betsy and I to plant a church, and I say yes," he said he prayed. "I'm willing to do whatever you ask."

From there, the couple said miraculous things happened to confirm God was leading them to start Uplift.

"Literally, it's like the train left the station, and we were running to catch up," Joe Pittenger said. "Every time I would say 'what about this,' the answer was there before we could even think about it."

The 12-person small group the couple had been a part of for more than a year committed to joining Uplift. Together, they began meeting and worshiping at the Pittengers' Spokane Valley home. Growing to more than thirty people within two months, it was obvious they needed to find a bigger place to meet.

It was then the Pittengers ran into a friend from church and shared what was going on in their lives. The next day, he called offering a warehouse off Sullivan to use for worship. The couple began meeting there as Uplift Church in February. The first night, more than 70 people attended.

"Since we have been birthing this, we've had three people give their life to Christ and four people wanting to be baptized," Joe Pittenger said. "To me, that is the part I get excited about."

As part of the call, Pittenger felt led to serve Liberty Lake - a community they had lived in previously and were hoping to eventually return. The opportunity to move into the building Joe helped build 12 years prior was a confirmation to serve the community - and another example of God's provision, the couple said.

The offer of the building came when a friend in Nashville heard about their church. He called Pittenger, offered them use of the building, and on March 17 with more than 87 people in attendance, Uplift held its first service in Liberty Lake.

"We didn't have to make phone calls or drive around, it just came to us," Betsy Pittenger said about the building. "This is what we mean by things falling into place, even the little details. … We keep sharing with people that Uplift is being birthed out of a place of rest. We're resting in God. We're not overworking, anxious or worried for something that we think God is asking us to do. We're simply sitting back with him and enjoying the journey."