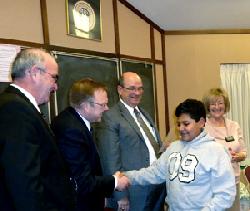 Submitted photo

Ed and Elizabeth Fisher look on as a young student receives his certificate at a recent Daily Dose graduation ceremony.



English lessons bridge language barrier
3/27/2013 10:55:25 AM

By Shaun Brown
Splash Contributor

Coming to America is a dream that has burned in the minds and hearts of many for the last five centuries. But living in America can be a nightmare, especially if you don't speak the language. Ed and Elizabeth Fisher, a Spokane Valley couple, have spent the last 14 months offering free English language lessons to residents throughout the Spokane area, many of them held at the Liberty Lake ward of the Church of Jesus Christ of Latter-day Saints.

Known as "service missionaries" by their church, the Fishers spend several hours a week holding "huddles" where students can come and learn how to make a purchase, order a meal, talk to a customer and more.

With posters and postcard sized handouts written in Russian, Vietnamese, Chinese, Spanish and other languages, the Fishers invite those they meet to come and practice English in a comfortable, relaxed setting.

The program, known as Daily Dose, doesn't require the teacher to speak a language other than English. The Fishers set the lesson time and place based on the needs of the students they teach. One Liberty Lake couple attends during the evening because they are often busy at their family's Chinese restaurant during the day. "Now we can talk to the people" at the restaurant, explained the wife, Emily, in excellent English.

"We have 48 lessons with vocabulary for places like the post office, hair salon or grocery store," Ed Fisher said. "We work on pronouncing as well as being able to put the words in a conversation."

A woman named Maria, who completed the classes with her two young sons, expressed her gratitude for the Fishers, saying, "With only one lesson a week, I saw a lot of progress. The biggest surprise was when I could understand." She described it as a "wow' moment at her children's doctor appointment.

Advertisement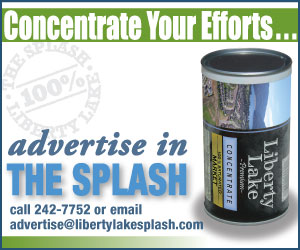 Maria's husband also studied the Daily Dose lessons, but for him, morning classes were necessary due to his work schedule. He recently told Ed Fisher how thrilled he was to tell his co-workers a joke he had wanted to be able to say in English for a very long time.
"He said to me, 'I found the word in class, and I could finally tell the joke,'" Ed Fisher recalled.
Elizabeth Fisher said many who come to the lessons are very educated people who have left their own country to realize the American dream.
"One gentleman who taught English in his own country brought his children to America for a better life," she said. "He works at a local hotel in the laundry, but hopes for his children to master English and get a college education. Another wonderful lady was a pharmacist and owned her own fabric store in her own country.
"Offering these lessons in love has literally dropped that wall between the two countries," she continued, recalling one 25-year-old student from Vietnam who told the Fishers, "You saved my life."
To participate in the free Daily Dose English lessons, contact the Fishers at 413-2070.