Education Briefs
3/27/2013 10:47:31 AM
SV Tech offers summer classes
Spokane Valley Tech, 115 S. University Road, is now enrolling students in grades 8 through 11 in free summer courses. Classes available include Aerospace & Advanced Manufacturing, Cosmetology, Energy & Manufacturing, Fire Science, Microsoft IT Academy, Sports, Principles of Biomedical Sciences and Introduction to Engineering Design.
Classes will be held from 7:30 a.m. to 2 p.m. daily. There will be two available sessions-June 24 to July 12 and July 15-31. Students may attend up to one course per session. Space is limited, so students are encouraged to register early.
Central Valley, the host school district, has collaborated with East Valley, West Valley and Freeman School districts to establish Spokane Valley Tech to help students earn credits and gain valuable skills in high-growth technical occupations. For more, visit www.spokanevalleytech.org.

Splash to feature local grads
The Splash plans to recognize Liberty Lake high school graduates in its June issue. In order to participate, graduates are asked to submit the following information to photos@libertylakesplash.com: name, high school, parents' names, plans after graduation and photo.
Information must be received by May 10. This invitation extends to all graduating seniors who live in the community, regardless of where they attend high school. Contact 242-7752 with any questions.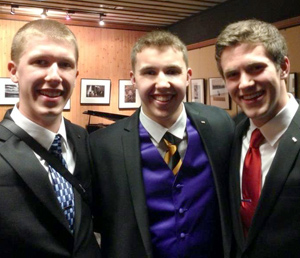 Submitted photo
Brett Busch (center) attended the Futures Quest Leadership Retreat with fellow UW students Nate Stockman and Jared Smith.

UW student receives honors
Brett Busch, 2012 Central Valley graduate, received a fellowship by the Phi Kappa Psi foundation to attend the Futures Quest Leadership Retreat in Indiana in early January. Futures Quest is a leadership program of the North-American Interfraternity Conference, and only the top new members from across North America attend. In addition, he received $1,000 from the Phi Kappa Psi Paul Wineman Challenge, which awards students for academic achievement.
Bush recently made the Fall 2012 Dean's List at the University of Washington, Seattle, where he is double-majoring in political science and international studies. He also is involved in the UW Air Force ROTC.

Advertisement