Hilpert brings leadership skills to diamond
3/27/2013 8:49:00 AM
By Mike Vlahovich
Splash Contributor
Leadership: The intangible term that coaches bestow on an athlete who is a winner regardless of his physical ability. It is the kind of athlete teams can't do without.
Central Valley two-sport star Scott Hilpert personifies the designation.
The Liberty Lake athlete's value became apparent in football last fall when the wide receiver-cornerback was thrust into the role of quarterback and steadied the ship until Adam Chamberlin became eligible to take over.
"He's doing a great job for us," coach Rick Giampietri said at the time. "He's a good leader."
Advertisement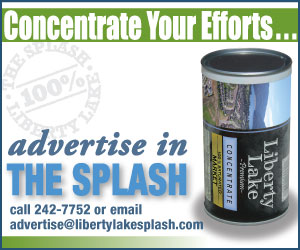 Playing shortstop, arguably the most important infield spot in baseball, Hilpert is the Bears team captain and a key to their improving on last year's oh-so-close season in which they lost six one-run games, five to the Greater Spokane League's top three teams, while finishing 6-14 in the regular season and playoffs.
Submitted file photo

---
"I look for him to be the guy," coach Barry Poffenroth said. "He's a leader and should be our best player."

There's a reason he is CV's ASB president.

Baseball is in the genes for the 6-foot, 175 pounder, who is in his third varsity season. His dad, Adam, played collegiately at the University of Washington and California State-Stanislaus. The younger Hilpert had a bat in his hands from the time he was a toddler.

Adam Hilpert was Scott's coach growing up and greatest influence.

"I've been around him my whole life," he said. "I get what he tells me."

Together, they'll go out a couple times a week, and Scott will hit a couple hundred baseballs with his dad throwing batting practice. They can butt heads as fathers and sons will, but the son remains appreciative.

"He can get on my case a little more than another coach can," and still earn respect, Scott Hilpert explained.

Why does Hilpert enjoy playing shortstop, often reserved for the best player, when all eyes are on him?

"I love being there because you're always active," he said. "You are kind of the general."

Hilpert enjoys being a stopper for ground balls, and said his growth area is being able to make a plant deep in the hole and throw across the field.

He's got a couple of interesting and funny stories to tell. As a freshman, he fouled a baseball off his knee, fracturing it.

"It was a game against Mt. Spokane, and I went 3-for-3 with a triple and double, all on a broken knee," he said.

This winter in basketball, he decided to try the sport although he hadn't played since middle school. Naturally, Hilpert was cut.

At season's end, spoken by a true leader, he joked with coach Rick Sloan that if he'd made the team the Bears would have won state.

"Coach Sloan said, 'You know, I'm going to have to live with that the rest of my life,'" Hilpert recalled.

Hilpert is not the only veteran for the Bears. Eight regulars return, including three-year varsity second baseman Brooks Hayden.

Brady Simmelink and Ryan Peterson pitch and play first base. Trevor Tomlinson is another pitcher. Newcomers Tyler Chenault, Calvin Whitcomb and Trey Carolan provide depth.

Matt Whiting is back at catcher, and Ryan McCauley is in the outfield.

"We definitely have to go out and perform," Poffenroth said. "I think the capability is there."

New coach in town
Geoff Arte is filling big shoes. He is the new CV girls track coach, replacing longtime mentor Dennis McGuire, who stepped down after making the Bears a perennial track (not to mention cross country) contender in the Greater Spokane League.

"He's coaching the distance runners, and I think he's loving it," Arte said.

Arte said the focus this year will be on dual meets, what with only two athletes per event qualifying for state.

He does return two-event state placer and school record holder Mariah Cunningham, who was fifth in the long jump and sixth in the high jump, and Savannah Hoekstra, who placed eighth in the long jump and ran on the medaling 4x400 relay team. Last year, they were first and third in region at long jump. If they do that this year, one won't qualify to return to state.

"Mariah and Savannah are the two best long-jumpers in the school's history," Arte wrote in an email. "They go against each other every day."

State hammer throw champion Katie Wardsworth is being recruited by Pac-12 schools.

"We should be pretty good this season with almost all the kids who participated in the state meet last year returning," Arte wrote.

Distance runner Skye Sanders has returned from ACL surgery, but lost Molly Barnhart, a 125-foot javelin thrower and 35-foot triple jumper, who tore her ACL in basketball.

CV has 106 girls out for track and field, only 20 of them seniors, and six sets of sisters.

Two for nine
Baseball and girls track are just two of nine sports offered in the spring that make up half of the 18 GSL sports offered during the school year. And they are all completed in the shortest timeframe of the three seasons. Softball, boys track and soccer, and boys and girls tennis and golf join the others currently under way.