Council asked to catch vision of regional sports venue
3/6/2013 12:53:14 PM
By Craig Howard
Splash Contributor

The scenario was familiar – a representative from a community sports organization outlining the lofty potential of a multi-purpose facility that would have a profound long-term impact on the local economy.
Only this time, the pitch did not include visionary plans for the HUB Sports Center, Liberty Lake's once-embattled, now thriving mega-gym on East Cataldo Avenue.
Instead, Eric Sawyer, president and CEO of the Spokane Regional Sports Commission, appeared before the Liberty Lake City Council on Tuesday night, equipped with the ambitious notion of a regional sports venue a couple miles to the west of the HUB that would host everything from indoor track championships to ice hockey.
The capital facilities blueprint serves as the centerpiece of a plan known as "Project Sports," championed by Sawyer and the SRSC as a way to upgrade local facilities and draw higher profile tournaments and events to the Spokane area. The first phase of the project included extensive interviews with what Sawyer described as "the local sports community," ultimately resulting in an inventory of sites ranging from the Spokane Arena to Plantes Ferry Park.
Advertisement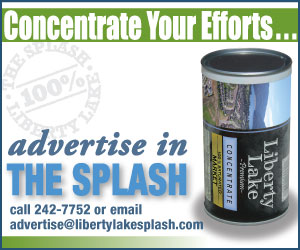 At Plantes Ferry, a sprawling greenspace to the west of Liberty Lake, the renovation of two soccer fields to artificial turf has already been approved by the Spokane County Commissioners, with plans to also include stadium lighting. Sawyer added on Tuesday that the long-term upgrade of the park would ideally involve transforming five softball diamonds into "tournament quality fields" with the addition of features like press boxes and more bleachers.
While refurbishing Plantes Ferry has been established as a priority of Project Sports, the cornerstone remains a yet-to-be-built venue that Sawyer described as a "major indoor sports complex and multi-use facility, not just a gym like the HUB." While a trio of sites have been identified for the project, Sawyer concentrated his discussion for the City Council on a tract of land off Mirabeau Parkway near the Spokane Valley YMCA.
"It's a great, centrally located site with a lot of potential," Sawyer said.
Design drawings by ALSC Architects feature a footprint of 127,600 square feet at a cost of between $20 million to $25 million. The price does not include acquisition from the landowner, Centennial Properties. Sawyer said the completed project would emphasize flexibility and feature space for an indoor track, basketball, ice hockey, wrestling, table tennis and many other sports.
"It's kind of a lot of open space, and that's what we need," said Sawyer.
When asked by Council Member Shane Brickner if the new facility might take events away from the HUB, Sawyer said it was a possibility, but quickly added that the two venues could collaborate to bring larger events into the area.
"What we need is an events center, not a gym," Sawyer said." I've talked with (HUB Executive Director) Phil (Champlin) about this being a companion site to the HUB."
Sawyer said the prospects for adding onto the HUB were limited because "the site is landlocked and can't be expanded and still have the necessary parking."
Sawyer and his colleagues are now awaiting the findings of an economic and feasibility study involving the Mirabeau location that should be completed this month. Funding sources for the project have yet to be finalized.
"Everything we've been hearing has been positive," Sawyer said. "We feel confident that this would be a great success story."
City Administrator Katy Allen provided the governing board with an update on a sports venue closer to home on Tuesday, indicating that a topographic report on the future site of the Liberty Lake Ball Field is now complete and has been turned over to landscape architect Mike Terrell. Allen said Terrell will have design scenarios for the location ready by April 1, after which the field committee will meet to discuss plans for the site.
Pat Lutzenberger of the Liberty Lake Kiwanis Club made her pitch for another capital improvement on Tuesday, noting that the city still lacks a viable community center.
"We really don't have a place that can hold over 100 people," Lutzenberger said.
Regarding the available channels for promoting civic events, Lutzenberger said Liberty Lake should consider electronic reader boards near each entrance of the city.
"I think it would be a great public service to announce events," she said.
When it comes to Liberty Lake announcing municipal business in the form of legal ads, the Spokesman-Review will now be the official city newspaper. Council voted unanimously in favor of Resolution 13-166, despite a significantly lower bid by the Spokane Valley News Herald. Taking into account the News Herald's meager subscription base in Liberty Lake, council members concurred that the Spokesman's higher price was offset by broader circulation.
"I think we owe it to our citizens to have that information more available," said Council Member Cris Kaminskas.
In other city news:
• Allen announced that City Hall will host a series of upcoming discussions, starting with a public meeting on the Harvard Road Roundabout on Thursday, March 21, from 2 to 4 p.m. The gathering will focus on a traffic management plan designed to mitigate the impact of construction on surrounding businesses. Also on March 21, city officials will meet with the Liberty Lake Trail Committee to discuss plans for the Sprague Avenue Trail. The meeting will begin at 7 p.m. On Thursday, May 16, the city will sponsor an open house from 3 to 6 p.m. at City Hall. The event will feature information from each municipal department and provide residents with an opportunity to ask questions of city employees.
• Police Chief Brian Asmus announced that Sakti Hiatt will begin as the new police records clerk on March 7. A former employee of Spokane County, Hiatt replaces longtime clerk Bobbi Anderson, who is retiring to travel and spend more time with her family.
• Council unanimously passed Resolution 13-168, designating Wilbert Vault Company as the supplier of precast garden beds for the Liberty Lake Arboretum. The site near City Hall will add eight more concrete planter beds this spring.
• The city has received 361 replies to a community survey sent out on March 1. The survey will help form the city's approach to economic and retail development, according to Mayor Steve Peterson. Students from Eastern Washington University will provide a report on the results of the survey at the March 19 City Council meeting. To access the form, go to www.libertylakewa.gov and click on "Online Surveys."
• Brickner is facilitating a Grief Share support group at 6:30 p.m. each Thursday at One Church in Spokane Valley at 24th Avenue and Sullivan. The group is designed for those who have lost relatives and loved ones. For more information, contact Brickner at 993-8276 or sbrickner@libertylakewa.gov.
Note: This story was sent out as an e-update as soon as it was posted. To sign up to receive notice of timely news and information by email, click here.