Education Briefs
2/27/2013 2:51:53 PM

Brown named to Dean's List
Kendra Felice Brown of Liberty Lake earned a spot on the fall Dean's List for the McKay School of Education at Brigham Young University.

Johnson named to Dean's List
Nicholaus Johnson, a sophomore college of arts and sciences student from Liberty Lake, was recently named to the fall Dean's List at Creighton University. Full-time students who earn a 3.5 GPA or better on a 4.0 scale are eligible for the Dean's Honor Roll at the Catholic-Jesuit institution located in Omaha, Neb.

Zellmer named to Dean's List
Liberty Lake's Emma Zellmer was honored on Michigan Technological University's Dean's List for the fall semester. To be included, students must achieve grade point averages of 3.5 or higher. Zellmer is majoring in geological engineering at MTU, a leading public research university in Houghton, Mich.

Gonzaga announces honor students
Several Liberty Lake residents recently received honors for the fall semester at Gonzaga University.
Rachel Cernick and Ande Seines earned placement on the President's List. Students must earn a 3.7 to 4.0 grade-point average to be listed.

Christina Davis was named to the Dean's List. Students must earn a 3.5 to 3.69 grade-point average to be listed.

Gonzaga University is a private Catholic, Jesuit, and humanistic university providing education to more than 7,800 students.

Advertisement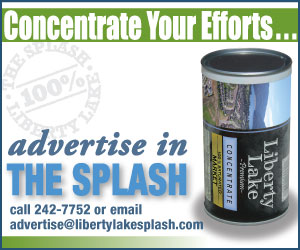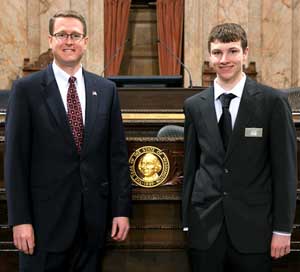 Submitted photo
Rep. Matt Shea sponsored Zac Ladd of Liberty Lake as a legislative page.

LL teen serves as page
Zac Ladd, 16, recently served as a page in the Washington House of Representatives at Olympia sponsored by Rep. Matt Shea. A sophomore at Central Valley High School, he is the son of Mark and Michele Ladd.
As a page, Ladd's duties included delivering messages and bills to lawmakers' offices and to the House floor. Pages also spend two hours each day in a classroom setting learning about state government in the Legislative Page School.
For more information about the House page program, visit www.leg.wa.gov/house.