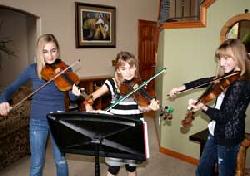 Wave photo by Tammy Kimberley

Erica, Sarah and Anna Pecha show off their fiddling skills in their Liberty Lake home. The sisters, whose great-great grandpa was a fiddler, said they enjoy twin fiddling and chunking, which are different ways the fiddles can play together and complement one another.


In The March Wave: Sisters share fondness for folk music
2/27/2013 2:07:33 PM
The Wave is a special section just for kids,
geared toward children in kindergarten through fifth grade
---
By Tammy Kimberley
Wave Staff Writer

With spunky titles such as "Nail That Catfish to the Tree" and "Aunt Sally There's a Bug on Me," it's easy to see why the Pecha sisters have a smile on their face while playing together.
Anna and Erica, who both turn 13 on Feb. 29, along with younger sister Sarah, 9, have been playing fiddle since their early elementary years. Not only do they enjoy jamming together, but they also have used their musical skills to bring enjoyment to others.
The girls explained that fiddling is different from other types of music in that the music is presented in a tablature. In this system, the music sheet lists what strings you play on the top line and then the fingering on the bottom line.
"All you need to know is how to read and where your fingers go," Anna said.
The twins, who are in seventh grade at Greenacres Middle School, said they had to learn to read music and hold their bows differently when playing their violins (another name for a fiddle) in their orchestra class. They said there are differences in the styles of orchestra music and fiddling.
Advertisement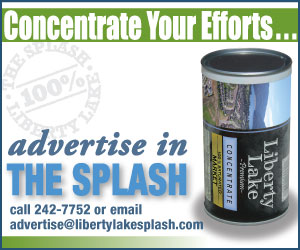 "Fiddling is quick and fun, while orchestra music is slower," Anna said.
"And pretty," added Erica. "Orchestra music is slow and flowing. But when you play a waltz while fiddling, it's also slow and pretty."
The siblings' mom, Stacy Pecha, said orchestra music makes her think of concert halls and symphonies, while fiddling brings images of barn dances and campfires. She said the entire family (including the girls' dad, Doug Pecha) enjoys traveling, tent camping and playing sports together. While the parents don't play the violin, they appreciate the way fiddling brings the family together.
Anna started taking fiddling lessons in second grade with prominent fiddling instructor JayDean Ludiker. Erica followed her sister's path the following year, and then Sarah started fiddling when she was in first grade. They have performed with the Rainbow Fiddle Kids group at different events such as Spokane Indians baseball games, First Night Spokane and Rockin' B Ranch.
Sarah, a fourth grader at Liberty Lake Elementary School, is the only family member currently taking fiddling lessons. She said she enjoys having her sisters around to help develop her skills.
"For me it's fun because if I want to learn a song, I can always ask them for help because they've already played it," she said.
Stacy said her daughters sometimes play impromptu concerts for others, such as at retirement homes or food drives during summer trips to visit family in North Dakota. And the girls carry on a bit of musical family heritage since their great-great grandpa was a fiddler. They recently gained a fiddle that once belonged to him.
But most of all, Stacy said she enjoys watching the three girls play together.
"I love it when they pick up their fiddles and they jam with each other," she said. "Fiddle music just makes you smile."
---
Signs of the Irish

By Tammy Kimberley
Wave Staff Writer

The green holiday celebrated on March 17 recognizes Saint Patrick (387-461 AD), a patron saint of Ireland who is credited for spreading Christianity in that country. Although it's not a legal or government holiday in the U.S., Americans have been celebrating Irish culture on St. Patrick's Day since the late 18th century. Some cities have grand parades and festivities, such as Chicago which annually dyes the river going through the city green on St. Patrick's Day. Listed below is some information to help sharpen your smarts on the symbols associated with this merry holiday.

Horseshoe: If you've ever wondered why this symbol is in your bowl of Lucky Charms, it's because they are thought to bring good luck. In fact, many Irish brides used to carry a real horseshoe on their wedding day for good fortune.

Irish flag: The national flag of Ireland has three colors that each mean something different. Green represents the Gaelic tradition of Ireland, orange symbolizes the followers of William of Orange in Ireland and white represents the peace between the two groups.

Leprechaun: These mythical creatures are believed to spend all their time making shoes and then storing away all their coins in a hidden pot of gold at the end of a rainbow. If a person catches a leprechaun, he is believed to have the power to grant three wishes.

Shamrock: Common folklore believes St. Patrick's used this three-leaved plant to explain the Holy Trinity to the Irish people. Now people believe finding the four-leaf variety can bring good luck.
---
Write a limerick for Wave contest
Sponsored by Quiznos

In honor of St. Patrick's Day, The Wave is hosting a writing contest where kids can submit original limerick poems. A limerick is a short, funny poem that is believed to have originated in the Irish county of Limerick.

How do I write a limerick? The last words of the first, second and fifth lines all rhyme with each other and have three "beats" in them. In the same way, the last words of the third and fourth lines rhyme with one another but only have two "beats." The first line often begins with "There once was a…" and usually ends with a person's name or the name of a place, while the last line is usually funny. Here is an example of a famous limerick:

There was an old man from Peru,
Who dreamed he was eating his shoe.
He awoke in the night
With a terrible fright,
And found out that it was quite true.

Who can enter? Kids in kindergarten through sixth grade who live or attend school in Liberty Lake are eligible to enter this contest. Entries will be judged on their creative use of rhyming words. The winner of the contest will receive a $20 gift certificate to any participating Quiznos in the Spokane Valley area.

Where do I send my limerick? Poems can be emailed to tammy@libertylakesplash.com or turned in to our office, 2310 N. Molter Ave., Ste. 305 in Liberty Lake by March 15. Only submit one poem per person, please. Questions? Email or call 242-7752.