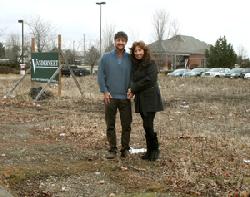 Splash photo by Josh Johnson

Owners Michael and Alicia Fry stand on the site where they plan to build a new Barlows Family Restaurant in 2013. The couple plan to break ground this spring and move into the new location this fall.


Barlows growth fuels move
2/27/2013 12:50:14 PM
By Josh Johnson
Splash Staff Writer
A long-vacant lot next to Starbucks will become home to a bigger and better Barlows Family Restaurant in 2013, owners Alicia and Michael Fry announced.
The Frys purchased the lot from Vandervert on Nov. 30 and are working with the developer to build an expanded restaurant on the site.
The new restaurant will double Barlows main-floor seating capacity from 82 to 164 and increase its banquet room capacity from 40 to 60 diners. It will also have room for another 40 to 50 diners on two patios, the Frys said.
Michael Fry said the restaurant has outgrown its current location at 1400 N. Meadowwood Lane. Comparable sales increased 15 percent in 2012, he said, and the new location will also allow Barlows to improve its overall building functionality, expand its parking and add a lounge - but with care taken to maintain the restaurant's core identity.

"The thing everyone loves is the cozy, homey feel, so we're going to replicate the feel without replicating the building," he said.
Advertisement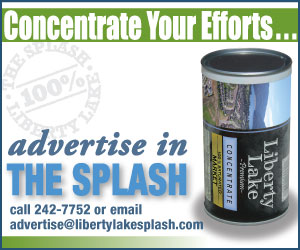 The expansion will also enable Barlows to add dinner hours, grow its catering and meeting room capabilities and enlarge its staff from nine to 25 employees, he said.

BARLOWS BACKGROUND
The youngest of eight kids, Alicia Fry moved to Spokane at age 3 and helped as her family operated a Greek restaurant downtown. As an adult, she helped open and operate a family-run diner on the north side.

Spotting a need for a family restaurant closer to her then-Newman Lake home, she opened Barlows Family Restaurant at 1400 N. Meadowwood Lane in Liberty Lake on Dec. 7, 2009. From day one, she has incorporated traditional dishes based on many of her mother's homemade recipes into creating a family dining experience.

Today, Fry's twin sons, Brad and Beaux Dodd, run day-to-day operations as the office supervisor and floor supervisor, respectively.
Fry married Michael Fry on Feb. 14 of this year. Michael, a businessman, started as a customer before dating Alicia and eventually helping to operate the restaurant. The Frys plan to break ground on the lot next to Starbucks this spring.

- Josh Johnson

Alicia Fry, who founded Barlows and said her 30 years in the restaurant industry complement her husband's 20-plus years as a businessman, emphasized that the family atmosphere and the focus on the whole experience will remain at the core of the restaurant's identity.

"Restaurants have become manufacturers of food, not a place for an experience," Michael Fry added.

Alicia Fry said she is busy working on a dinner menu, and that affordability will continue to be a hallmark of the Barlow's experience, although she said they will add some higher-priced items like a dry-aged ribeye that diners could select if they so desired.

The restaurant will also include a four-sided fireplace and a sensitivity toward its surroundings, the Frys emphasized.

As an example, they said they are taking 30 feet of the east end of their property to make room for delivery trucks in order to avoid any bottlenecks of traffic trying to get to Starbucks.

The couple hope to break ground in April and ideally move in Oct. 1, Michael Fry said, adding that the latest would be November given commitments already on the books.

"We've already booked a Christmas party in a facility that doesn't exist," he laughed.