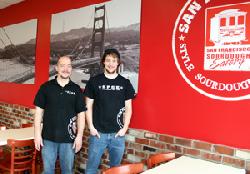 Splash photo by Josh Johnson

Father and son duo Randy and Riley Youngdell recently remodeled San Francisco Sourdough at 23801 E. Appleway Ave. Randy Youngdell recently purchased the local franchise and is offering expanded hours.


SF Sourdough gets facelift
2/27/2013 12:44:50 PM
By Josh Johnson
Splash Staff Writer
Randy Youngdell tasted opportunity. A veteran of 35 years in the restaurant industry, Youngdell opened a San Francisco Sourdough Eatery franchise in Rathdrum in February 2009 for the love of a sandwich.
"It's just the quality of it," he said. "I fell in love with the product, and it makes it a lot easier to sell."
When Bernadette and John Oaks decided to sell the Liberty Lake franchise, Youngdell took the opportunity to expand based on the potential of the location.
"I saw the growth potential here, but I was doing double (the business) in Rathdrum," he said, noting the Rathdrum location has greater hours. "I know the demographic and the potential is there, and we're hoping the quality of our service and our product draws more customers."
Advertisement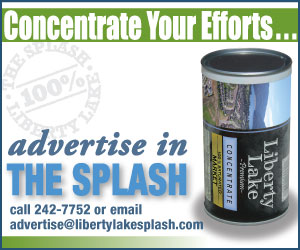 Youngdell is also expanding the store's hours into the evening, operating from 10 a.m. to 7 p.m. six days a week (the location is closed Sundays). The store previously closed in the afternoon.

Youngdell and his son, Riley, took over operations of the store Feb. 1 and immediately closed it for six days to remodel the interior. The store was painted, pictures were hung and a main wall and some cabinets were changed up to open the space further. Along with new menus, Youngdell said the result matches the look the franchise is using to brand its new locations.
Meanwhile, he hopes to pull in new traffic to the location with the expanded hours and expanding catering services to include free delivery (catering had to be picked up in the past). He is also enticing customers with a $4.99 March special on San Francisco Sourdough's large (7-inch) sandwiches.
"Our large weighs the same as a footlong at Subway," said Riley Youngdell, who manages the location. "We just have more meat."
"I really hope it pulls in some of the people in Liberty Lake and Otis Orchards who have never been here before," Roger Youngdell added. "We want to give them the opportunity to experience the sandwich like I did when I got sold on the product."