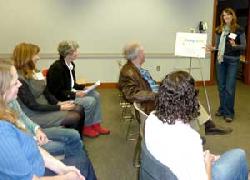 Submitted photo

Kerry Jensen, a founding member of Enlighten, speaks to a group at a forum last week about the new organizationís work to provide resources to help people struggling with dyslexia. Enlighten is opening a resource center in February in the Liberty Lake Portal, 23403 E. Mission Ave.


Group opening Liberty Lake center to help students with dyslexia
1/30/2013 1:48:25 PM
By Shaun Brown
Splash Contributor
Terrible spelling, extremely messy backpack (and bedroom), choppy reading, slow, messy writing and a dread of school - scientific studies by the National Institute of Health indicate that one in every five elementary school students exhibit these signs.
For parents, teachers and administrators who observe these behaviors, questions inevitably arise about what creates this struggle with language processing and what can be done to help. Enlighten, a newly established non-profit organization located in Liberty Lake, is equipped and anxious to answer these questions.
"These language processing difficulties are the signs of dyslexia, a word many have heard but very few understand," said Kerry Jensen, a founding member of Enlighten.
Enlighten held an inaugural public awareness forum last week, where Jensen explained that the word dyslexia simply means "difficulty with reading." An individual diagnosed with dyslexia will generally exhibit difficulty with a variety of language processing tasks, difficulties that researchers are increasingly verifying. Since 1987, the National Institute of Health has been researching what causes difficulty with reading.
Advertisement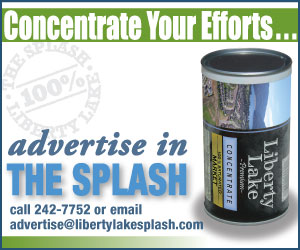 "In the last decade, scientific findings based on brain imaging studies that began at Yale have put an end to any speculation that dyslexia is not real," Jensen said.

FMRI studies of struggling readers versus natural readers indicate a dyslexic person will have a 10 percent larger right brain than the other 80 percent of the population.

"People with dyslexia will use different areas of the brain for reading," Jensen said. "There will be under-activation of the automatic recall areas of the brain."

For a child trying to learn the alphabet or the Friday spelling word list, this can be extremely defeating. As they study the letters and words, their brain is just not hardwired to retain what they are learning in the traditional way. Often, a dyslexic student will put in extreme effort, successfully pass a spelling test, but if asked to take the test two weeks later, will not recall the correct spelling.

Niki Ely, also a member of Enlighten, told of her experience feeling total despair after trying every possible avenue she could identify to help her young child who struggled to read and spell.

"One week, my student set a goal to get 100 percent on the spelling test," she said.

After a week of intense studying, a 48 percent was the result.

"That's when I felt defeated," Ely said. "I was at a loss. I didn't know what else to do. I had gone to all the teachers and the reading specialists, and then a friend gave me a website that listed signs and symptoms of dyslexia."

Ely realized her child exhibited 40 of the 60 indicators.

With a one in five ratio, Ely's child is not alone. In an average classroom, a teacher can expect to have five to seven dyslexic children. Despite these numbers, "most teachers have never heard of it or don't really know what it is," explained Staci Seliger, who founded Enlighten.

Seliger's organization contacted several universities to find out what type of dyslexia-related instruction was included in their elementary education curriculum. The answers, she said, were disheartening.

And yet, according to Enlighten, a wealth of scientific data exists, as well as effective programs for teaching students who need to learn reading, spelling and language processing in a different way. The individuals behind Enlighten hope to help as many teachers, kids and parents as they can.

In February, the group will open a resource center in the Liberty Lake Portal building, 23403 E. Mission Ave. The dream is to eventually staff the resource center with tutors - volunteers and professionals who have been trained to instruct dyslexic students using an Orton-Gillingham certified program.

Dr. Samuel Orton, a neuropsychiatrist, and teacher/psychologist Anna Gillingham teamed up in the 1930s to create a method of multi-sensory education designed for the 20 percent of our population who aren't "hardwired for reading," Jensen said.

"The right type of instruction builds pathways to the automatic recall part of the brain," said Jensen, who has tutored her daughters for three years using a program based on the research.

While the genetic brain structure of a dyslexic person generally yields more creative, artistic, innovative thinking, the language processing difficulties can feel disabling to a student who is trying to learn using methods most common in our schools, Jensen said. For this reason, early awareness and intervention is a key goal of the Enlighten organization. Jensen said a child who struggles in first grade often doesn't even know they are struggling more than others, but a child who struggles in middle school may, for example, be anxious about being asked to read out loud. That student can face feelings of low self-esteem, fear of failure, loss of motivation and sometimes rebellion.

Heather O'Keefe shared at the forum about how some students need their homework and tests printed on a different color paper because black text on white can aggravate the reading effort. The law allows a 504 plan to be put in place which details specific actions a school will take to accommodate that child. "(Actor) Orlando Bloom always has his scripts printed on light green paper," O'Keefe said. "He is dyslexic."

Scientific research points to many methods, strategies and resources to help those who struggle with dyslexia.

"And once a teacher or a parent discovers there are ways to help a child overcome the challenges, you can change a child's world," Jensen said. "At Enlighten, we are working to help people discover resources available to address the learning style of 20 percent of the kids in school today."