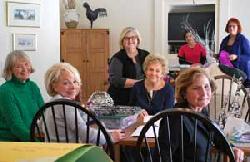 Splash photo by Jocelyn Stott

Liberty Lake Kiwanis Club and community members work on the "Evening in Paris" Father Daughter Dance decorations and party favors at the home of K-Kids co-advisor Pat Lutzenberger. Pictured around the table, from left, are Linda Dockrey, Charmaine Peterson, Lutzenberger (standing), Joan Lucero and Jackie Moore. Standing in the background are Anne Cline and Mary Sloan.


More News
Resigning K-Kids advisers reflect on 10 years
1/30/2013 1:12:20 PM
By Jocelyn Stott
Splash Contributor

Pat Lutzenberger and Linda Dockrey have volunteered together for a long time - 10 years, at least.
This year, they plan to step down as the Liberty Lake Kiwanis Club's co-advisers to the K-Kids, a community service club for fifth graders at Liberty Lake Elementary School. The club shows young people how to give back to their community in the form of service projects and fundraisers.
"(The kids) really get a chance to see how lucky they are to live in a community like Liberty Lake, that's important for them to learn that they can help those who might have less," Dockrey said.
And, year after year, Liberty Lake fifth-graders have been attracted by the opportunity to give back through the K-Kids.
Advertisement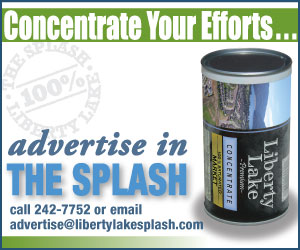 "We never have a shortage of kids," Dockrey said. "We have to keep it to around 50 kids and only fifth grade. We always have a lot of kids who plan to do it even before they get to the right age."
Dockrey and Lutzenberger have decided to step down at the same time because they can't really imagine one without the other.
"She's a dynamo," Dockrey said of Lutzenberger. "This has been so important to her."
The sentiment is mutual.
"I couldn't do it without her," Lutzenberger countered. "She's the logistics person who makes all my crazy ideas work."
K-Kids: A history of giving back
Internationally, K-Kids is a service leadership program specially designed for primary school-age students who serve projects to benefit local organization and their peers - other kids.

The Liberty Lake K-Kids chapter began during the 2003-2004 school year. Local club founder and K-Kids adviser Pat Lutzenberger said that over the past 10 school years, the K-Kids have:

• Raised $700 for Spokane Guild School
• Raised $1,300 for United Nations International Children's Education Foundation (UNICEF)
• Raised about $9,000 in baby food for the Spokane Valley Partners Food Bank
• Collected more than $5,000 in toys, coloring books, art supplies, personal hygiene products and food for Ronald McDonald House, Vanessa Behan Crisis Nursery, Anna Ogden Hall and Shriner's Children's Hospital.
• Adopted an orphanage in Africa, sending them much-needed supplies and gifts - including a cow!

Additionally, the Liberty Lake K-Kids have been recognized three different times with a Chase Youth Award for projects like:

• Thanksgiving and Christmas turkey drives
• Halloween safety campaign
• Children's Hospital toy drive
• Tree of Sharing collection
• Guardian Angel Homes assisted living outreach
• Teacher appreciation breakfast
• Liberty Lake Community Easter Egg Hunt
• Recycling efforts

---
About Kiwanis
Kiwanis International is a global service organization that serves children and families. Kiwanis Clubs usually serve in their respective neighborhoods and sometimes take on a global project as well. Worldwide, it is estimated that more than 150,000 service projects are organized by Kiwanis Clubs, whose members volunteer more than 12 million hours of service, according to www.kiwanis.org. Other sub groups of Kiwanis include Kiwanis Kids or K-Kids (primary school), Builders Club (middle school), Key Club (high school), Circle K International or CKI (for college students) and Aktion Club (for adults with disabilities).


Both women expressed sadness but say it's time for them both to move on and do something new. They both say their involvement with Kiwanis - and the K-Kids in particular - have brought them closer to their community than they ever could have imagined.

Lutzenberger and her husband, Mike, are charter members of the Liberty Lake Kiwanis Club, which was founded in the fall of 2001. They both have participated in service clubs throughout their lives in different communities where they have lived.

Pat Lutzenberger began the Liberty Lake K-Kids chapter during the 2003-2004 school year.

One of Lutzenberger's greatest sources of pride when it comes to the K-Kids is seeing the students who go on to become civic-minded adults who enjoy serving others. One such K-Kids alum is Hannah Robb, now in her sophomore year at Eastern Washington University.

"Pat is an amazing, positive person who puts her whole heart into K-Kids," Robb said. "She and her husband really helped me 'grow up' while I was involved in K-Kids by putting me in a leadership role and teaching me to have expectations and goals to work for."

One of those initiatives includes Robb's business. In her summers off from college, Robb owns and operates a mobile wood-fired pizza oven called Roamin' Pizza Chariot.

"I feel like they 'got' it," Lutzenberger said of former K-Kids like Robb. "They understood what we were showing them. … I just love reading about them in the paper and the things they do. I can't even tell you what satisfaction that brings me."

---
Father Daughter Dance to provide 'Evening in Paris'
By Jocelyn Stott
Splash Contributor
For the eighth consecutive year, the Liberty Lake Kiwanis Club and K-Kids will be presenting the Father Daughter Dance to the community.
This year's soiree is themed, "Evening in Paris." At this event, dads and their daughters, stepdaughters, borrowed daughters and granddaughters show up in their finest attire. Kiwanian Pat Lutzenberger emphasized the fact that the club encourages the girls to go with a father figure of some sort, even if the actual father is not an option for whatever reason.
While semi-formal is what's recommended on the literature announcing the event, some arrive at the event in tuxes and gowns, some in limousines. The club keeps a scrapbook full of photos of middle-aged men and their dressed-to-the-nines young daughters, and the joy of the occasion shines through the photos.
Kiwanian Linda Dockrey likes the event for the opportunity it provides to enrich the father-daughter relationship.
"It's important for fathers to get a peek into the world of little girls, and the girls love having their dad's attention," Dockrey said.
Anne Cline, a parent volunteer whose daughter Sydney, now 16, attended the dance when she was in elementary school, said she loves the tradition so much, she still helps along with her daughter.
When the Father Daughter Dance began in 2006, it was held at Liberty Lake Elementary for about 241 people. Now, the event is held at CenterPlace Regional Event Center in Spokane Valley. Last year Kiwanis members at the door ran out of 500 tickets and granted last-minute entry to nearly 30 people before they finally stopped counting. Organizers stress that they really appreciate an RSVP for the purpose of planning the food and party space, however.
"We don't like turning anyone away, but it is very hard to plan an event like this and not have people pre-register," Dockrey said.
Registration is available online at www.libertylakekiwanis.org, or a check can be mailed to "Kiwanis LL Father Daughter Dance," P.O. Box 384, Liberty Lake, WA 99019. Tickets are $20 per person before Feb. 25 and $25 thereafter. Raffle tickets are available for $1, and photo packages are made available by Dorian Studio.
In its earliest days, the dance would generate around $1,500 for the club. Now, that figure is around $9,000. All the money raised through ticket sales, raffles and auctions at the event gets put to use in civic projects both locally and internationally by the Liberty Lake Kiwanis.
Past themes include "A Walk in the Clouds," "Mardi Gras" and "Princess and the Frog."