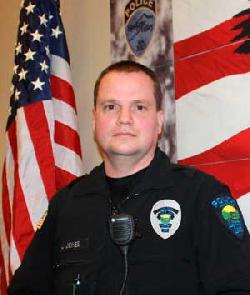 Submitted photo

Jeff Jones, the newest member of the Liberty Lake Police Department, started in his role Jan. 2. He came from the Pend Oreille County Sheriff's Department and, prior to that, his home state of Texas.


More News
True Texas Transplant
1/30/2013 12:55:24 PM
By Craig Howard
Splash Contributor
Profiles:
Jeff Jones
There was a time when Jeff Jones started each day hauling hay and feeding livestock before heading off to class at Texas State University.
These days, the Texas native can be found roaming the range of eastern Spokane County as Liberty Lake's newest police officer.
Jones officially began his new law enforcement tenure on Jan. 2 after eight years as a deputy with the Pend Oreille County Sheriff's Department. Jones was one of a crew of 10 that patrolled the rural area north of Spokane County with a total population of around 13,000.
Advertisement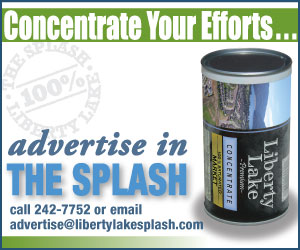 In 2011, Jones interviewed with the Liberty Lake Police Department during a process that resulted in the hiring of two new officers. When Jones heard about the application process opening again in late 2012, he already had one foot in the door.
"Even though I worked for Pend Oreille County, I knew some of the people who worked down here for Spokane County, and I've known (Liberty Lake police officer) Taj (Wilkerson) for a few years," Jones said. "It makes the transition a little easier."
Jones said one of the many aspects of his new role he appreciates is the reinforcement provided by departments in surrounding jurisdictions.
"One of the things I've noticed working in Liberty Lake, is not only do you have someone else here, you also have Spokane County, city of Spokane, Valley police and State Patrol," he said.
Jones is the seventh officer on the staff led by Chief Brian Asmus. The force also includes a sergeant and sergeant detective.
"Looking at Spokane County and other agencies, you ask other officers," Jones said. "I'd heard great things about the Liberty Lake Police Department. When your employees are happy, they're saying good things about the agency."
Jones grew up in Jourdanton, Texas, a town of around 4,200 residents located 50 miles south of San Antonio. He participated in track, football and basketball at Jourdanton High School, where his dad coached basketball for 18 years.
"I basically grew up in a basketball gym," Jones said.
His father was also principal of the high school and later superintendent of the local school district. Jones said his dad's service in the Air Force was a main motivator in his decision to enlist in the Army.
"I wanted to go into the military right after high school, but my dad advised me to go to college for at least a year," Jones said. "I've always taken my parents' advice."
After a year at Southwest Texas State (now Texas State) Jones reported to basic training, then went through airborne training and finally Army Ranger School. He was eventually assigned to the Second Ranger Battalion at Fort Lewis near Tacoma and served in special operations.
"I needed that regimented approach at that time in my life," Jones said. "I was a mess that first year in college."

After six years as a Ranger, Jones began a new chapter in his military career, working as an Army recruiter on the campus of Texas A&M University. At the time, he was one of only three soldiers in the nation assigned to launch the military's new college recruiting program.
"I wasn't high pressure at all," Jones said of his time in College Station. "Basically I told them what programs the Army offered and what the Army could do for them."
One of the unique challenges Jones faced on the Aggie campus had to do with the in-state rivalry between A&M and the University of Texas. In the Lone Star state, most folks are either Aggies or Longhorns, and Jones had always cheered for the team out of Austin.
"I rooted for Longhorns growing up," Jones said. "It was interesting. We had some fun with it while I was there."
After three years at A&M, Jones decided to return to his own college classroom, much like his dad who went back to school to earn his Master's degree. Back at Texas State, the structure and focus Jones had learned in the military paid off. While attending college in San Marcos, he also worked as a ranch-hand on a farm 20 miles from campus.
"When I came out of the military, everything seemed so easy," Jones said. "That first year in college, I had no discipline. I just got by in my classes. Going back to college, I was like 'This is all I have to do?' My grades were much better, all A's and B's."
Even though his schooling went well - Jones graduated in two-and-a-half years with a degree in criminal justice - the decision to move on from the military was not a simple one -especially with what was occurring on the world stage.
"It was after 9/11, and friends of mine were being deployed," he said. "You kind of feel bad not being there with them, and some of them didn't make it back. I still find myself today missing the military on some levels."
Even though he has now spent close to a decade in law enforcement, Jones said he is still learning. His new responsibilities in Liberty Lake have come with their own unique curriculum - starting with navigating the terrain he now patrols.
"My first impression was that I have a lot to learn," Jones said. "I need to know Liberty Lake, but if another officer in a Spokane County district is calling for assistance, I need to know that area, too. Enforcing the laws is the same, but it's learning a whole new way of doing things as far as computers, dispatch and learning the area."
As for his new boss, Jones said Asmus and his leadership approach has an impact on every officer who serves in Liberty Lake.
"He's very easy to talk to, very approachable," Jones said. "We want to be that type of officer as well."
Just as when he wore the Army uniform, Jones has already approached his latest transition with an unwavering priority on what he describes as "a duty to serve."
"I've had the opportunity with certain investigations to help someone who otherwise wouldn't have been helped," he said. "It's rewarding to know that justice is served. If I can help one person in the course of my career, it's worth it. I think police officers are in this because they want to help."
---
Profiles: Jeff Jones
Age
39
Family
Wife and two children
Favorite thing about growing up in Texas
My family
First car
1974 GMC truck with a bent bumper
Most famous person you've ever met
Former President George H.W. Bush
Favorite kind of music
Country - Jerry Jeff Walker, Robert Earle Keane
One thing about Texas that people don't know
It's not all flat
Hero
My dad
Favorite college football team
University of Texas
Favorite thing about living in the Northwest
I can't say it's the snow … probably access to the outdoors.