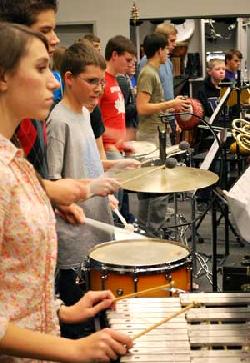 Splash photo by Jocelyn Stott

CV band members rehearse last week for their trip to participate in the 57th Presidential Inaugural Parade on Monday.


More News
Band preps for Inaugural
1/16/2013 11:51:45 AM

By Jocelyn Stott
Splash Contributor

The Central Valley High School marching band has won a few trophies and received many accolades over the years, but an invitation to spend the weekend in Washington, D.C., and represent the state of Washington in the 57th Presidential Inaugural Parade this Monday tops the list, Director of Bands Eric Parker said.

The band was selected from more than 2,800 applications and is one of only 14 high school bands invited to participate. The CVHS band is the only representative from Washington state.

The process began last spring, when the band entered to participate in the WorldStrides Presidential Inaugural Heritage Music Festival in nearby Brooklyn Park, Md. That event begins today (Thursday) and runs through Sunday. Since they were already going to be there, Parker figured, the band might as well try to get into the premier event - the Inaugural Parade - so he put in an application for that as well.

Parker said his application included a 3,500-word essay about how the CVSD band gives back to the community and included a live news feed of the band marching in the Lilac Festival Parade plus a video performance of a concert at Eastern Washington University. The application also included letters from U.S. Rep. Cathy McMorris Rodgers, R-Wash., and U.S. Sen. Patty Murray, D-Wash.

While the band was hopeful to get in, they were elated to receive the news right before Christmas break: They had made the cut. Students remember their teacher plugging his phone into the loudspeaker to play the voicemail message telling them they had been selected, said Dylan Oviatt, a senior tuba/contra player.

Advertisement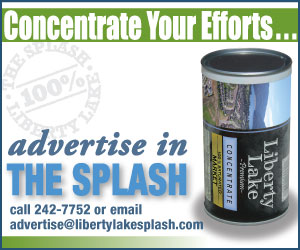 "I texted my dad as soon as I could," Oviatt said.
"We were absolutely thrilled, jumping up and down," Parker added.
Parker has taught band at CV for about 10 years. Before that, he was a band coach at the school while in college at Eastern Washington University. Prior to college, he played the clarinet - at Central Valley High School.
While in D.C., the band will also receive a tour of the Capitol Building courtesy of McMorris Rodgers, and many students expressed excitement at the prospect of visiting the National Spy Museum.
Are they nervous to play?
"I just hope I don't freeze my face off," said freshman Henry Jiao, a clarinet player. "But I think I'm more worried about taking finals right after we get back."
Parker said his band members are serious about playing well and enjoy working hard to reach high expectations.
"It becomes something they strive for and expect of themselves," he said.
Jessica Gallafent, a sophomore who plays the crash cymbals, will be looking to spot one high-powered celebrity during her time in the nation's capital.
"I don't have a lot of parade experience, so I'm excited about that challenge," she said. "And I want to see the president!"
Matt Ellis, a freshman tuba (or in marching band, contra) player said the possibility of seeing the President Barack Obama is something he also looks forward to.
"You normally don't get to see a national official like that - that would be cool," he said.
B.J. Keogh said his daughter, Payton, a junior at Central Valley High School and a flute player in the band, is beyond excited for her upcoming trip - and so is he.
"I just love it. I think it's a once in a lifetime opportunity," Keogh said.
Also a CVHS graduate and musician, Keogh said that Parker is a big reason students are excited about music.
"I wasn't sure Payton would stick with it (music) until I met Eric," Keogh said. "He just draws kids in."
He added that Parker invites middle school music students to participate in pep band during basketball games with the high school students, and the fun and inclusive atmosphere keeps them coming back for more.
"There's an element to being a musician that hooks you - you always want to learn and do more," Parker said.
That seems to be a philosophy shared by his students.
According to Dylan Oviatt's dad, Corey Oviatt, the students respect Parker.
"He's like a big kid, but when he asks them to step up, they do," he said.
Keogh added, "When the band first started competing on the coast, we'd place seventh or eighth, but now we're the school to beat."
Parker said the band competition is attractive to students because everyone is working toward the same goal, and they can't do it without each other.
"The best senior is only as good as the worst freshman," he said. "Having that common goal makes everyone better."
Keogh and "band mom" Lori Wilson have organized a number of trips over the years for the band to attend competitions on the coast and around the Northwest. This is the biggest project they've undertaken.
"Our parent group is totally gung-ho; that really helps," Parker said.
Wilson's son, Bryan, a junior, plays percussion in the band and has since the sixth grade at Greenacres Middle School. Her daughter, Randi, also played at CVHS and still plays trombone in college.
Bryan Wilson said it's a lot of work for his mom to organize all the band trips, but he appreciates it.
"She does a lot of good stuff," he said. "We're like all one big band family."
Along with the excitement to see the historical sites in Washington, D.C., the parade experience and thrill of being in front of such a prestigious audience, many band members expressed their appreciation for their teacher and fellow band mates.
Dylan Oviatt said the band "family" - and especially his particular section - is comprised of his closest friends: "We are brothers, all the time. Go Bears!"