New Senate coalition, Democrats pledge governance, not politics
1/16/2013 12:29:22 PM
By Kylee Zabel
WNPA Olympia News Bureau

Could this be "the year of the grand bargain in Olympia?"
Sen. Ed Murray, D-Seattle, believes so after Washington House of Representative and Senate leadership members met last week to discuss priorities for the legislative session, all agreeing to make funding education the No. 1 priority for both houses.
With the recent formation of a Senate coalition this past December that saw two Democrats join with Republicans to create a mixed-party majority, questions were raised concerning the Senate's ability to work in a bipartisan way. When asked about his priorities this session, Murray said the goal of the body was to govern responsibly.
"Legislative bodies, by nature, need to be at points of contention, and those different points need to come together," said Murray, referencing Rutgers University Ph.D. Alan Rosenthal. "Legislative bodies that work, compromise."
Advertisement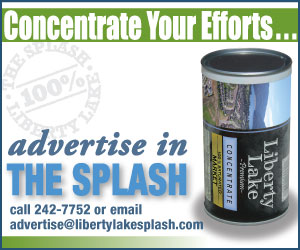 EDITOR'S NOTE
It's a busy week in Olympia, as the Washington state Legislature opened its session Monday, outgoing Gov. Chris Gregoire gave her State of the State address Tuesday and Gov.-elect Jay Inslee was scheduled to be sworn in Wednesday. This and another of this week's stories, Inslee outlines priorities, were produced by the Olympia news bureau of the Washington Newspaper Publishers Association, of which The Splash is a member.

Sen. Rodney Tom, D-Medina, the new majority leader of the Senate coalition, said the new makeup of the body will work in a sensible way.

"We're not doing this for window-dressing," he said.

Nevertheless, there remains some disagreement on the coalition's composition. It presently has six Democratic committee chairs and six Republican committee chairs, with three committees planning to be co-chaired by one Democrat and one Republican senator.

Democratic leaders in the Senate are in favor of appointing co-chairs to each committee to make the bodies totally bipartisan, but Republicans disagree.

Tom stated that having co-chairs is not a functional way to approach this session, and he would like to play to the strengths of each Senate member, still allowing for power-sharing. Murray agreed that there is a great opportunity to take advantage of talent this session.

Moreso than how the body politic might function, what seemed to be on everyone's mind going into the session was education. Enumerating his caucus' priorities, House Minority Leader Rep. Richard DeBolt, R-Chehalis, focused on addressing the looming 2018 deadline from the Supreme Court's McCleary decision directing the legislature to add funds to close the K-12 achievement gap.

To make education the top priority, DeBolt said education funding needed to have a separate budget formed in a "clear and transparent manner" and decided on before any other funding in Washington state.

"What is more of a priority than funding it first?" DeBolt said.

Most legislators at the Jan. 10 press conference agreed that in order to fully address the constitutional mandate on public education, both revenue improvements and reforms were crucial.

According to Tom, the state currently allocates 43 percent of its budget to education funding, but despite recently increased funding, the results have yet to show improvement.

Murray credited the lack of results to current tax policies, which have placed Washington in the bottom one-third taxing states.

"When you pay for a bottom-third education system, you get bottom-third results," he said.

Tom entertained another method of receiving additional funds by using internet sales tax, anticipated to produce $500 million this biennium, for education financing.

In order to lessen the achievement gap formed by the increasing number of poor and minority students failing to meet their public education requirements, reforms must take place, the legislators said.

Speaker of the House Rep. Frank Chopp, D-Seattle, suggested that focus must always be on the student.
"We need to look beyond just the classroom and teacher," he said.

In doing so, he cited the Apple Health program as an example, which he said serves about 750,000 children in Washington. To excel in school, a "student needs to be healthy and ready to learn," said Chopp.

Murray stated that the achievement gap is directly related to poverty in the state.

In order to effectively close the gap, the state must help "grow the middle class by helping those who are not in it," Murray stressed.

But Debolt argued that, "if we're going to look at the education gap, we can't just use platitudes and placations about politics."

If the Legislature wanted to address poverty in its relation to public education, it shouldn't place people in more programs but rather find them a job, he said.

"The achievement gap is about putting people back to work in areas with high and persistent unemployment," DeBolt said. "If we think we're going to program our way out of it by using big government tactics, we're in serious trouble."

While all-day kindergarten sparked discussion last session, Tom urged that, in order to address the gap, legislators needed to look at drop-out rates and the bottom 40 percent of students in Washington.

"Some students start behind and can never catch up," he said.

The 2013 legislative session began Monday.

"This could be the year … we look like Olympia, not D.C.," Murray said.